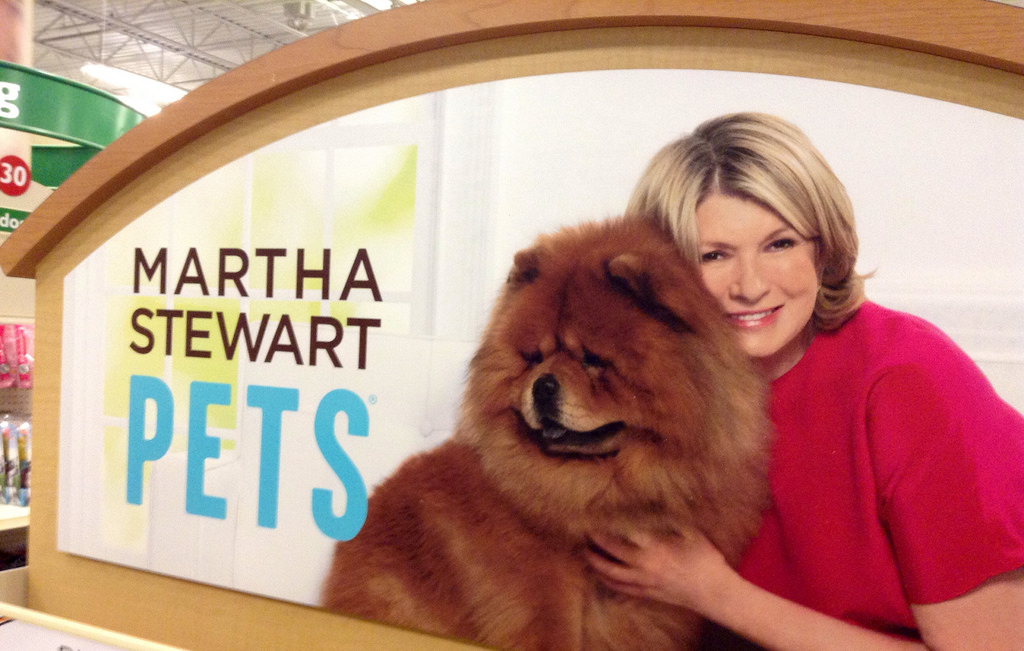 On February 28 , Martha Stewart's Sequential Brands (SQBG) announced that the lifestyle celebrity has teamed up with Canopy Brands (CGC) to develop and promote a line of hemp-based CBD products. SQBG stock spiked higher on the news, nearly doubling at one point before settling at $2.00 on March 1.
Canopy Growth Corp (CGC) is arguably the leading company in the nascent legal cannabis-products business. According to the Sequential Brands press release announcing the partnership:
"The Martha Stewart brand reaches approximately 100 million consumers across all media and merchandising platforms each month. Her branded products can be found in over 70 million households and have a growing retail presence in thousands of locations."
Immediately after the Feb. 28 announcement, Prescott Group Management, a $576 million hedge fund, added to its position in Sequential Brands, buying 220,000 shares at $1.47. The fund disclosed the purchases in a Form 4 filing on March 4.
Martha Stewart owns 8.1 million, or about 12.8% of Sequential Brands shares, making her the company's second largest shareholder. She received SQBG stock after Sequential purchased her previous company, Martha Stewart Living Omnimedia, in 2015 for $353 million.
Martha Stewart is Sequential Brand's #2 shareholder. Prescott Group is #1.
Tulsa-based Prescott Group is Sequential Brand's largest stockholder, with a 8.98 million share stake (14.18%) after its most recent purchases.
In late December, Prescott Group accumulated 1.8 million shares at an average price of $0.77. In less than a month, the fund more than doubled its money on those purchases.
The hedge fund first bought SQBG in Q4 2015. With SQBG's recent close of $1.43, the stake has a market value of about $12.84 million. At year end Sequential shares represented about 1.37% of Prescott's portfolio, making it the fund's 17th largest position. WhaleWisdom.com estimated Prescott Group's cost basis was $1.85 as of 2018 year end.
| | | | | | | | | |
| --- | --- | --- | --- | --- | --- | --- | --- | --- |
| Filing Date | Insider | Title | Transaction | Trade Date | Shares | Avg. Price | $Total | Share Holdings |
| 04-Mar-2019 | Prescott Group | 10% Owner | Market Purchase | 28-Feb-2019 | 220,000.00 | 1.47 | 323,400.00 | 8,980,710 |
| 02-Jan-2019 | Prescott Group | 10% Owner | Market Purchase | 31-Dec-2018 | 27,920.00 | 0.79 | 21,932.80 | 8,760,710 |
| 02-Jan-2019 | Prescott Group | 10% Owner | Market Purchase | 28-Dec-2018 | 452,898.00 | 0.71 | 319,373.00 | 8,732,790 |
| 28-Dec-2018 | Prescott Group | 10% Owner | Market Purchase | 27-Dec-2018 | 367,652.00 | 0.68 | 251,542.00 | 8,279,890 |
| 28-Dec-2018 | Prescott Group | 10% Owner | Market Purchase | 26-Dec-2018 | 338,358.00 | 0.68 | 230,266.00 | 7,912,240 |
| 21-Dec-2018 | Prescott Group | 10% Owner | Market Purchase | 20-Dec-2018 | 19,461.00 | 0.72 | 14,060.60 | 7,573,880 |
| 21-Dec-2018 | Prescott Group | 10% Owner | Market Purchase | 19-Dec-2018 | 27,505.00 | 0.75 | 20,598.80 | 7,554,420 |
| 18-Dec-2018 | Prescott Group | 10% Owner | Market Purchase | 14-Dec-2018 | 3,554.00 | 0.78 | 2,773.45 | 7,526,910 |
| 12-Dec-2018 | Prescott Group | 10% Owner | Market Purchase | 10-Dec-2018 | 118,195.00 | 0.87 | 102,830.00 | 7,523,360 |
| 26-Nov-2018 | Prescott Group | 10% Owner | Market Purchase | 21-Nov-2018 | 11,942.00 | 0.92 | 11,021.00 | 7,405,160 |
| 21-Nov-2018 | Prescott Group | 10% Owner | Market Purchase | 20-Nov-2018 | 324,899.00 | 0.95 | 307,683.00 | 7,393,220 |
| 21-Nov-2018 | Prescott Group | 10% Owner | Market Purchase | 19-Nov-2018 | 151,900.00 | 0.94 | 142,667.00 | 7,068,320 |
Stewart, the "doyenne of domesticity" could introduce CBD to throngs of followers — and their pets.
Prescott Group Capital is likely betting that Martha Stewart — who the New York Times called "the doyenne of domesticity" — will be very successful promoting CBD products, given her existing relationships with retailers like Macys, Walmart and QVC, to name just a few. She told the Times that Canopy has asked her "to design recipes and even ointments, healthy ointments for humans as well as for animals like cats and dogs."
In a press release, Canopy Growth said it will be leaning on Martha Stewart's vast knowledge of consumer products while exploring the effectiveness of CBD and other cannabinoids as they relate to improving the lives of both humans and animals.
Canopy Growth previously announced that it is spending between $100 million and $150 million in New York for making and eventually selling industrial hemp.
Unlike THC, hemp-derived CBD is not intoxicating — and its legal in the U.S.
Hemp-derived CBD, short for Cannabidiol, is a non-intoxicating compound found in marijuana. THC is the ingredient in marijuana that gets people high.
Marijuana remains illegal at the Federal Level in the U.S. However, eleven states and the District of Columbia have legalized cannabis use. Canada legalized marijuana nationwide last October.
But with the recent passage of the 2018 U.S. Farm Bill, hemp and hemp products like fiber, clothing and CBD will no longer be subject to Federal drug laws. Going forward, hemp will be managed by the Department of Agriculture as a crop rather than by the Justice Department as an illegal substance.
Interest in CBD is surging. A $22 billion market in 3 years?
New Frontier Data's Hemp Business Journal estimates that the hemp-derived CBD market will grow from $390 million in 2018, to $1.3 billion by 2022, representing a 27.2% 5-year compound annual growth rate.
But some cannabis industry analysts believe the CBD market could be much larger–even larger than legal marijuana. A Sept. 2018 report by the Brightfield Group suggests the hemp-CBD market could hit $22 billion by 2022. For comparison, in 2018 the craft beer market in the U.S. was $26 billion, according to the Brewers Association.
"What we started tracking this year was an explosion — face mask, bug bites, skin care, topicals," Brightfield's director of research told Rolling Stone. "It's being used for everything you can think of — sports, triathlons. People want to buy it for their grandma, for arthritis. Women get it for PMS and endometriosis — common things that people have been using over the counter medications."
Who better than the trusted 78-year-old "better living expert" Martha Stewart to introduce life-enhancing CBD into American households?
Though CBD is often derided as "snake oil," FDA-approved Epidiolex is derived from CBD
Despite its booming popularity, skeptics claim CBD is modern day "Snake Oil." Though taken as a natural treatment for everything from insomnia to acne, there is little scientific evidence to support its health benefits. It's worth noting however, that the first and only cannabis-derived FDA approved drug is developed from CBD. Epidiolex, made by GW Pharmaceuticals (GWPH), is a treatment for childhood epilepsy syndromes which typically don't respond to anti-seizure medications. In numerous clinical studies, Epidiolex reduced the number of seizures, and in some cases stopped them altogether.
Sequential Brands is betting that the CBD partnership with Canopy ignites the Stewart brand. At its height in 1999, Martha Stewart Living Omnimedia had a market value of over $2 billion.
The company's recent financial results have been less than spectacular. Despite revenue growth, net earnings for SQBD have been in the red and operating cash flow has been negligible.
Will the Martha Stewart/Canopy Brands CBD partnership drive SQBD to profitability?
On Feb. 6, Sequential Brands Group reported Q4 EPS of $0.14. Quarterly sales were $48.9 million, a 4.28% increase over the same period last year. On the conference call SQBG management guided "low single digit" growth in revenue and cash flow in 2019. Revenues for the Canopy Brands partnership are not expected until 2020.
So, investors expecting that Martha Stewart's Sequential Brands will reap big profits from the CBD business may have to wait a bit before the profits start rolling in.
But that's nothing new in the world of cannabis investing, where "betting on the come" is the prevailing strategy. The market caps of the leading cannabis stocks are massive, despite the start-up nature of the cannabis market.
Cannabis stocks are richly valued, but investors envision huge cannabis and CBD markets in a few years.
Canopy Growth is a prime example. On Feb. 15, CGC reported revenue of $97.7 million for Q4 of 2018, which included its first sales of recreational cannabis products in Canada. But loss from operations was $157 million. Despite the red ink, CGC carries a market cap of $16 billion — larger than Molson Coors (TAP), a company with $10.7 billion in annual revenue and $1.1 billion in net income.
Still, some marijuana industry analysts believe that the leading cannabis companies in five years will be those that established cannabis lifestyle brands early on. Constellation Brands didn't invest $4 billion in Canopy because it was a Warren Buffett-style value opportunity. Rather, the beverage giant is looking to establish products that might become the cannabis version of Corona Beer.
Sequential Brands current market cap is $91 million. If Martha Stewart and Canopy are successful in bringing CBD products to the mainstream market, doesn't seem like a stretch to imagine SQBG's market cap 2 or 3 times higher.
I'm long a relatively small SQBG position, and plan on holding it until I see the major shareholder Prescott Group Capital reducing its stake.
Disclaimer: Do not construe anything written in this post or this blog in its entirety as a recommendation, research, or an offer to buy or sell any securities. Everything in this blog is meant for educational and informational purposes only. Do your own research before investing and don't risk more than you can afford to lose. I wrote this article myself, and it expresses my own opinions. I am not receiving compensation for it (other than from WhaleWisdom). I have no business relationship with any company whose stock is mentioned in this article. I am long SQBG.