Sangamo Therapeutics drops 30%, but insiders buy
The great investor and mutual fund icon Peter Lynch is famous for advising: Invest in what you know.
For most of us, that's not biotech stocks. That's because the science behind biotechnology is pretty much inscrutable unless you have a PhD in pharmacology or chemical engineering.
Still, there is a way to gain an edge trading biotechs even with only rudimentary understanding their operations — by following the corporate insiders buying and selling shares of these volatile stocks.
A recent example of how insider trading analysis can support biotech investing decisions is the case of Sangamo Therapeutics (Nasdaq: SGMO). In the two trading days following a September 4 release of data from a clinical trial, SGMO shares of fell over 31%.
Here's what SGMO had to say about the trial:
The study showed "16 week reductions in urinary glycosaminoglycans (GAGs), a key biomarker of Mucopolysaccharidosis Type II (MPS II) disease pathophysiology, in Cohort 2 of the Phase 1/2 CHAMPIONS Study evaluating SB-913.  SB-913 is a zinc finger nuclease (ZFN) in vivo genome editing product candidate being evaluated for the treatment of MPS II, also known as Hunter syndrome. In Cohort 2 at 16 weeks post-dosing, mean reductions were observed in total urinary GAGs, dermatan sulfate, and heparan sulfate of 51%, 32%, and 61%, respectively."
Congrats if you understand the above, you're smarter than I am. The market, in its inefficient wisdom, gave a big thumb's down to the results, deciding the odds of Sangamo's technology being a dud went up significantly.
However, two directors appear to differ with the herd's interpretation of the study and took the opportunity to buy SGMO shares into the selloff.

Source: WhaleWisdom.com
Roger Jeffs, a director at Sangamo since 2017, bought 7,408 shares at $13.56 on Sept. 7. Jeffs, who has a Ph.D. in Pharmacology, has a 25-year career in biotechnology and currently sits on the board of five other biotech companies in addition to SGMO. Of interest, Jeffs has never purchased any shares of a public company as an insider until now.
Joining Jeffs buying SGMO on Sept 7 was H. Stewart Parker, Chair of the Board of Sangamo since 2014. A thirty year veteran of the industry, Parker has not purchased any shares of SGMO on the open market until buying 2,000 shares at $13.52.
The insiders appear to agree with analyst Maury Raycroft of the brokerage firm Jeffries who on Sept. 6 called the drop in SGMO shares an "overreaction," stating that the data on SB-913 in MPS II were positive despite the perceived lack of effect on the IDS enzyme. The reduction in GAGs "may be viewed" as proof that the cells were successfully edited, according to Raycroft.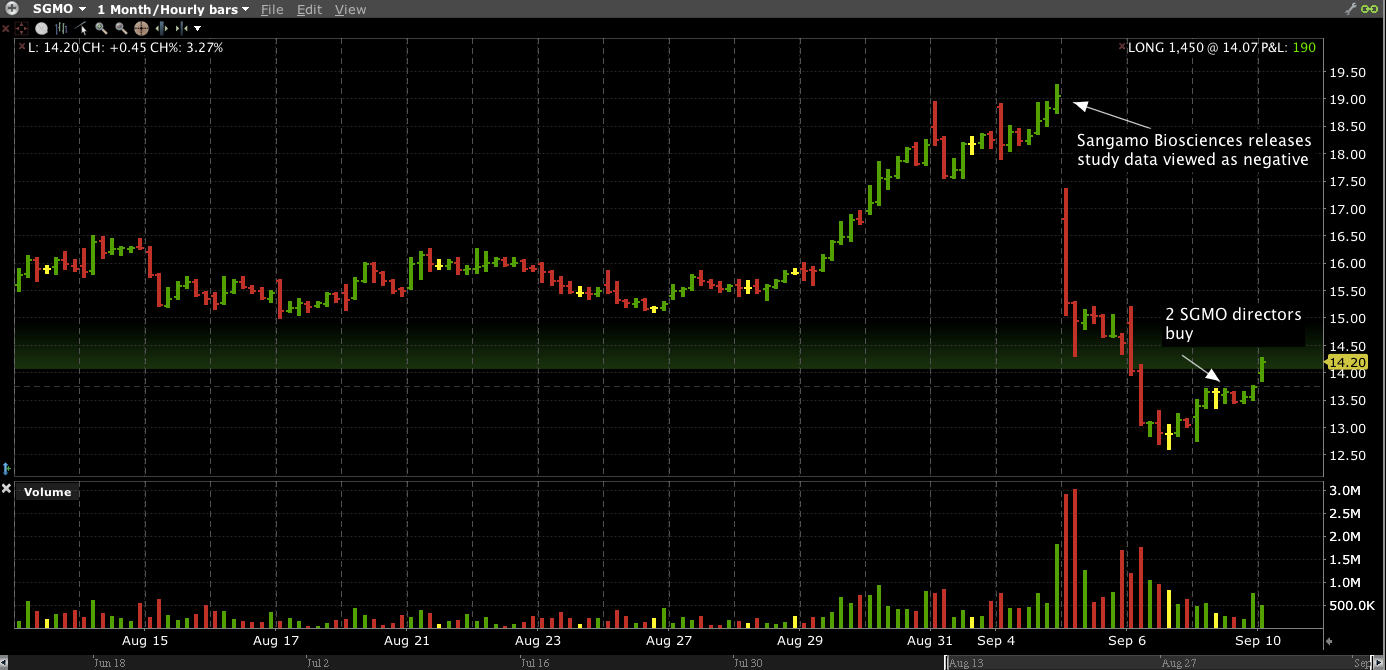 Source: Interactive Brokers
Sangamo is developing a cure for MPS II, or Hunter syndrome, a genetic disorder caused by mutations that inhibit the production of an enzyme that breaks down the complex-carbohydrate gylcosaminoglycans (GAGs) known as dermatan sulfate and heparan sulfate. Those afflicted with Hunter syndrome can't break these enzymes down, and they build up in body tissues, causing life-shortening organ damage. Only about 2,000 people have Hunter syndrome worldwide, including about 500 people in America.
There isn't a cure for Hunter syndrome, so treatment usually is based on Elaprase, an enzyme replacement therapy (ERT) developed by Shire that's generating nearly $180 million a quarter for that company.
Sangamo has been working on a gene-editing approach called zinc-finger nuclease (ZFN) since the 1990s. The company's technology cuts away the incorrect genetic code and replaces it with new code that restores genetic function.
It's a good bet that investors have overdone worries about SGMO's prospects, and that a mean-reversion trade retracing much of the recent sell-off is likely. I'm inclined to buy at $14.25, with a stop at $12.50. Shorter-term traders may want to target $18 for profit-taking. Investors may want to hang in there for a much greater profits. That's assuming Sangamo's gene-editing science does indeed prove successful.