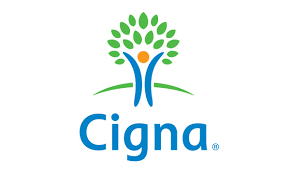 Cigna Insider Buying is a rarity. Only one corporate insider had bought shares of the giant health insurer on the open market since 2003. That changed dramatically on Monday, as Cigna (CI) CEO David Cordani disclosed the purchase of 32,509 shares of his company's stock at $155.17. Cordani increased his ownership by 10% to 357,550 shares, a nearly $58 million stake.
The $5 million worth of Cigna insider buying stands out for is size, but also because of Cordani's reversal of sentiment: Only last March the CEO sold $4.7 million of Cigna stock at $173.95. The sale was made as part of a pre-arranged selling program initiated last December. On Friday, Cigna filed an 8K with the SEC, stating:
As previously disclosed, on December 14, 2018, David M. Cordani, President and Chief Executive Officer of Cigna Corporation, adopted a stock trading plan designed to comply with Rule 10b5-1 of the Securities Exchange Act of 1934, as amended. On September 6, 2019, Mr. Cordani terminated the plan. Mr. Cordani has informed the Company that he currently intends to purchase $5 million of Cigna stock on or around September 9, 2019, subject to market and other conditions. The purchase will be disclosed on a Form 4 filed with the SEC as required.
As promised, Cordani made the $5 million purchase. But the obvious question is: What has changed at Cigna since March to flip the CEO from big seller to big buyer?
Certainly the stock is down after touching multi of $226 in December of last year. CI closed at $162.16 (+$8.36) on Sept. 9, off 28% from its all time high touched last year.
What has changed at Cigna since March to flip the CEO from big seller to big buyer?
CI shares gapped higher on July 11 after the company's posted Q2 earnings that beat estimates. Cigna also raised its forecast for 2019 earnings. According to IBES, Cigna earned $4.19 per share, excluding items, and beat the average Wall Street estimate of $3.74.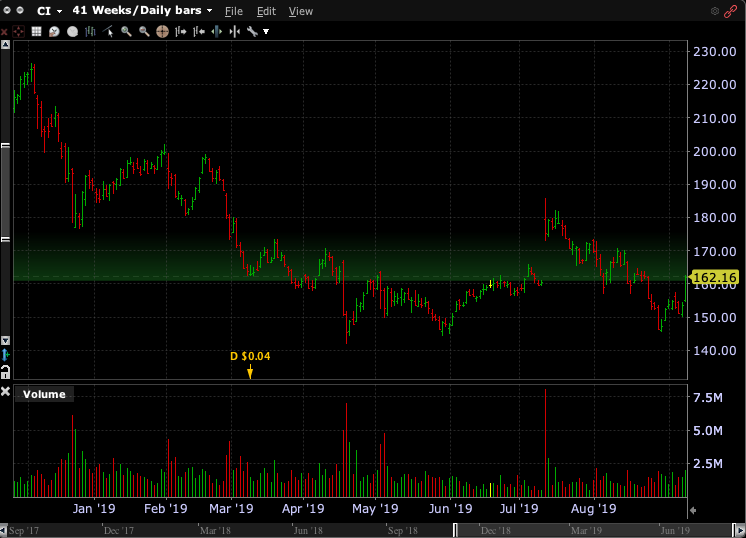 In the Q2 call, here's how CEO Cordani summed-up Cigna's performance:
Cigna delivered strong second quarter financial results, reflecting continued momentum across our businesses, including consolidated adjusted revenue of $34.4 billion and earnings of $1.6 billion. Collectively, our second quarter performance results gives us confidence again to raise our revenue and earnings outlook for 2019, representing a 17% to 19% EPS growth rate over Cigna's 2018 performance. Our strong results and our confidence in continued long-term sustainable growth are fueled by a portfolio of leading assets that we connect to provide more complete whole person care for those we serve. And as a result, improving affordability and predictability as well as personalized quality and sustainability. As we drive for medical cost growth no greater than CPI by 2021.
But the market sold the good news gap higher. CI gave back the gains, and then some, in the ensuing weeks leading up to Cordani's Cigna insider buying.
August 20 report: Cigna is exploring a sale of its group benefits insurance business for as much as $6 billion.
On August 20, Reuters reported that Cigna is exploring a sale of its group benefits insurance business. The sale could be be for as much as $6 billion. The unit for sale offers disability insurance as well as life and accidental death and dismemberment coverage to clusters of company employees. Cigna's move to shed it underscores its decision to focus on healthcare following its $54-billion acquisition of pharmacy benefits manager Express Scripts Holding Co last year.
On August 23, Stephens analyst Scott Fidel reiterated an Overweight rating and $225.00 price target on Cigna following the report. Fidel said the timing of the sale, at what he believes to be a potentially attractive valuation, could be well-time, as "fundamentals in CI's relatively less scaled group biz have slowed in recent years."
It should be noted that CEO David Cordani isn't exactly spending his last dime buying CI stock. Cordani's compensation totaled $12.5 million last year, a 27% jump from 2017. And that doesn't include $8.4 million in stock and stock options for which he will receive value in future years.
Disclaimer:
Do not construe anything written in this post or this blog in its entirety as a recommendation, research, or an offer to buy or sell any securities. Everything in this blog is meant for educational and informational purposes only. Do your own research before investing and don't risk more than you can afford to lose. This article expresses my own opinions, and I am not receiving compensation for it (other than from WhaleWisdom). If you buy a book after clicking on one of the above links, I may received an affiliate fee. I do not have a business relationship with any company whose stock is mentioned in this article. I or my associates may hold positions in the stocks discussed.