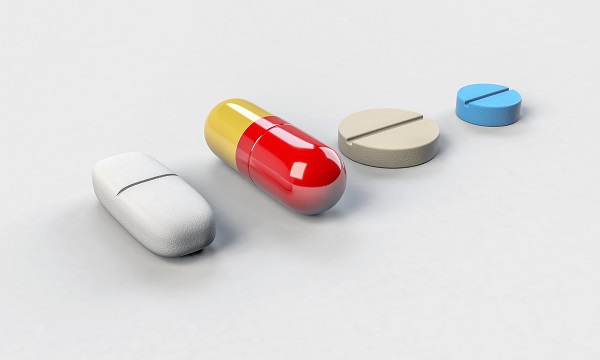 Two long-time directors of AbbVie Inc. (NYSE: ABBV) disclosed purchases of the pharmaceutical company's stock as it pulled back 25% from all-time highs reached earlier this year.
In a Form 4 filing on June, 29, Glenn F. Tilton disclosed a purchase of 5400 shares of ABBV at $91.90. The June 27 buy increased his holdings by 16% to 39,735 shares. This insider filing is noteworthy because Tilton has been a director of ABBV since 2013 when the company was spun-off from Abbott Labs (NYSE:ABT), but the $496,000 open market purchase was his first ever of ABBV.
Tilton was Chairman, President and CEO of UAL Corp from 2002-2010. He was also non-executive Chairman of United Continental Holdings Inc., (NYSE:UAL), from 2010 through 2012. Prior to being a Director of ABBV, Tilton was a director at Abbott Labs where he made a couple well-timed purchases of ABT shares, including a February 2009 ABT buy just as the post-crash recovery was getting underway.
Tilton's buy comes on the heels of a separate Form 4 filing: a June 20 purchase of 1013 ABBV shares at $98.63 by another director and long-time ABBV insider Edward J. Rapp.  Rapp's only two previous buys of ABBV shares have been well timed.  A July 31, 2017 buy of 4000 shares at $70.45 was particularly fortuitous. That $282,000 purchase came just before ABBV shares went on a six-month run, climbing over 78% before peaking at $125.86 on January 26, 2018.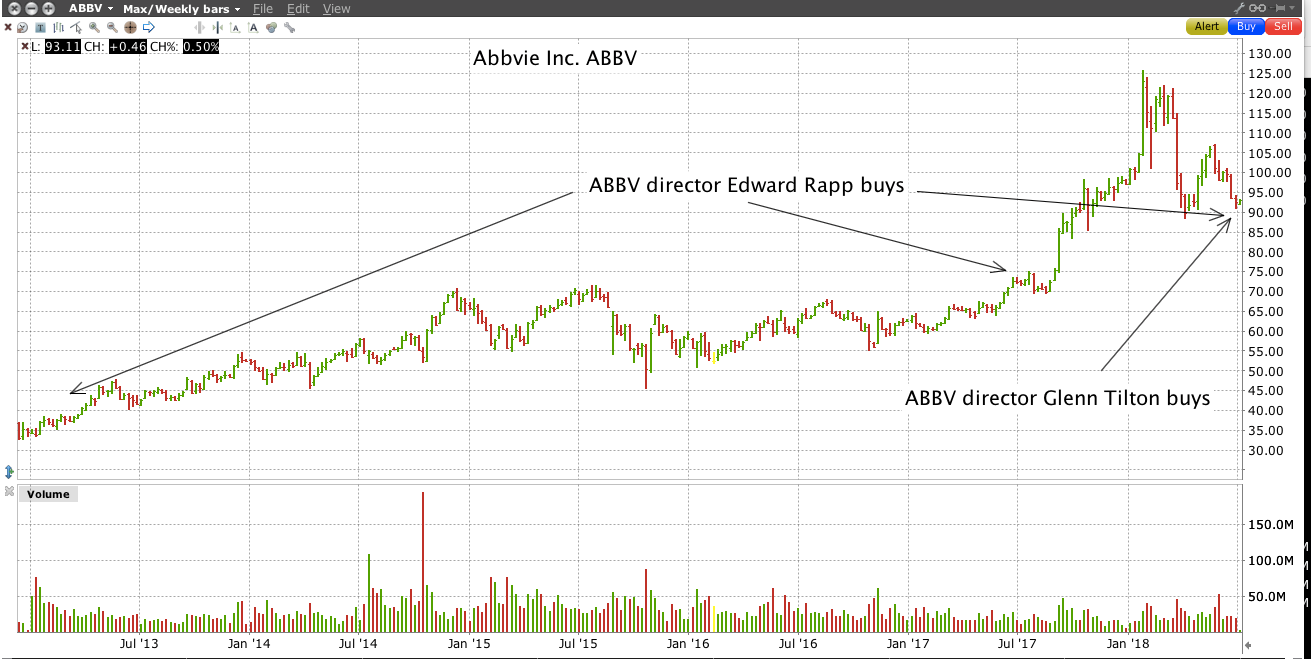 Source: Interactive Brokers
Consensus purchases by corporate insiders can be very profitable signals for investors to emulate. The purchases may indicate that the long-time directors, who are very familiar with their company, agree that the shares are cheap and warrant increasing "skin in the game."
Rapp is a former Group President at Caterpillar Group (NYSE:CAT) and has also been a director at ABBV since 2013.
Disappointing trial results regarding a new lung cancer treatment drug, Rova-T, led to a big drop in ABBV shares last March. However, there is reason to believe that the sell-off is a buying opportunity.
At the time of ABBV's spin off from Abbott Labs in 2013, there were worries that ABBV was too reliant on sales from Humira — a drug for the treatment of rheumatoid arthritis. However, Humira's sales have continued to grow, and intensive investment by AbbVie in recent years has created a diversified pipeline of drugs.
In a recent report, J.P. Morgan analyst Richard Gonzalez said he expects AbbVie to deliver "top-tier industry performance again in 2018, with adjusted EPS of $6.37 to $6.57, representing growth of ~15% to 19%."
In addition to strong revenue and earnings growth, Gonzalez points to ABBV's strong dividend growth as another reason to buy the shares; a recent dividend increase pushed ABBV's yield to over 4%. In addition, the company continues to buy-back its own stock. At current prices in the low $90s, ABBV has a PE of about 15, and a forward PE of just over 10, making the shares appear reasonably priced or even undervalued.
The two veteran directors appear to agree that ABBV is a buy and are investing their own money accordingly.