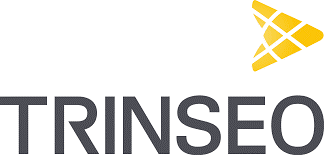 While the machines took over the stock market on Monday, relentlessly selling anything with a stock ticker, a few smart-money investors waded into the fray, using old fashioned fundamentals like earnings and valuations to inform their stock-picking.
One of the value/contrarian buyers was Stephen M. Zide, who disclosed Monday evening the purchase of 20,000 shares of chemical producer Trinseo S.A. (TSE) at an average price of $51.17, spending $1,023,492. Zide has been a director and chairman of Trinseo since 2010. He is also a Senior Advisor with private equity firm Bain Capital, and has been affiliated with Bain since 1997.
While hardly a household name, Trinseo is a big chemical producer with a market cap of $2.1 billion. TSE is a major manufacturer of styrene – a chemical used to make latex, synthetic rubber, and polystyrene resins that go into plastic packaging, disposable cups and insulation. Trinseo had 2017 revenue of $4.4 billion, and has 2,200 employees worldwide at 16 manufacturing sites.
Trinseo and other chemical companies have been scrutinized recently by investors as the global economy appears to be weakening. Reduced profit expectations, rising raw materials costs, an automotive slowdown and Chinese trade concerns have hit materials stocks hard. When Trinseo joined PPG Industries (PPG) and warned of an earnings shortfall, Zerohedge proclaimed Earnings "Nightmare Scenario" strikes again.
TSE closed at $49.31 on Monday, down over 35% since it's October 9 shortfall announcement.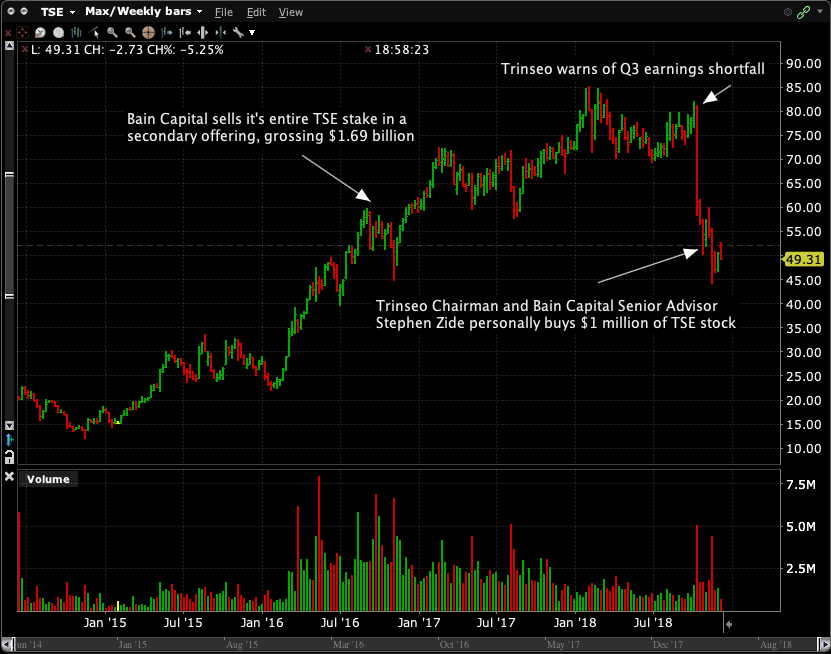 Interactive Brokers
Trinseo's third-quarter 2018 net income was $75 million, down from a previous projection of $88 million to $96 million. In a statement after the results, CEO Chris Pappas said the company had unexpected expenses, including a drop of $9 million in operating profits due to weak auto and tire sales, plus "a reduction in customer demand driven by the continued uncertainty of global trade dynamics." He also noted that orders slowed late in the quarter, as customers anticipated materials prices falling.
Bain Capital originally bought Trinseo (then known as Styron) from Dow Chemical in 2010, just as the industry was on the upswing after the recession.  Bain took the company public at $19 in June of 2014, then exited it's 74% stake in TSE in a series of secondary offerings, selling the last of its shares in 2016 with the stock around $54, grossing $1.69 billion.
As an adviser to Bain Capital, Trinseo director Stephen Zide filed Form 4's disclosing Bain Capital's selling of TSE in 2016, but he never personally owned any shares of the company. Until now. The insider certainly picked an interesting time to buy a million bucks worth of Trinseo stock, as TSE – and all the materials stocks – come under pressure. But of course, it's in periods of pessimism that value investors do their buying.
After 18 years attending Trinseo board meetings, it's a good bet that Chairman Zide is intimately familiar with Trinseo's business. And with a PE of 5.26, a price to sales of 0.45, and a dividend yield of 3.1%, it's easy to see why Zide might view TSE as cheap. I'll mention that  Towle & Company, a top performing value-oriented investment advisor, has Trinseo as its top portfolio holding, and added shares in the 3rd quarter, before TSE's recent swoon.
As the market sell-off continues, expect corporate insider buying to get increasingly aggressive as the smart money reacts to a rising number of oversold stocks.
Disclaimer: Do not construe anything written in this post or this blog in its entirety as a recommendation, research, or an offer to buy or sell any securities. Everything in this post is meant for educational and entertainment purposes only. I or my affiliates may hold positions in securities mentioned in the article.