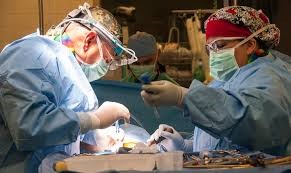 Nothing like putting a million bucks where your mouth is.
After a presentation yesterday at the JPMorgan healthcare conference yesterday, an analyst bad-mouthed medical device giant Medtronic Plc (MDT) and cut price targets. As the stock tumbled over 6%, Medtronic CEO Omar Ishrak went on television to defend his company and debunk critics.
Then today he bought $1 million dollars of MDT on the open market.
Joining in the buying was CFO Karen Parkhill who took down 3,000 shares at $83.87.
In a Form 4 filed at 12:27 PM EST today, Ishrak disclosed a purchase of 12,000 shares of MDT made earlier the day at $84.05. Insiders must file a Form 4 with the SEC within two business day of a change in their holdings.  By filing a disclosure just hours after a large purchase, Ishrak appeared to send a message that yesterday's analyst downgrades and share weakness in MDT is unwarranted.
It was the first open market purchase of MDT by Ishrak since he joined Medtronic in June of 2011. The CEO increased his holdings by about 2%, to 588.34K shares – to about a $49.4 million position. Today's buy by Parkhill was also her first open market purchase since joining the company in 2011. The CFO increased her holdings by 4% to 83,680 shares.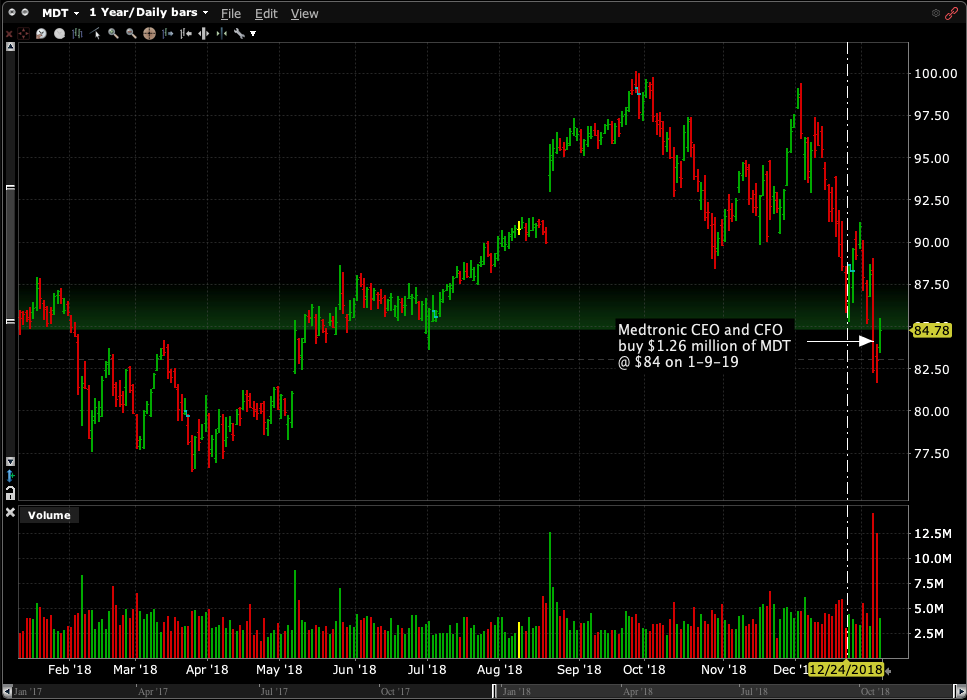 Interactive Brokers
Medtronic is a medical device manufacturing giant with a market cap of $106 billion. MDT's revenue for 2018 was nearly $30 billion. For Q2 2018, Medtronic earned $1.22 per share, on $7.48 billion in sales. After the November report, the company raised guidance for the full year.
At the JPMorgan healthcare conference yesterday, the company discussed earnings guidance for the next couple years. While fiscal 2019 projections were generally in line with analyst expectations, fiscal 2020 earnings guidance looked soft to analysts. Barclays analyst Kristen Stewart in particular found the guidance troubling, and cut her price target on MDT to $104 from $113. "If it isn't one thing, it seems to be another when it comes to Medtronic," she wrote, adding, "Medtronic has had a somewhat spotty record when it comes to providing guidance and has been affected by a series of one-off events over the past year and a half."
Ishrak, in an interview with Jim Cramer on CNBC after the conference, said that the criticism is unfounded. "We stand with the strongest pipeline that we've ever had in this company…we have a breadth of technology that we've never had before, and no one else has. We think these are game changers for health care." The CEO blamed the softened 2020 guidance on "tax issues…that the company continues to work on." Ishrak told CNBC the company is focusing on market-disrupting technologies such as Micra, a new less invasive pacemaker implanted directly into a patient's heart.
Medtronic touched 99.41 on December 4, but has fallen over 16% since then, based on yesterday's close.
In late November the FDA announced plans to overhaul the process for approving medical devices that is says puts consumers at risk. The new regulations have created some uncertainty for Medtronic and other medical device manufacturers. Analysts have also raised concerns regarding the safety of paclitaxel, a drug used as a coating on many medical devices, including Medtronic's.
Disclaimer: Do not construe anything written in this post or this blog in its entirety as a recommendation, research, or an offer to buy or sell any securities. Everything in this post is meant for educational and entertainment purposes only. I or my affiliates may hold positions in securities mentioned in the article.