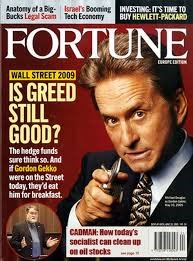 Record insider buying levels indicate a buying opportunity for the overall stock market is at hand.
We've heard the Warren Buffett's saying a hundred times: Be fearful when others are greedy and greedy when others are fearful. Over the last year, corporate insiders as a group have done just that. During most of 2018 officers and directors sold heavily. However, as panic selling by investors has intensified in recent weeks, we've seen record insider buying.
Through Thursday of this holiday-shortened trading week, the WhaleWisdom Insider Sell vs Buy ratio was at 0.44. That means the number of insider purchases by corporate officers and directors has topped insider sales by greater than 2 to 1 — that's record insider buying.
As I discussed recently, insider selling typically is normally greater than insider buying, mostly due to the frequent sale of stock options granted to insiders as compensation. During the bull market the weekly Sell vs Buy ratio was typically greater than 3 to 1. Weekly readings under 1.00 are rare.
The insider sell-buy ratio hasn't been this bullish since Nov. of  2008
The sell-buy ratio has been under 1.00 for the previous two weeks – something that hasn't happened since August of 2015. To find a more bullish weekly sell-buy ratio, we have to go back to the week of Nov. 17 2008, when the ratio hit an all-time low of 0.25. That coincided with a market bottom and a 20% trough to peak rally over the next six weeks. That rally peaked in early January 2009, then the Dow reversed course and plunged 28, finally putting in a volatile financial crisis bottom on March 6, 2009. Right now, record insider buying is suggesting the odds of a near-term bottom are good.
Current Sell-Buy ratio is most bullish since week of Nov. 17, 2008.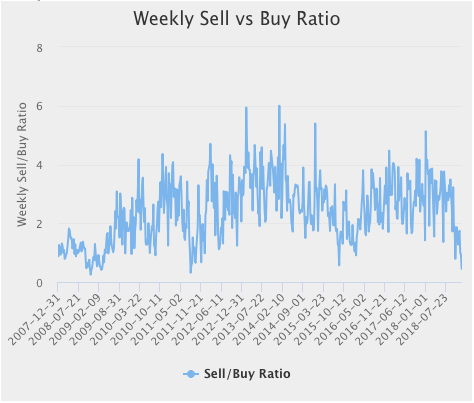 Here are some interesting filings from yesterday.  Use this list as a starting point for further research.
Falcon Minerals Corp (FLMN) $7.72. Hite Hedge Asset Management purchased $9.4 million of this oil stock at an average price of $7.26 over the last two days. The energy-based hedge fund had a 4.2 million share position at the end of Q3. FLMN is down 33% since Sept. 1.
Schwab Charles Corp (SCHW) $41.05. After today's market close, Schwab President and CEO Walter Bettinger filed a Form 4 disclosing the purchase of $4.8 million of SCHW at $37.97 – $39.09. While the purchases were planned, they represent Bettinger's first open market purchases since he joined Schwab in 2004.
Front Yard Residential Corp.(RESI) $8.48 The affordable housing developer touched 52-week lows this week. 10% holder Deer Park Road Management has bought $7.6 million of RESI so far in December. The REIT yields 7.1%.
Pedevco Corp (PED) $0.55 This energy stock traded for $2.22 on Sept. 26. On Dec. 21, CEO and 10% owner Simon Kukes paid $0.74 for 225,000, increasing his holdings 3% to 7.87 million shares. Director Siem Ivar bought 180,000 shares at $0.59, his first open market buys since joining the company this year. Market cap for the penny stock is $9.64 million.
Prospect Capital Corporation (PSEC) $6.33 CEO and 10% holder John Barry purchased $11 million of the business development company over the last two days, paying about $5.85. The COO, CFO and a director also joined in the buying. PSEC yields 11.3%.
Tpg Re Finance Trust, Inc. (TRTX) $18.32 This consumer finance REIT has dropped 13% since August. CEO and President Greta Gugenheim bought 59,700 shares, spending $1.1 million since Dec. 21. A VP also bought shares. It was Guggenheim's first purchase since heading the REIT in January of 2016. TRTX yields 9.4%.
Chesapeake Energy Corp. (CHK) $2.22. Since December 13, Chesapeake insiders have been aggressive buyers. Archie Dunham purchased $9.2 million shares at $1.97 through $2.22. The Non-executive Chairman Emeritus of CHK has averaged down after buying the stock at much higher prices over the years. Six other CHK insiders bought, buying as the shares have fallen 55% since October.
National General Holdings Corp (NGHC) $23.65 CEO Barry Karfunkel and President Robert Karunkel bought a combined $652K of the Property & Casualty Insurer on Dec. 24 – Dec. 26. NGHC is down 18% since Nov. 12.
Disclaimer: Do not construe anything written in this post or this blog in its entirety as a recommendation, research, or an offer to buy or sell any securities. Everything in this post is meant for educational and entertainment purposes only. I or my affiliates may hold positions in securities mentioned in the article.