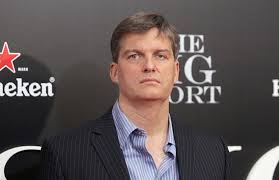 Scion Management's Q2 holdings are out, revealing extensive turnover orchestrated by manager Michael Burry. The renowned value investor added four new stocks to his portfolio, but closed-out eight positions, cutting the total number of long holdings in his hedge fund to just 10.
Maybe most notably, the renowned value investor added a new stake in FedEx Corp (FDX), which recently made 2 year lows. In June FDX cut it's business relationship with Amazon, as the retailing giant expands its in-house fulfillment services and competes with FDX. Burry apparently feels the competitive threat from Amazon is overblown, and made FDX his fund's 4th largest position.
According to WhaleWisdom's 13F backtester, a manager-weighted portfolio of Scion's top ten holdings was up 18.32% year-to-date through Q2's end. You can analyze Scion Management's Q2 holdings in detail here.
Burry added 980,800 shares of Tailored Brands (TLRD) in Q2, making the retailer, formerly named Men's Wearhouse, Scion's #3 position. TLRD was first added by Burry in Q4 2018. WhaleWisdom estimates that Burry's cost in the stock is $8.74. TLRD was recently trading at $4.68. While the popularity of casual dress has hurt Tailored Brands, sending the stock into an extended swoon, TLRD's dividend yield is now 15.5%. Scion held 3.69% of Tailored Brands' outstanding shares at Q2's end. Burry obviously believes the stock is a bargain.
Western Digital (WDC) is now Scion Asset Management's top holding.
Western Digital Corp (WDC) became Scion Asset Management's #1 position, as Burry bought 100,000 more shares in the 2nd quarter. WDC comprised 12.71% of Scion's portfolio, up from 7.34% in Q1. The hard drive manufacturer's stock is up almost 50% since mid-June, yet WDC only trades at 1.59x book value and yields 3.7%.
Scion Management's Q2 holdings showed Cliffs Natural Resources (CLF) as the fund's #2 position at 12.54% of the total. Burry added 350,000 shares during Q2. CLF is down 22% so far in August as worries of a weakening global economy have hurt natural resource stocks. An insight into Burry's thinking on CLF may be found in the bullish post-Q2 earnings comments by CLF's CEO Lourenco Goncalves.
Cardinal Health (CAH) was another new add, becoming Scion's 6th largest holding. The healthcare company is trading near 2019 lows, off about 25% from Feb. highs.
Also noteworth is Scion's addition of 1.6 million shares of GreenSky Inc (GSKY). While the stock closed at $12.40 on June 28, it was recently trading at $7.45. WhaleWisdom estimated Burry's cost to be $12.58. One wonders if he's buying after GSKY's 40% haircut.
| | |
| --- | --- |
| Scion Q2 2019 Top Buys | % Change |
| FedEx Corporation (FDX) | 10.53 |
| Alphabet Inc. Class C (GOOG) | 10.40 |
| Cardinal Health, Inc. (CAH) | 10.07 |
| Alibaba Group Holding Ltd ADR (BABA) | 9.06 |
| Western Digital Corp (WDC) | 5.36 |
| Cliffs Natural Resources Inc. (CLF) | 4.91 |
| Tailored Brands Inc (TLRD) | 4.47 |
| GreenSky Inc (GSKY) | 4.30 |
| Sportsmans Warehouse Holdings Inc (SPWH) | 0.34 |
Burry also closed out eight positions, including Scion's previous top two positions from Q1 2019: JD.com Inc (JD) and Five Point Holdings (FPH). Scion held only 10 positions at Q2's end. We should note however that 13F holdings only reflect long positions, and it's likely Burry maintains short positions and/or cash.
Scion completely liquidated eight positions in Q2, including it's top two stocks from Q1.
Here are Scion Management's Q2 2019 top sells:
| | |
| --- | --- |
| Scion Q2 2019 Top Sells | % Change |
| JD.com Inc ADR (JD) | 9.213 |
| Five Point Holdings LLC (FPH) | 9.094 |
| Alphabet Inc. Class A (GOOGL) | 8.991 |
| Altaba Inc. (Yahoo) (AABA) | 7.927 |
| Facebook Inc (FB) | 7.64 |
| CorePoint Lodging Inc (CPLG) | 7.481 |
| Gamestop Corp., Class A (GME) | 6.726 |
| PetIQ Inc (PETQ) | 3.399 |
Dr. Michael Burry, profiled in the book and movie The Big Short, gained fame for shorting sub-prime mortgages prior to 2008, betting that the sub-prime market would implode. He was proven spectacularly right, making his Scion Capital clients, and himself, hundreds of millions. Scion capital recorded net returns of 489.34% before the reclusive Burry shut it down in late 2008. He reopened Scion Asset Management in 2013. His first 13F filing since reopening Scion was Q4 of 2018.
Michael Burry practices his own uniquely unorthodox style of value investing.
Burry is a hard-core value investor. He's said that all of my ideas are based on margin of safety. In Scion's ADV filed with the SEC, he states that the fund strives to achieve
Clients' investment objectives primarily through fundamental research in pursuit of undervalued and/or misunderstood investment situations in the global theater. This fundamental research may take into account technical, macroeconomic, and other tactical approaches to the ever-changing securities marketplace. Investment in individual equities based on Scion's fundamental, value-oriented analysis will often be a principal emphasis.
But Burry is unorthodox, a unique thinker with his own distinctive contrarian approach. As Michael Lewis wrote in the Big Short, Burry does not believe that investing can be reduced to a formula or learned from any one role model. The more he studied Warren Buffett, the less he thought Buffett could be copied. Indeed, the lesson of Buffett was: To succeed in a spectacular fashion you had to be spectacularly unusual. "If you are going to be a great investor, you have to fit the style to who you are," Burry told the author, adding:
"At one point I recognized that Warren Buffett, though he had every advantage in learning from Ben Graham, did not copy Ben Graham, but rather set out on his own path, and ran money his way, by his own rules. . . . I also immediately internalized the idea that no school could teach someone how to be a great investor. If it were true, it'd be the most popular school in the world, with an impossibly high tuition. So it must not be true."
Disclaimer:
Do not construe anything written in this post or this blog in its entirety as a recommendation, research, or an offer to buy or sell any securities. Everything in this blog is meant for educational and informational purposes only. Do your own research before investing and don't risk more than you can afford to lose. This article expresses my own opinions, and I am not receiving compensation for it (other than from WhaleWisdom). If you buy a book after clicking on one of the above links, I may received an affiliate fee. I do not have a business relationship with any company whose stock is mentioned in this article. I or my associates may hold positions in the stocks discussed.