image attributed to https://commons.wikimedia.org/wiki/File:Sheldon_Adelson_crop.jpg
On Sunday, January 18, 2009, as the financial crisis intensified, the Las Vegas Sun ran an article entitled: "Las Vegas Sands: A big rise, a big fall." The piece chronicled how Las Vegas Sands casino founder and CEO Sheldon Adelson's personal fortune peaked in 2007 at $28 billion on the strength of his stake in Las Vegas Sands (NYSE:LVS) stock, making him the third richest man in America.
But LVS had since crashed, plummeting from a high of $147 in October of 2007 to $6.27 on the date the article was published. And as owner of 300.54 million shares of LVS, Adelson's fortune had taken a massive hit.
Adelson, whose parents emigrated from Russia to escape persecution, famously began his business career selling newspapers on street corners in his childhood home of Boston. He built his fortune aggressively developing casinos, hotels and convention facilities in Las Vegas. Then in the mid-2000s Adelson set his sights on Macau – the gaming capital of Asia, and a stone's throw from millions of Chinese gamblers. Adelson opened the Sand's Macau there in 2004.
As Adelson aggressively developed Macau, the stock market crashed
As he had in Las Vegas, Sheldon set about leveraging his success in Macau into every larger developments. In August of 2008, Las Vegas Sands opened a second casino on the famous Cotai Strip in Macau, accompanied by a luxury mall. Two months later, the stock market crashed. As the global financial crisis unfolded, financing for this project vanished. The company was forced to use cash generated by its Las Vegas resorts to finance the Macau project. But the recession sliced into Vegas gambling revenues, leaving LVS in a tough spot.
In a last-ditch effort to raise money and avoid bankruptcy, on September 30 2008, with the stock trading at $36, the company issued 182 million shares of stock, diluting the shares outstanding by more than 50%. LVS stock was decimated.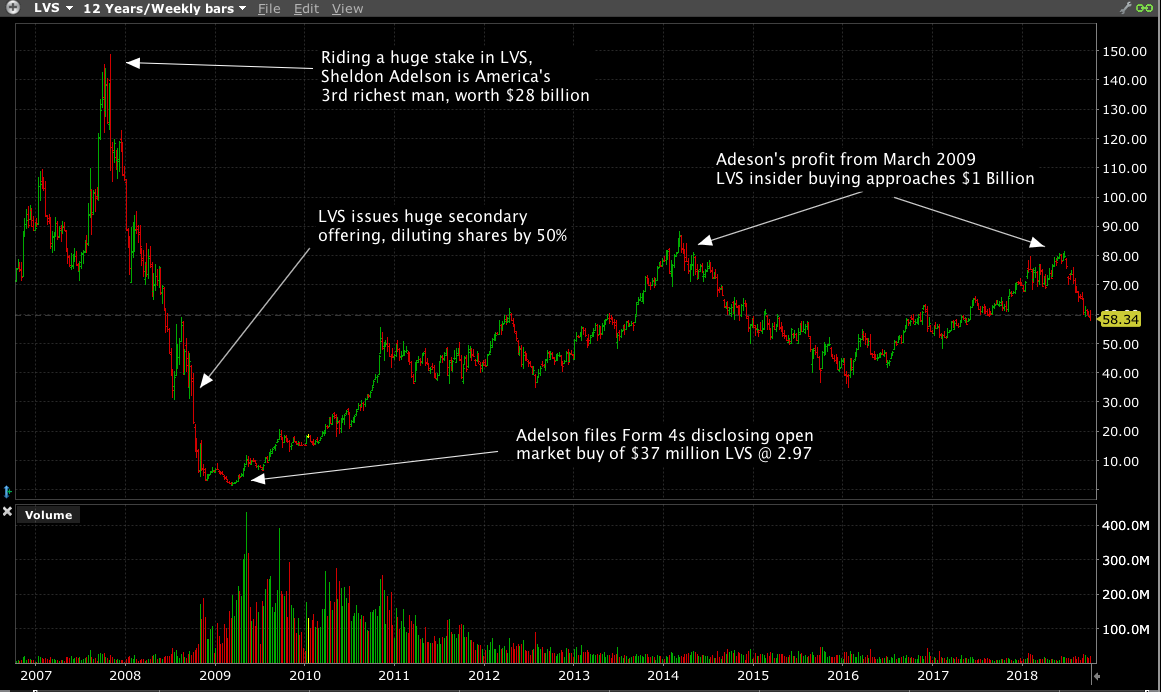 As the Sun article relates, it was during this time that the five-foot five-inch Adelson said in a conference call: "As all of you that know me know, I don't equal the height of Yao Ming or LeBron James or any of the basketball players. However, one of my closest friends says, 'Sheldon, don't worry about your height. You're the tallest person I know when you stand on your wallet.' And I'm saying right now the company will not have liquidity problems. Need I say more?"
In late March of 2009, with global markets imploding, Adelson backed up his words with a public display of confidence in LVS, buying a total of 12,566,710 shares on the open market at an average price of $2.97 – an insider purchase totaling $37.39 million. While that amount may have been a drop-in-the-bucket compared to Adelson's total wealth, it nevertheless was an eye-catching amount for an insider buy. Sheldon was publicly re-asserting his confidence in LVS, buying into surging market pessimism.
Adelson's LVS return on his March 2009 purchase was over 2000%
Barely more than a month later LVS had touched $11.84 – a quick four bagger for those following Adelson's lead. Las Vegas Sands eventually completed its Macau developments and today operates five casino properties there, with annual cash flow approaching $3 billion. And even though LVS has pulled back from the $80 level reached in June, Adelson's return on his March 2009 purchase is over 2000% — a staggering $715 million profit. And Adelson's personal wealth? According to Forbes's most recent calculation, Sheldon Adelson's net worth has surpassed its 2007 peak, and is now over $34 billion, making him the 15th richest man in America.
| | | | | | | | | | | |
| --- | --- | --- | --- | --- | --- | --- | --- | --- | --- | --- |
| Filing Date | Company | Symbol | Transaction | Trade Date | Shares | Avg. Price | Total | Holdings Start | Holdings End | % Return to date |
| 02-Apr-2009 | Las Vegas Sands Corp. | LVS | Market Purchase | 31-Mar-2009 | 4,726,910 | 3.01 | $ 14,230,400 | 338,383,104 | 343,110,016 | 2065.54% |
| 31-Mar-2009 | Las Vegas Sands Corp. | LVS | Market Purchase | 30-Mar-2009 | 3,740,900 | 2.82 | $ 10,545,200 | 334,642,112 | 338,383,008 | 2212.79% |
| 31-Mar-2009 | Las Vegas Sands Corp. | LVS | Market Purchase | 27-Mar-2009 | 4,098,900 | 3.08 | $ 12,609,400 | 330,543,072 | 334,641,984 | 2019.24% |