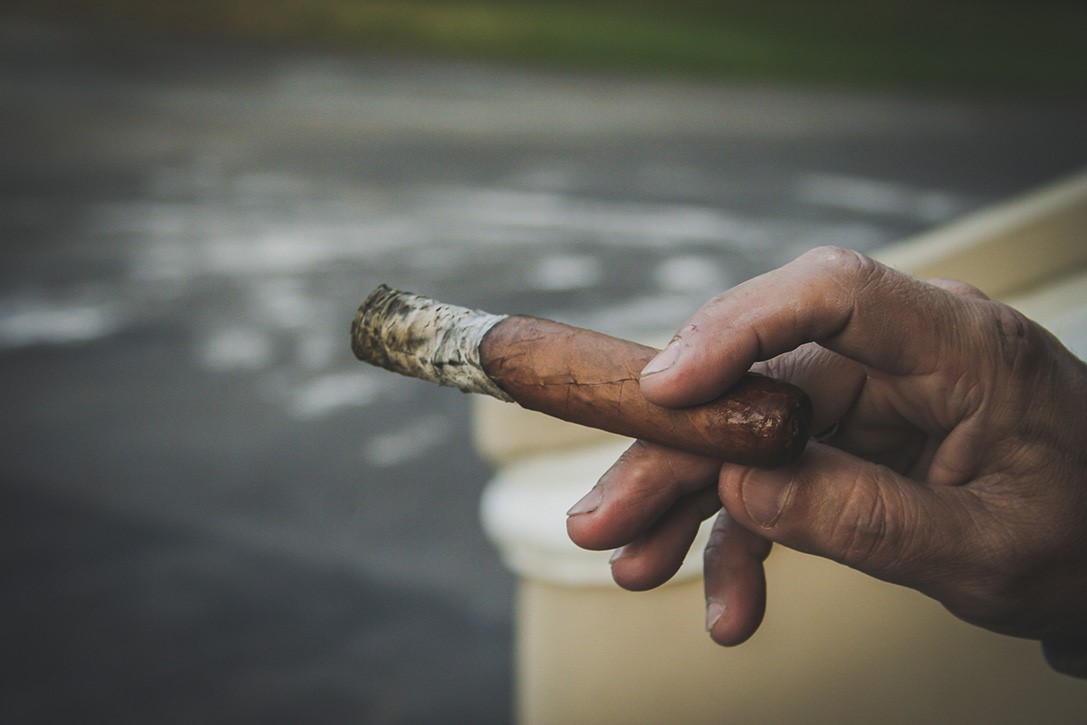 Somewhere, Benjamin Graham is smiling. The father of Value Investing and mentor to Warren Buffett had a favorite investment strategy: Buying "Net-Net" stocks. These are stocks that because of bad markets, bad business, bad luck – or a combination of all three — are trading for less than the net cash they have in the bank.
Think of Net-Net stocks this way: If you were to buy a Net-Net stock and sell the underlying business, you would get your money back just by selling off the current assets – cash and assets easily converted into cash. Whatever else the company has – buildings, equipment, etc. – you would get for free.  So, Net-Net stocks trade for less than the Net Cash Asset Value (NCAV) of the company.
Warren Buffett calls these kinds of stocks "cigar butt" stocks. In fact, in his 2014 letter to shareholders, the world's third richest man described Berkshire Hathaway (with market today cap of $464 billion) as a cigar butt stock when he first bought it in 1962: "The stock was then selling for $7.50, a wide discount from per-share working capital of $10.25 and book value of $20.20," Buffett wrote, adding: "Buying the stock at that price was like picking up a discarded cigar butt that had one puff remaining in it. Though the stub might be ugly and soggy, the puff would be free. Once that momentary pleasure was enjoyed, however, no more could be expected."
With the internet dispersing financial information wide and far, neglected Net-Nets in the U.S. are rare compared to Ben Graham's day. Add in a relentless bull market where stocks are universally overvalued, and the Net-Net has been the rarest of occurrences. But a quick 20% drop in the averages has put the Fear of Risk back into investors. And as I mentioned in my last post, panic selling has caused the list of Accidental High Yielders to proliferate.
CSS Industries (CSS) definitely qualifies as an Accidental High Yielder.  The stock is down 68% in 2018, but still pays a $0.20 quarterly dividend. Now trading at $9, CSS yields 8.88%.
CSS Industries – monthly chart with quarterly dividends listed.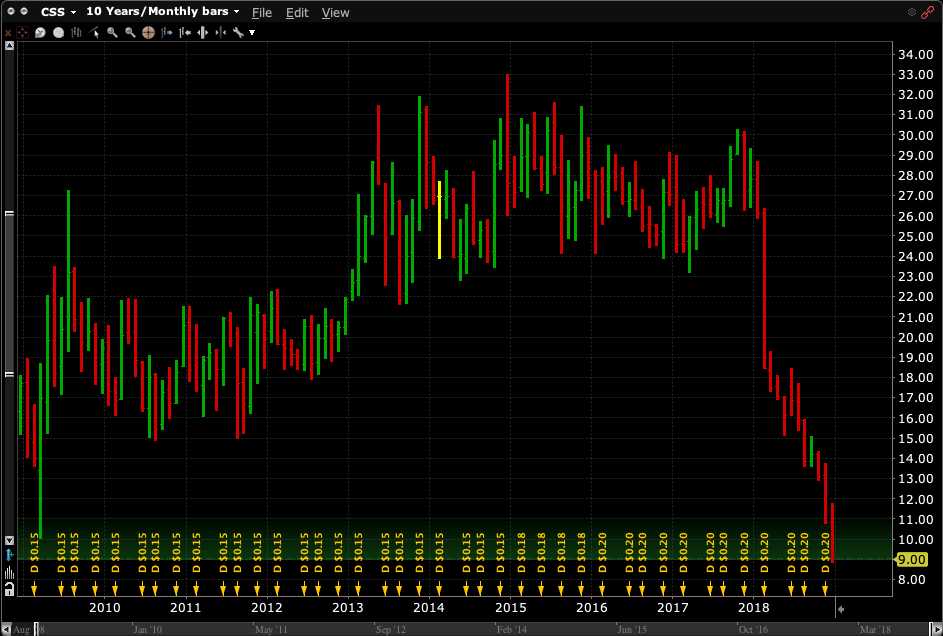 Interactive Brokers
CSS Industries sells ribbons, bows, greeting cards, crafts, stationery, etc. to big box retailers.  Your initial reaction might be: Yes, well CSS Industries operates in a declining industry, so of course its stock has been going down. Knitting needles and scrapbooks are so 20th century…. Indeed, earnings look ugly: $-6.08 over the trailing twelve months.
But CSS appears to be the proverbial cigar-butt opportunity. According to this Seeking Alpha article,  at $9 CSS currently sells for 60% of calculated 2019 NCAV. The author Daniël Tacken says that investors have misunderstood inventory accounting associated with recent acquisitions. Though net income showed a loss of $36 million in fiscal 2018, free cash flow was actually a positive $31.5 million. The accounting charges will diminish going forward, making earnings appear more "normal." Cash flow is more than enough to support the dividend. The company has repurchased stock and as of June 30 has 303K more shares authorized to be repurchased. Also, according to the author, there are several potential catalysts that could propel the discounted shares higher.
Adding credence to the story is this: Between Dec. 10-14, Rebecca Matthias, a director of CSS, purchased 10,100 shares at $11.00. Ms. Matthias, who has an extensive history in the retail sector, has been non-executive Chairman of CSS since July 2015 and an independent director of CSS since 2003. The director saw value in CSS stock 22% above current levels.
Looks like there may be at least a few puffs left in this discarded stogie…
Disclaimer: Do not construe anything written in this post or this blog in its entirety as a recommendation, research, or an offer to buy or sell any securities. Everything in this post is meant for educational and entertainment purposes only. I or my affiliates may hold positions in securities mentioned in the article.