As we've written before, Abdiel Capital is all about focus. Managing partners Colin Moran and Geoffrey Gentile don't spread their bets around much — they run a concentrated long book. Abdiel's 13F portfolio, disclosed last Friday, showed that the fund's $2.14B in long holdings was invested in only 13 positions at Q1's close. $1.91B of those assets were in the fund's top 10 positions.
If you invested in an equity index fund on Feb. 18, 2020 you had unfortunate timing. The S&P 500 imploded by 32% over the next month as the coronavirus pandemic rocked markets. Even after the massive April bounce, you'd still be down 10%. But if you had bought equal weightings of Abdiel's 11 holdings on Feb. 18, you'd be up nearly 16%. Cloning Abdiel's Q1 2019 portfolio last Feb., and rebalancing with new 13F filings, would have resulted in a 71.24% one year return.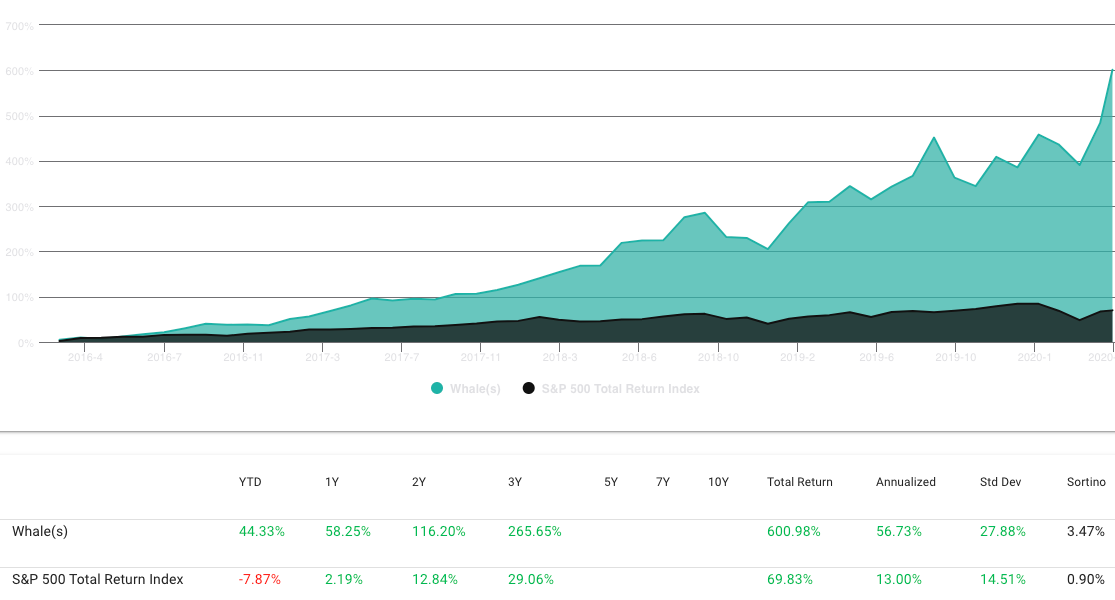 The fund added four new positions in Q1: Slack Technologies (WORK), which offers workflow management software. Floor and Decor Holdings (FND), a multi-channel retailer of wood and stone flooring. Carvana (CVNA), which operates a platform for buying used cars. And internet infrastructure developer Twilio (TWLO).
Abdiel's top holding continues to be information technology company Alteryx (AYX), representing 16.41% of the fund's portfolio. Enterprise software company Appian Corp (APPN) is the #2 holding and Shopify (SHOP) is #3.
Q1 portfolio details can be found here.
Abdiel's current equal weight 13F portfolio for Q1, established on May 18.
You can follow 13Fs, insider buying and other SEC filings at WhaleWisdom.com.
Contact Mark about investing based on SEC filings and smart money disclosures.
Disclaimer:
This investment blog (the "Blog") is created and authored by Mark W. Gaffney (the "Content Creator") and is published and provided for informational and entertainment purposes only (collectively, the "Blog Service"). The information in the Blog constitutes the Content Creator's own opinions. None of the information contained in the Blog constitutes a recommendation that any particular security, portfolio of securities, transaction, or investment strategy is suitable for any specific person. You understand that the Content Creator is not advising, and will not advise you personally concerning the nature, potential, value or suitability of any particular security, portfolio of securities, transaction, investment strategy or other matter. To the extent any of the information contained in the Blog may be deemed to be investment advice, such information is impersonal and not tailored to the investment needs of any specific person.
From time to time, the Content Creator or its affiliates may hold positions or other interests in securities mentioned in the Blog and may trade for their own account(s) based on the information presented. The Content Creator may also take positions inconsistent with the views expressed in its messages on the Blog.
The Content Creator may hold licenses with FINRA, the SEC or states securities authorities and these licenses may or may not be disclosed by the Content Creator in the Blog.
Investing in the investments discussed in the Blog may be risky and speculative. The companies may have limited operating histories, little available public information, and the stocks they issue may be volatile and illiquid. Trading in such securities can result in immediate and substantial losses of the capital invested. You should use invest risk capital, and not capital required for other purposes, such as retirement savings, student loans, mortgages or education.