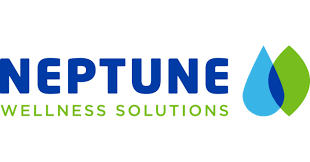 Leading health care-focused hedge fund Perceptive Advisors increased its Neptune Wellness (NEPT) stake by 37%, buying 5,000,000 shares. The fund made the disclosure via a 13G/A "passive" filing yesterday. Perceptive's purchase comes days after the Quebec-based cannabis extraction company announced a new partnership that will pay Neptune a minimum of $16.5 million over the next six months. The company's revenue in its most recent quarter was $6.5 million.
Perceptive Advisors first bought a small stake in Neptune in Q2 2011, when NEPT was trading around $4. It's been a wild ride for the small cap stock since then. NEPT hit $5.14 in July of 2012, then slid all the way to $0.80 in the fall of 2017. The stock's all time high of $6.56 came in July of last year. NEPT's low during the coronavirus crash was $0.96 on March 19. The shares closed at $2.85 on May 21.
Previously, in Q3 of 2019, Perceptive Advisors increased its Neptune Wellness stake by 2.25 million shares. NEPT is the fund's #20 holding.
Perceptive Advisors ownership history of NEPT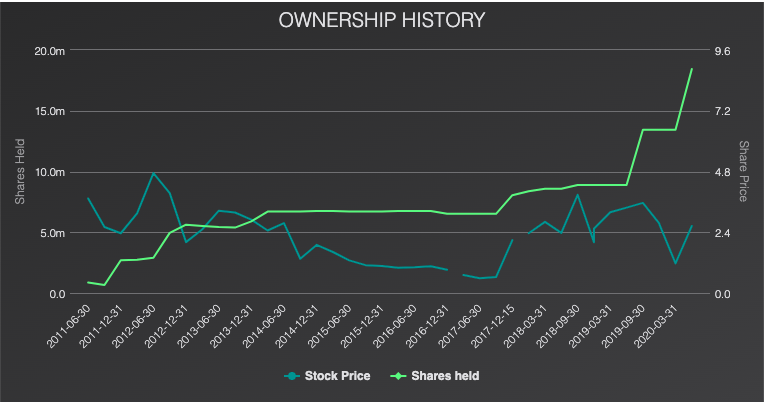 Meanwhile, the company's revenues have been sporadic.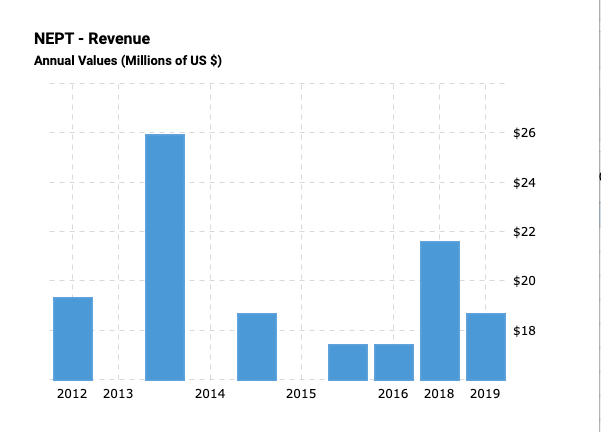 In a May 14 press release, Neptune said Q1 fiscal 2021 revenue growth is "expected to accelerate significantly, reflecting YOY growth of 300% to 400% to approximately $18 million to $22 million. Fiscal 2020 revenue is anticipated to increase 15% to 21% to approximately $28.0 to $29.6 million from $24.4 million in the prior year." It's not clear if revenue from the new partnership is included in that projection. 
Neptune Wellness Solutions originally focused on Antarctic krill oil production. But in June of 2019 the company announced a multi-year deal to provide extracted cannabis products for Canopy Growth Corp. (CGC). Neptune now operates an industrial-scale licensed cannabis processing plant in Quebec, CA, and a hemp processing facility in North Carolina.
Neptune Solutions is Perceptive Advisors #20 position.
Under the terms of the new deal with the unnamed partner, Neptune will see revenue of at least $16.5 million, processing 44,000 kilos of extract from hemp.
In a news release, Neptune said the extracts will be processed for the derivatives market in Canada. Following the Cannabis 2.0 phase of legalization, the country legalized products such as edibles and marijuana-infused drinks, effective October 2019.
"With this partnership we are in an even stronger position to serve and provide value to our Canadian [licensed producer] customers, while generating high margin revenue opportunities through the processing of hemp or cannabis extracts for a variety of product forms," the company said.
Joseph Edelman's Perceptive Advisors is a leading health-care focused hedge fund. Over the last decade, an equal-weighted portfolio of Perceptive's top 20 13F positions has averaged a 20.49% annualized return. That compares to the S&P 500's total return of 12.21% annualized.
You can follow 13Fs, insider buying and other SEC filings at WhaleWisdom.com.
Contact Mark about investing based on SEC filings and smart money disclosures.
Disclaimer:
This investment blog (the "Blog") is created and authored by Mark W. Gaffney (the "Content Creator") and is published and provided for informational and entertainment purposes only (collectively, the "Blog Service"). The information in the Blog constitutes the Content Creator's own opinions. None of the information contained in the Blog constitutes a recommendation that any particular security, portfolio of securities, transaction, or investment strategy is suitable for any specific person. You understand that the Content Creator is not advising, and will not advise you personally concerning the nature, potential, value or suitability of any particular security, portfolio of securities, transaction, investment strategy or other matter. To the extent any of the information contained in the Blog may be deemed to be investment advice, such information is impersonal and not tailored to the investment needs of any specific person.
From time to time, the Content Creator or its affiliates may hold positions or other interests in securities mentioned in the Blog and may trade for their own account(s) based on the information presented. The Content Creator may also take positions inconsistent with the views expressed in its messages on the Blog.
The Content Creator may hold licenses with FINRA, the SEC or states securities authorities and these licenses may or may not be disclosed by the Content Creator in the Blog.
Investing in the investments discussed in the Blog may be risky and speculative. The companies may have limited operating histories, little available public information, and the stocks they issue may be volatile and illiquid. Trading in such securities can result in immediate and substantial losses of the capital invested. You should use invest risk capital, and not capital required for other purposes, such as retirement savings, student loans, mortgages or education.