ConAgra insider Craig Omtvedt bought $1.35 million of the food giants's stock two weeks after ConAgra Brands Inc (CAG) reported surprisingly good earnings and upped its guidance. CAG hit 52-week highs after the report. Omtvedt's Form 4 disclosing his purchase came after market hours on Jan. 3.
Omtvedt has been a director of ConAgra since Nov. of 2016. He is also the Chairman of OshKosh Corp. (OSK), serving as a director at the vehicle maker since 2008. Omtvedt was the CFO of Fortune Brands from 2000 through 2011. The ConAgra insider's only previous purchase of CAG was on July 2 of last year when he bought 25,000 shares at $26.93. Omtvedt averaged up with this recent purchase, buying 40,000 shares at $33.99. He increased his stake in ConAgra by 114%.
ConAgra insider Craig Omtvedt insider purchases of CAG since becoming a director. Source: WhaleWisdom.com
| | | | | | | | | |
| --- | --- | --- | --- | --- | --- | --- | --- | --- |
| Filing Date | Company | Symbol | Transaction | Trade Date | Shares | Avg. Price | Total | Holdings Change |
| 03-Jan-2020 | ConAgra Foods, Inc. | CAG | Open Mkt Buy | 02-Jan-2020 | 14,450 | 34 | $ 491,300 | 24% |
| 03-Jan-2020 | ConAgra Foods, Inc. | CAG | Open Mkt Buy | 31-Dec-2019 | 25,550 | 33.98 | $ 868,189 | 73% |
| 02-Jul-2019 | ConAgra Foods, Inc. | CAG | Open Mkt Buy | 28-Jun-2019 | 25,000 | 26.73 | $ 668,250 | 249% |
CAG hit a 52-week high just before the big purchase by ConAgra insider Craig Omtvedt.
Conagra, a food giant with a market cap of $16.29 billion, owns a portfolio of well-known brands, including Duncan Hines, Orville Redenbacher's, Healthy Choice, Bird's Eye and Slim Jim. CAG stock soared over 22% after it released strong fiscal second-quarter 2020 results that topped both top- and bottom-line estimates.
For the period, which ended Nov. 24, net sales rose 18.3% to $2.82 billion. Adjusted earnings per share came in at $0.63, topping analysts' consensus estimate of $0.57.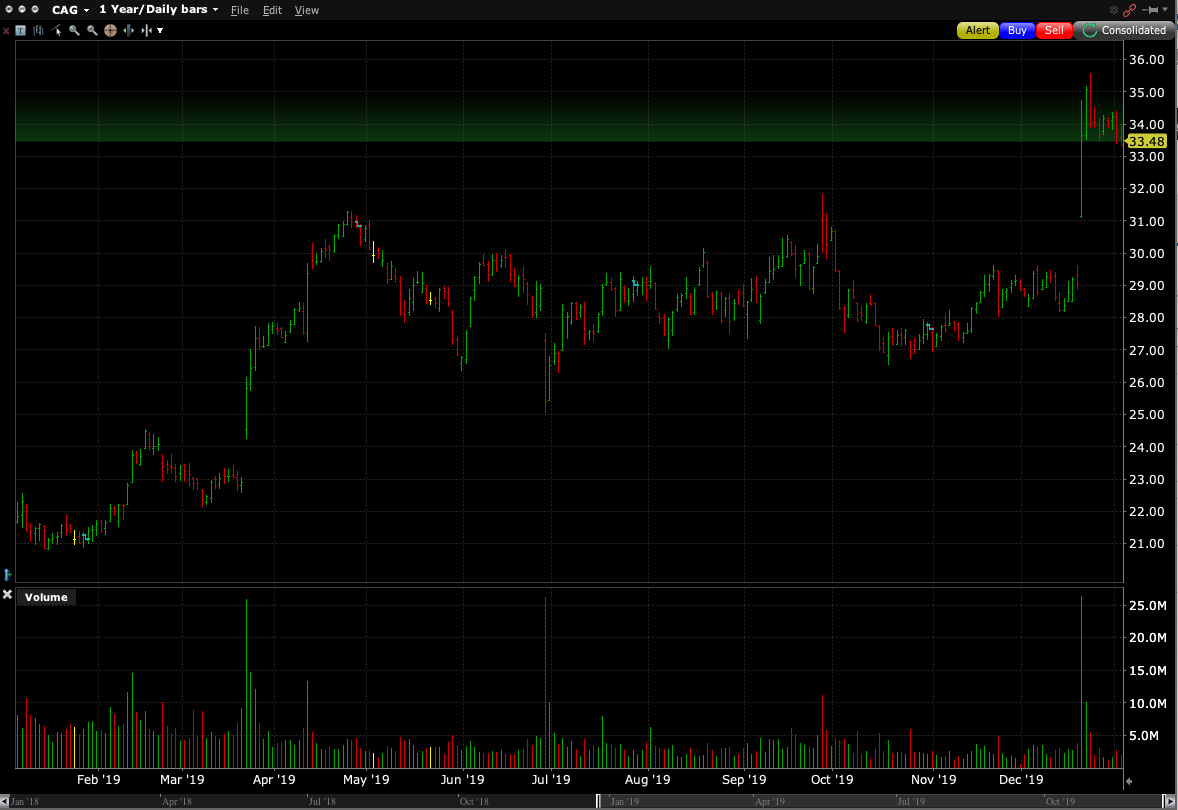 "We maintained our strong momentum in frozen and snacks," Chief Executive Sean Connolly said in a statement. "We also made good progress on our large grocery brands, Hunt's and Chef Boyardee, both of which made sequential improvements."
Analysts at UBS, Evercore, JP Morgan and Barclays were among firms that raised their price targets for CAG after the results.
More significantly, the $1.35 million purchase by Conagra insider Craig Omtvedt suggests he expects higher prices for CAG shares in the future.
Contact Mark about investing based on SEC filings and smart money disclosures.
Disclaimer:
This investment blog (the "Blog") is created and authored by Mark W. Gaffney (the "Content Creator") and is published and provided for informational and entertainment purposes only (collectively, the "Blog Service"). The information in the Blog constitutes the Content Creator's own opinions. None of the information contained in the Blog constitutes a recommendation that any particular security, portfolio of securities, transaction, or investment strategy is suitable for any specific person. You understand that the Content Creator is not advising, and will not advise you personally concerning the nature, potential, value or suitability of any particular security, portfolio of securities, transaction, investment strategy or other matter. To the extent any of the information contained in the Blog may be deemed to be investment advice, such information is impersonal and not tailored to the investment needs of any specific person.
From time to time, the Content Creator or its affiliates may hold positions or other interests in securities mentioned in the Blog and may trade for their own account(s) based on the information presented. The Content Creator may also take positions inconsistent with the views expressed in its messages on the Blog.
The Content Creator may hold licenses with FINRA, the SEC or states securities authorities and these licenses may or may not be disclosed by the Content Creator in the Blog.
Investing in the investments discussed in the Blog may be risky and speculative. The companies may have limited operating histories, little available public information, and the stocks they issue may be volatile and illiquid. Trading in such securities can result in immediate and substantial losses of the capital invested. You should only invest risk capital, and not capital required for other purposes, such as retirement savings, student loans, mortgages or education.