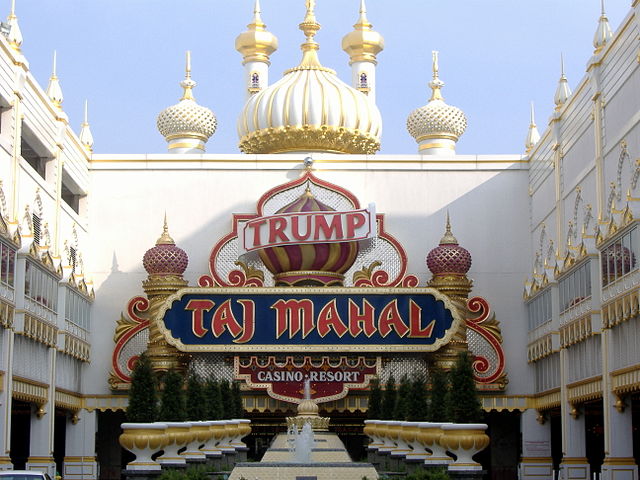 Donald Trump's insider buying history is short, but interesting, given the fact that the former corporate insider is now the 45th President of the United States.
It was Monday, Sept. 15, 2008 at 3:08 PM when Donald J. Trump filed a Form 4 with the SEC. But few noticed. There were more important things going on.
The global financial crisis was accelerating, panic was in the air. The S&P 500 was down 4% on the day. Lehman Brothers — a 158 year old institution with 250,000 employees, the 4th largest investment bank in the U.S — had announced it was filing for bankruptcy after a desperate search for a buyer failed over the weekend. Lehman had a market cap of nearly $60 billion just 18 months earlier. But the big broker had unraveled with alarming speed, as the sub-prime mortgages that fueled its growth collapsed like a house of cards.
Donald J. Trump insider trading history
| | | | | | | | |
| --- | --- | --- | --- | --- | --- | --- | --- |
| FILING DATE | COMPANY | SYMBOL | TRANSACTION | TRADE DATE | SHARES | AVG PRICE | $ TOTAL |
| 15-Sep-2008 | Trump Entertainment Resorts… | TRMPQ | Market Purchase | 11-Sep-2008 | 22,500 | 1.29 | 29,022 |
| 11-Sep-2008 | Trump Entertainment Resorts… | TRMPQ | Market Purchase | 10-Sep-2008 | 35,000 | 1.23 | 43,100 |
| 11-Sep-2008 | Trump Entertainment Resorts… | TRMPQ | Market Purchase | 09-Sep-2008 | 20,000 | 1.13 | 22,600 |
| 12-May-2006 | Trump Entertainment Resorts… | TRMPQ | Exercise (in-the money or at-the-money) | 10-May-2006 | 1,217,930 | 14.6 | 17,781,800 |
| 16-Dec-2005 | Trump Entertainment Resorts… | TRMPQ | Market Sale | 16-Dec-2005 | 9,961 | 19.95 | 198,752 |
| 23-May-2005 | Trump Entertainment Resorts… | TRMPQ | Acquisition (other) | 19-May-2005 | 2,212 | 0 | – |
| 07-Apr-2004 | Riviera Holdings Corp. | RVHL | Private Sale | 05-Apr-2004 | 358,000 | 10 | 3,580,000 |
Hundreds of stocks crashed in reaction to the Lehman news, as investors suddenly questioned the value of a long list of public companies. Droves of corporate insiders, seeing their share prices plunging with few buyers in sight, purchased their own stock on the open market. Some insiders saw their stock as a bargain, and took advantage of the panic to buy. Many corporate insiders, like Jamie Dimon and Sheldon Adelson, who bought during the financial crisis made huge gains over time. However, large numbers of corporate insiders bought token amounts of their own shares, hoping to give the appearance of confidence and support for their companies, but not really risking skin in the game.
Donald Trump's insider buying in Sept. of 2008 was definitely more of the public relations variety. The then 62-year-old real estate and casino tycoon bought 77,500 shares of Trump Entertainment Resorts from Sept. 9 through Sept. 11 at an average price of $1.22. The $94,722 purchase was tiny for a man Forbes listed as worth $1.6 billion in 2009, ranking him in an 18-way tie for 450th richest person in the world.
Donald Trump's insider buying was tiny for a man listed as the 450th richest person in the world in 2009.
But Trump Entertainment Resorts was in trouble, mired in debt, on the verge of a bankruptcy filing. The stock (symbol TRMP) was threatening to break under $1 — not what you want if you're hoping to save your company from its second Chapter 11 filing in four years.
Fourteen years earlier, back in June of 1995, Trump Casinos and Hotels went public, offering $10 million shares at $14. The new company owned the Trump Plaza in Atlantic City, and anticipated buying more casinos. The public got about 60% of the company, Mr. Trump the rest. Mr. Trump maintained personal control of his other two Atlantic City casinos, the Trump Castle and the Trump Taj Mahal. All three of the Trump casino properties had previously been through bankruptcy court. After the IPO, Mr. Trump had $35.9 million of personal debt canceled, and he received a loan of $3 million from the company.
Fast forward to 2004. Trump Hotels and Casino Resorts faced increased gaming competition in the Atlantic City market and failed to meet projected cash flows required to cover its deb load. The company filed for Chapter 11 bankruptcy protection.
After Trump Hotels and Casino Resorts emerged from bankruptcy in 2005, Mr. Trump forfeited the CEO title, but received $2 million/yr to be Chairman.
When THCR emerged from bankruptcy in 2005, CEO Trump's ownership in his company was cut in half. According to this paper on the Trump bankruptcies by Ryan Gallagher and Andrew Hale of the University of Tennessee, Knoxville, Donald Trump
…traded $55 million in cash along with 25% of his stake in Miss Universe LP, reduced ownership interest from 56% to approximately 27%, and forfeited the CEO title and $1.5 million salary. However, Mr. Trump entered into an agreement to serve as chairman of the board for a $2 million yearly fee.
Later that year the company emerged from Chapter 11 with debt financing from Beal Bank to the tune of $493 million. Trump Entertainment Resorts soon more than doubled that amount in additional debt.
Then in 2007, deja vu. A new wave of competitive challenges hit the Trump casino operations, which now included Trump Taj Mahal Casino Resort, Trump Plaza Hotel and Casino, and Trump Marina Hotel Casino. Multiple new gaming properties opened in southeast Pennsylvania, stealing gamblers from Atlantic City. 2008 also brought the economic recession. According to the American Gaming Association, Atlantic City casino revenues dropped from $4.92 billion in 2007 to $4.50 billion in 2008.
By the time Donald J. Trump bought $95K of his own casino stock in Sept. of 2008, yet another bankruptcy filing by his casino operations was a foregone conclusion.
By the time Donald J. Trump bought $95K of his casino stock on Sept. 15 of 2008, yet another bankruptcy filing by his Atlantic City operations was a foregone conclusion. The heavily leveraged company could not survive the business downturn. TRMP stock broke below a buck on October 7, three weeks after Donald Trump's insider buying. On February 9, 2009, Mr. Trump and daughter Ivanka Trump stepped down from TRMP's board. The stock was trading at $0.10. Four days later Trump Entertainment Resorts filed a voluntary petition for Chapter 11.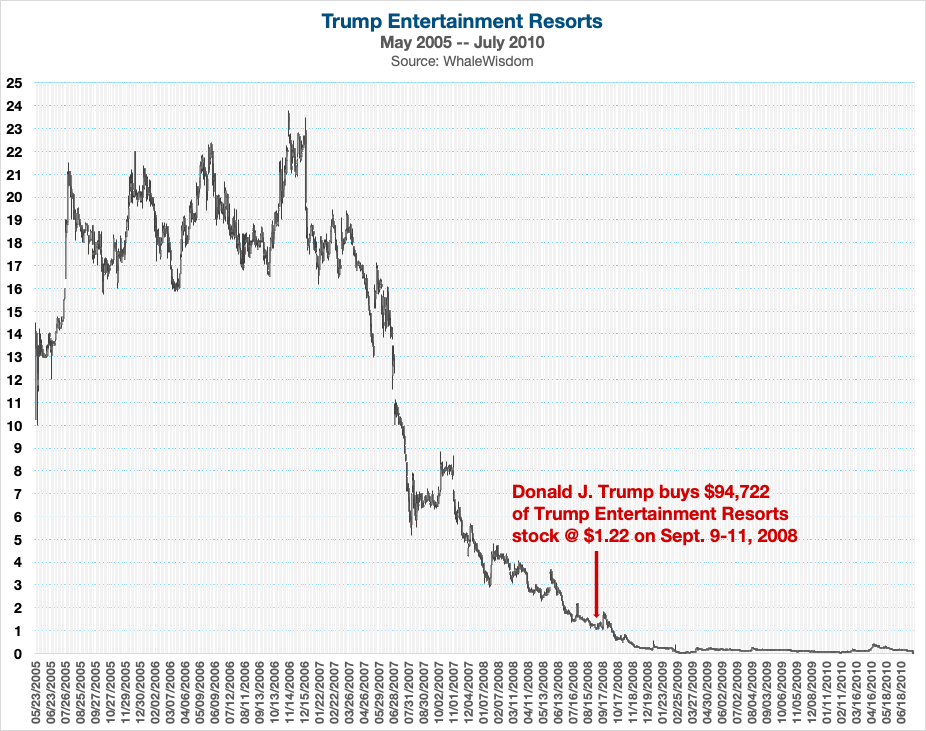 Trump Entertainment's reorganization plan restructured $488 million in first-lien debt to Beal Bank while providing nothing for holders of $1.25 billion in senior secured notes and $3.3 million in unsecured claims. In a hearing on August 27, 2009, a federal judge stated that an examiner was necessary to determine if Mr. Trump's timely resignation was to protect his own interests with the intent to regain control of the company after the Chapter 11 proceedings canceled the debtors debt and stockholder equity.
But that wasn't the end of Trump Entertainment Resorts. In July of 2010, Donald Trump's casino properties once again emerged from the bankruptcy ashes, but Mr. Trump's pre-bankruptcy stake in the company was reduced to 10% of the group investing in the reorganized company's equity. You won't be surprised what eventually happened to this version of Trump Entertainment Resorts: It filed for bankruptcy in Sept. of 2014. (Not that we're counting, but companies run by Mr. Trump have filed for bankruptcy six times.)
Carl Icahn owns the last of the former Trump Entertainment Resort properties — the abandoned Trump Plaza Hotel and Casino
When Trump Entertainment Resorts exited Chapter 11 in Feb. of 2016, the company became a wholly owned subsidiary of Icahn Enterprises, run by billionaire activist investor Carl Icahn.
After winning the presidential election in 2016, President Trump named Icahn "special adviser to the president on regulatory reform." Though Icahn resigned after only a few months in that role.
The vacant Trump Plaza Hotel and Casino, still owned by Icahn, shuttered since 2014, remains standing despite previous reports that the 34-year old building would be demolished in 2019.
Disclaimer:
Do not construe anything written in this post or this blog in its entirety as a recommendation, research, or an offer to buy or sell any securities. Everything in this blog is meant for educational and informational purposes only. Do your own research before investing and don't risk more than you can afford to lose. This article expresses my own opinions, and I am not receiving compensation for it (other than from WhaleWisdom). I do not have a business relationship with any company whose stock is mentioned in this article. I or my associates may hold positions in the stocks discussed.