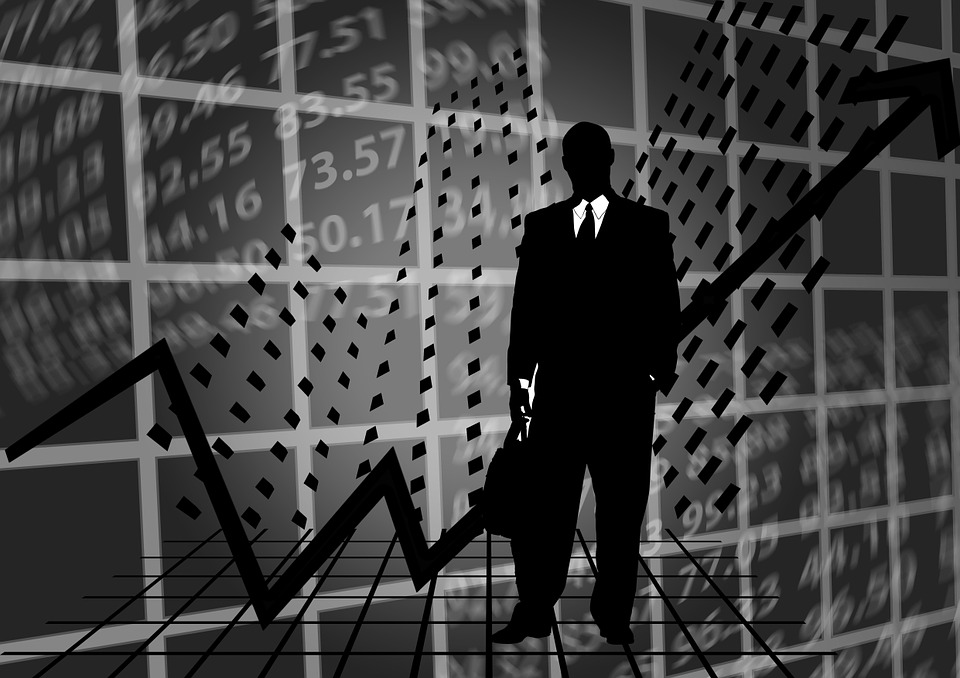 If you're a big money manager who likes to move around tens of millions of dollars per position, you may find this situation interesting, but probably too illiquid. But if you're an individual investor, interested in finding overlooked, underfollowed — and potentially deeply undervalued — microcap stocks, read on.
Edgewater Technology (NASDAQ:EDGW) is a Massachusetts-based business and IT consulting firm with a market cap of $75 million and annual revenue of about $100 million. According to the company's website, one security analyst follows the company. It's the kind of stock that, as an old colleague of mine liked to say, "trades by appointment." Average trading volume of EDGW is about 20,000 shares per day – or about $100K in average daily dollar volume. That's too small for the typical hedge fund to mess with.
So that's why when studying Form 4 filings recently, I was surprised to see that Fred DiSanto, Chairman and CEO of Ancora Advisers, bought 40,665 shares of EDGW at $5.16 on Sept. 20. Ancora is an investment adviser and hedge fund with $2.9 billion under management. DiSanto bought the shares through an L.P. affiliated with Ancora, named Catalyst Partners. Ancora Advisors has been an activist investor in the past, with a long list of 13D filings dating back to 2009.
DiSanto was required to file a Form 4 as an Edgewater Technology insider because Ancora already owned 10%+ of EDGW shares – 1.448 million shares prior to its recent purchases.
Ancora began accumulating EDGW in 2016 and filed its first 13D on April 20, 2016. On December 7 of  that year, Ancora sent a letter to Edgewater management outlining its grievances with management, including the fact that over the prior fourteen years the former CEO and CTO combined had been "cumulatively compensated $17 million, which astoundingly is approximately 90.3% of Edgewater's cumulative Earnings Before Interest and Tax and 172.3% of cumulative Net Income."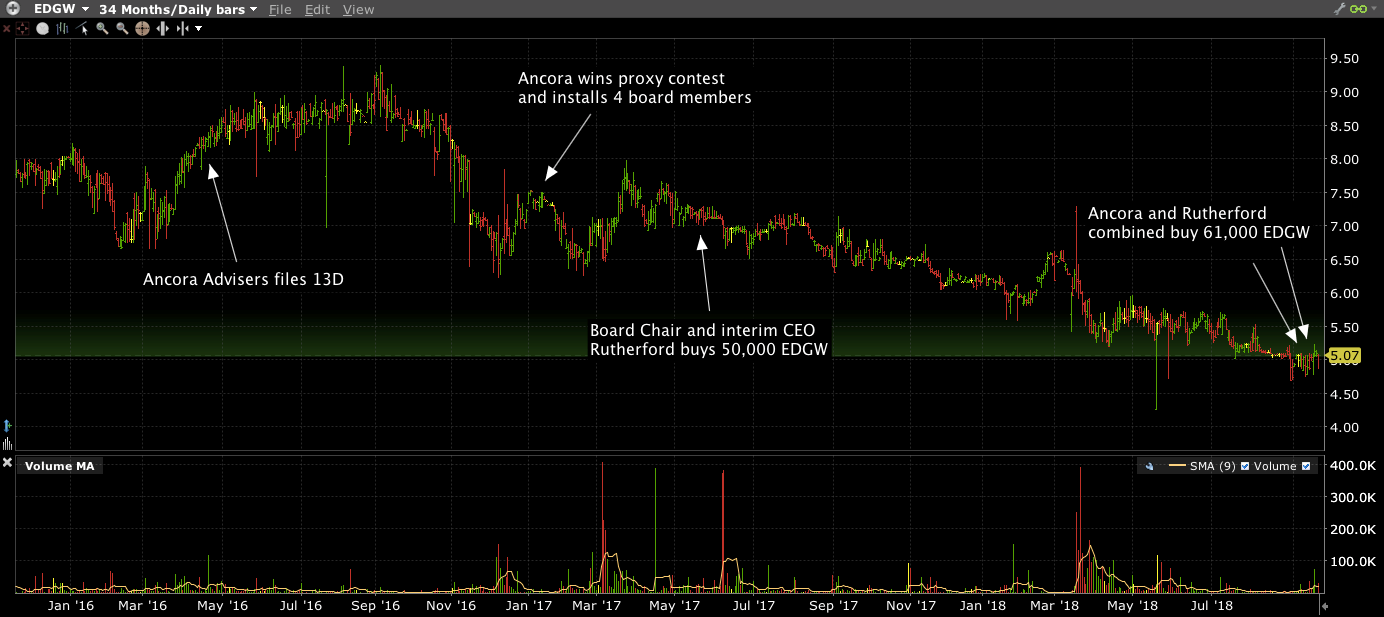 Source: Interactive Brokers
Ancora won the proxy fight with Edgewater in January of 2017, resulting in the ouster of four members of the company's board and replacement with Ancora nominees. Shirley Singleton, formerly the CEO of Edgewater, who co-founded the company in 1992, was also given the boot and replaced with Jeffrey L. Rutherford, who became chairman, interim president and CEO.
It should be noted that Rutherford also recently bought EDGW shares. On September 18 of 2018 the board chair and interim CEO personally bought 20,000 shares at $5.07, increasing his stake to 70,000 shares. Rutherford had bought 50,000 shares at an average price of $7.17 in May of 2017.
Since Ancora won the proxy fight and installed its own people, Edgewater Technology shares have fallen over 28%. One might speculate that the recent purchases signal renewed efforts by Angora's DiSanto and Rutherford to make their investments pay off.
As mentioned, Ancora is an activist investor, in the business of acquiring undervalued public companies. In the December 7, 2016 letter sent to Edgewater, the company alludes to a "flawed strategic sale process" conducted by prior management which "opted to focus on cash-only whole company buyers…and never adequately vetted monetizing the parts."  Has the time come to break-up the company and sell it piecemeal?
How much would Edgewater be worth in a sale? I don't know, however the stock trades at a price to revenue of $0.70 and a price-to-book of $1.34 (according to company information). Judging by the ongoing purchases of Ancora shares, Fred DiSanto and Jeffrey Rutherford apparently believe EDGW is worth owning at these levels.
If you don't mind holding a stock that trades by appointment, Edgewater Technology shares may represent a compelling opportunity.
Disclaimer: Do not construe anything written in this post or this blog in its entirety as a recommendation, research, or an offer to buy or sell any securities. Everything in this post is meant for educational and entertainment purposes only. I or my affiliates may hold positions in securities mentioned in the article.