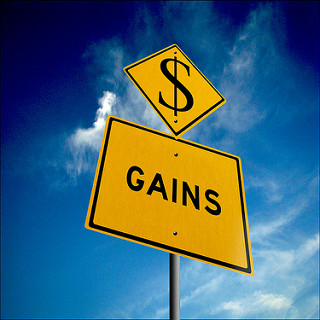 Whether they're called penny stocks, micro-caps, OTC stocks or "lottery tickets," low-priced, illiquid stocks of small companies have a bad reputation with many investors. Unquestionably micro-cap stocks can be illiquid, risky and highly speculative. Nonetheless, Hedge Funds can and do hold lots of micro-caps.
If we define micro-caps as stocks with less than $250 million in market cap, then at the 2nd quarter's end there were 1857 micro-caps  held by institutions in the WhaleWisdom data base.   Many of these securities do not fit the common notion of penny stocks — there are small banks, illiquid ETFs, REITs, closed-end funds, biotech stocks and myriad other kinds of companies in the micro-cap universe. In the 2nd quarter, a total of $95.7 billion of 13F micro-cap holdings were disclosed by institutional investors.
So hedge funds and other large managers are major investors in micro-caps.  Why? Because despite the increased risk, the returns on small companies can be great. The "small firm effect," whereby small market cap stocks outperform larger companies, is widely documented. Whatever the reason — because micro-caps fly under the Wall Street radar, or because of their greater financial leverage, or because small cap insiders have more "skin in the game," there are major opportunities in the micro-cap space.
A great way to discover micro-cap investment ideas is by following which small stocks the smart money hedge funds are accumulating. Here are the micro-cap stocks with the largest 13F increases in Q2, based on the following criteria:
Market cap under $250 million
At least four 13F holdings in Q2 2018.
Change in #funds disclosing a position was greater than 50%.
Change in 13F market cap was greater than 50%.
Do your homework before buying these stocks. They might be no better than lottery tickets, or ten baggers waiting to happen. Many of them have spiked recently.
Micro-cap stocks with notable 13F increases – 2nd quarter 2018.
| | | | | | | | | | |
| --- | --- | --- | --- | --- | --- | --- | --- | --- | --- |
| Name | Ticker | Sector | Industry | # Funds Held By | Price | Market Cap | %Change Filers | Quarter | QoQ %Change in 13F Market Cap |
| BIOSIG TECHGS | BSGM | HEALTH CARE | HEALTH CARE SUPPLIES | 4 | 2.74 | 71,621,400 | 300.00 | Q2 2018 | 759.09 |
| ZOMEDICA PHARMACEUTICALS | ZOM | HEALTH CARE | PHARMACEUTICALS | 36 | 2.15 | 200,799,000 | 227.27 | Q2 2018 | 2178.00 |
| CV SCIENCES, INC. | CVSI | REAL ESTATE | REAL ESTATE MANAGEMENT & DEVELOPMENT | 6 | 6.61 | 147,535,478 | 200.00 | Q2 2018 | 67.39 |
| ACM RESEARCH | ACMR | INDUSTRIALS | DISTRIBUTORS | 34 | 12.75 | 130,159,800 | 183.33 | Q2 2018 | 80.86 |
| ASPEN GROUP INC. | ASPU | INDUSTRIALS | COMMERCIAL SERVICES & SUPPLIES | 19 | 7.39 | 132,120,000 | 171.43 | Q2 2018 | 197.46 |
| GALMED PHARMACTL | GLMD | HEALTH CARE | BIOTECHNOLOGY & LIFE SCIENCES | 43 | 11.45 | 183,736,000 | 126.32 | Q2 2018 | 591.08 |
| TAPIMMUNE INC | TPIV | HEALTH CARE | BIOTECHNOLOGY & LIFE SCIENCES | 27 | 7.79 | 100,240,900 | 107.69 | Q2 2018 | 1129.90 |
| ATTUNITY LTD. | ATTU | INFORMATION TECHNOLOGY | SOFTWARE | 48 | 18.96 | 240,675,300 | 71.43 | Q2 2018 | 124.74 |
| ALPHATEC HOLDINGS | ATEC | HEALTH CARE | HEALTH CARE SUPPLIES | 40 | 3.56 | 75,900,600 | 66.67 | Q2 2018 | 83.82 |
| CELSIUS HOLDINGS | CELH | ENERGY | OIL & GAS PRODUCERS | 43 | 4.59 | 211,462,000 | 65.38 | Q2 2018 | 239.88 |
| RF INDUSTRIES LTD | RFIL | INFORMATION TECHNOLOGY | ELECTRONIC EQUIPMENT | 29 | 10.25 | 65,032,500 | 61.11 | Q2 2018 | 131.38 |
| BIOLIFE SOLUTION | BLFS | HEALTH CARE | HEALTH CARE SUPPLIES | 49 | 19.75 | 161,451,500 | 58.06 | Q2 2018 | 466.05 |
Source: WhaleWisdom.com