Intra-Cellular Therapies FDA news release on Sept. 10 appeared positive. The FDA informed the company that it will not schedule an Advisory Committee meeting in connection with its review of the company's new drug application (NDA) for Lumateperone for the treatment of schizophrenia. All good, moving ahead, right?
But in the world of medical technology equities, things aren't always what they seem. The market feared the news was bad. When the market opened on Sept. 10, Intra-Cellular (ITCI) shares gapped down and traded over 18% lower in the first 30 minutes of trading. Apparently many investors interpreted the announcement as a sign the Food and Drug Administration is planning on rejecting the drug, and the FDA viewed an Advisory Committee meeting as a waste of time.
Board Member Alafi took advantage of the Intra-Cellular Therapies FDA news sell-off to buy $5 million of stock
That's apparently NOT how Intra-Cellular board member Christopher Alafi viewed the news. In a Form 4 filed Wednesday afternoon, Alafi revealed he began buying into the Tuesday morning post-news sell-off and didn't quit until he had accumulated 485,000 shares at prices ranging from $8.98 to $11.00. His average cost on the $4.97 million purchase was $10.26. Alafi was also buying before the FDA announcement, purchasing 125,000 shares at $8.52 on August 30. As of Sept. 11, he now owns 5.69 million shares of ITCI. That's "skin in the game" totaling $60 million.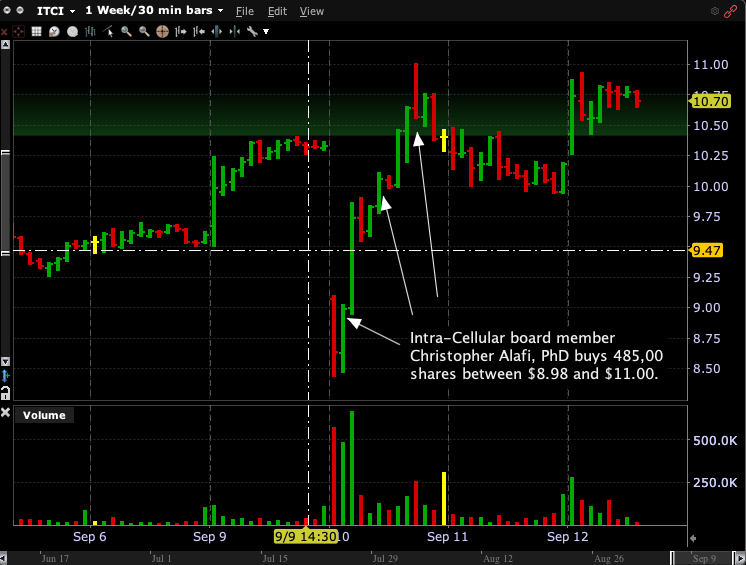 Biotech insiders tend to be very "smart money."
As I've written previously, medical technology insiders often exploit their specialized knowledge very profitably. That's because, more than any other sector, it requires extensive technical knowledge to understand and value medtech investments. To truly know this stuff, you may need a PhD. Which, of course, Christopher Alafi has.
According to the company's website,
"Alafi has been a board member of Intra-Cellular since January 2013. He has also been a General Partner of Alafi Capital Company, LLC, a venture capital firm, since 1995. He was previously a Physiology and Anatomy teacher at Santa Monica College, a visiting scholar in the Department of Chemistry at Stanford University, and a researcher at DNAX. Dr. Alafi currently serves as a director of ISTO Technologies, Inc. and has previously served as a director of Coley Pharmaceutical Group, Inc., CyberGold, Inc. and Stereotaxis, Inc. Dr. Alafi received a BA in Biology from Pomona College and a DPhil in Biochemistry from the University of Oxford."
The lumateperone Prescription Drug User Fee Act (PDUFA) goal date (FDA decision date ) is December 27, 2019.
Prior to Tuesday's FDA announcement, Intra-Cellar submitted to the FDA the results of non-clinical analyses the company previously announced it had agreed to conduct related to toxicology findings in animal studies. The Company believes the results of these analyses provide additional support for its position that the metabolic pathway, and the metabolites formed, are different in animals and humans and therefore toxicity findings in animals are not relevant to humans.
The FDA's decision on Intra-Cellular's NDA for lumateperone is expected by the end of 2019.

"We have been working diligently to address the FDA requests for information and are optimistic that the additional non-clinical information we submitted addresses those requests," said Dr. Sharon Mates, Chairman and CEO of Intra-Cellular Therapies. "There is an ongoing unmet need for new treatments for schizophrenia and we look forward to continuing our work with the FDA to bring lumateperone to patients."
Alafi Capital Company LLC owns about 10.31% of Intra-Cellular, making Dr. Alafi the company's 2nd largest shareholder behind FMR LLC.
Disclaimer:
Do not construe anything written in this post or this blog in its entirety as a recommendation, research, or an offer to buy or sell any securities. Everything in this blog is meant for educational and informational purposes only. Do your own research before investing and don't risk more than you can afford to lose. This article expresses my own opinions, and I am not receiving compensation for it (other than from WhaleWisdom). If you buy a book after clicking on one of the above links, I may received an affiliate fee. I do not have a business relationship with any company whose stock is mentioned in this article. I or my associates may hold positions in the stocks discussed.