A JC Penny (JCP) insider disclosed on Monday afternoon a nearly $1 million purchase of JCP stock at $0.99 cents. JCP traded at $1.91 as recently as March 12, but in recent weeks speculation has intensified that a bankruptcy filing by the 117-year-old retailer was fast approaching.
Javier G Teruel bought 941,095 shares of JCP at $0.99. It was the first Form 4 open market purchase filed at JCP since August of 2017.
The million dollar purchase by the long-time director implies the JC Penny insider does not believe a bankruptcy filing by the retailer is imminent.
JCP shares closed at $1.02 on Jun 10, giving the company a market capitalization of $325 million. The stock hit an all-time-low of $0.80 on May 29.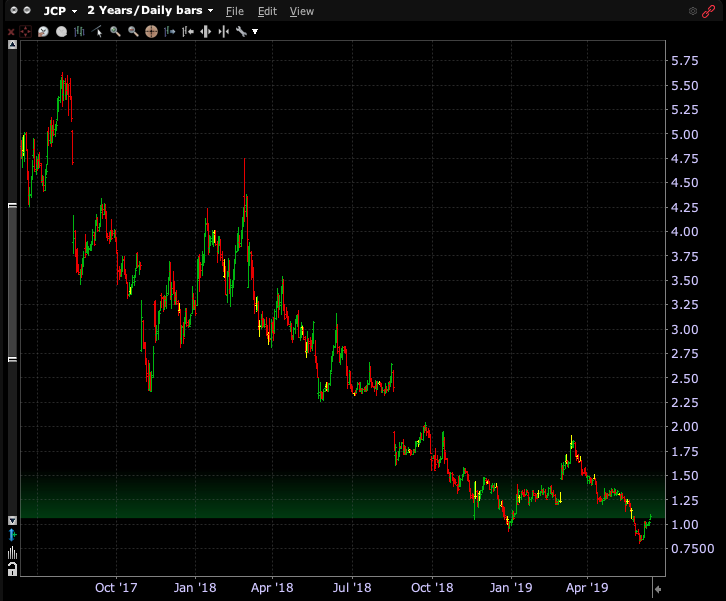 JCP short interest is 40% of the float, reflecting consensus that a bankruptcy filing is coming
Sears, another venerable American retailer, filed for bankruptcy last October and investor expectations that JCP will soon do likewise have mounted. As of June 10, JCP had short interest of 1,561,921, or about 40% of the float, reflecting high bearish sentiment.
JCP has struggled to compete against Amazon's digital sales dominance and against big box sellers Target and Walmart. A new management team's turnaround plan has been slow to gain traction. That became apparent on May 21, when JCP reported losing $0.46 per share, compared with analyst expectations of a $0.38 loss. Sales fell 5.5%, and the company indicated that investors could expect similar sales declines through the rest of this year, because the company has stopped selling appliances and furniture. JC Penny has posted a profit in only two quarters over the past four years.
Then, on May 31, Moody's downgraded J.C. Penney's credit rating to Caa1, just above the rating earned by companies that are close to defaulting.
JCP bond yields have soared in recent weeks, a sign of financial duress
J.C. Penney 7 5/8% Certificates (KTP) trade at $6.89 and pay $0.953 semi-annually. That's a 27.66% annual yield.
KTP is an unsecured bond, which means that in a liquidation scenario, holders of the bond are second in line for payment. Secured creditors, those with claims backed by collateral, such as equipment or real estate, are paid first. Stockholders come last — paid only if there is any money left after creditors have been paid.
This Seeking Alpha article suggests that JCP could stave off bankruptcy for several years and that KTP could be a winning investment if that's the case.
Robert Drbul from Guggenheim maintained a hold rating on JC Penney common in the wake of its recent report.
Drbul wrote:
"We have revised our estimates to reflect today's results and our updated outlook. CEO Jill Soltau is tasked with improving a challenged business, and while we acknowledge the potential for EBITDA/margin improvement, given the highly competitive environment, we maintain our NEUTRAL rating as we believe the challenges in the business are appropriately reflected in the shares.
In a report issued on May 17, B.Riley FBR also assigned a Hold rating to the stock with a $1.40 price target.
JC Penny insider Javier G Teruel presumably is in a position to know if a JCP bankruptcy is imminent. It's doubtful he'd invest $1 million if he thought otherwise. It's likely 117-year-old JC Penny isn't dead yet.
Disclaimer:
Do not construe anything written in this post or this blog in its entirety as a recommendation, research, or an offer to buy or sell any securities. Everything in this blog is meant for educational and informational purposes only. Do your own research before investing and don't risk more than you can afford to lose. This article expresses my own opinions, and I am not receiving compensation for it (other than from WhaleWisdom). I do not have a business relationship with any company whose stock is mentioned in this article. I or my associates may hold positions in the stocks discussed.