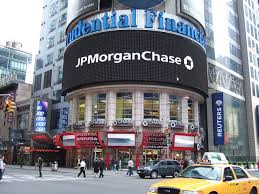 JP Morgan insider Stephen Burke bought 75,000 shares of the nation's largest bank at $87.99 yesterday in the open market. The disclosure came in a Form 4 filing made after the market closed. The buying increased Burke's JPM holdings by 50%.
Burke's open market purchase comes two days after JP Morgan Chase (JPM) posted first-quarter profit that was well below analysts' expectations, reflecting fallout from the COVIG-19 pandemic which has shut-down much of the global economy.
Burke has been a director at JPM since 2004. He is also the Senior Executive Vice President of Comcast and Chairman of NBCUniversal. He has also been a director at Berkshire Hathaway since 2009.
After the filing, JPM stock was up over 6%, trading around $93 mid-day Friday.
The earnings drop was the result of big additions to the bank's credit reserves. JPM management expects a surge in defaults across the company's lending businesses, from credit cards in its consumer division to energy, real estate and retail sector loans in its commercial operations. 
"JPMorgan Chase performed well in what was a very tough and unique operating environment," CEO Jamie Dimon said in a statement. "In the first quarter, the underlying results of the company were extremely good, however given the likelihood of a fairly severe recession, it was necessary to build credit reserves of $6.8 billion, resulting in total credit costs of $8.3B for the quarter."
Despite being a director since 2004, JP Morgan insider Stephen Burke's only previous open-market purchase of JPM was in July of 2011, when he purchased 25,000 shares at $42.18. His only other buying as an insider was Berkshire Hathaway (BRK.A) stock in 2009 and 2010, shortly after becoming a director at Warren Buffett's company.
JP Morgan insider Stephen Burke's open market buying history as insider.
| | | | | | | | | |
| --- | --- | --- | --- | --- | --- | --- | --- | --- |
| Filing Date | Company | Symbol | Transaction | Trade Date | Shares | Avg. Price | Total | % Change |
| 16-Apr-2020 | JPMorgan Chase & Co | JPM | Market Purchase | 16-Apr-2020 | 75000 | 88 | $ 6,598,960 | 50.0% |
| 25-Jul-2011 | JPMorgan Chase & Co | JPM | Market Purchase | 22-Jul-2011 | 25000 | 42 | $ 1,054,420 | 40.5% |
| 04-May-2010 | Berkshire Hathaway Inc | BRK.A | Market Purchase | 04-May-2010 | 6 | 115,600 | $ 693,600 | — |
| 30-Dec-2009 | Berkshire Hathaway Inc | BRK.A | Market Purchase | 29-Dec-2009 | 5 | 98,780 | $ 493,899 | — |
CEO Dimon said last week in his annual shareholders' letter that the bank's earnings "will be down meaningfully in 2020" from the record profit it posted last year. He also warned investors that if the downturn is "extremely adverse," and the bank will probably consider suspending its dividend to preserve capital.
Jamie Dimon famously bought $11M of JPM stock in January of 2009 at the height of the financial crisis as the stock plummeted. That insider purchase came at a time of extreme investor pessimism regarding banking stocks. While it didn't mark the immediate low for the banking sector, Dimon's buying served to help install confidence in the ravaged sector. JPM hit an all-time-high of $141 in early January of this year — over 500% above his "heroic" insider purchase.
It remains to be seen whether Dimon or other officers and directors will join JP Morgan insider Stephen Burke and add to their holdings.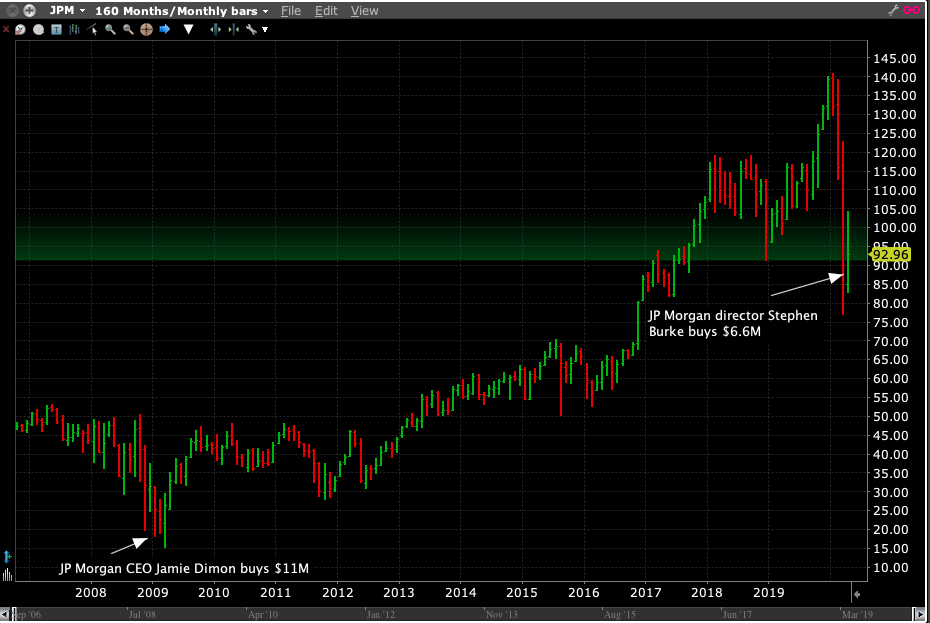 You can follow insider buying at the SEC's Edgar website or at sites like WhaleWisdom.com.
Disclaimer:
This investment blog (the "Blog") is created and authored by Mark W. Gaffney (the "Content Creator") and is published and provided for informational and entertainment purposes only (collectively, the "Blog Service"). The information in the Blog constitutes the Content Creator's own opinions. None of the information contained in the Blog constitutes a recommendation that any particular security, portfolio of securities, transaction, or investment strategy is suitable for any specific person. You understand that the Content Creator is not advising, and will not advise you personally concerning the nature, potential, value or suitability of any particular security, portfolio of securities, transaction, investment strategy or other matter. To the extent any of the information contained in the Blog may be deemed to be investment advice, such information is impersonal and not tailored to the investment needs of any specific person.
From time to time, the Content Creator or its affiliates may hold positions or other interests in securities mentioned in the Blog and may trade for their own account(s) based on the information presented. The Content Creator may also take positions inconsistent with the views expressed in its messages on the Blog.
The Content Creator may hold licenses with FINRA, the SEC or states securities authorities and these licenses may or may not be disclosed by the Content Creator in the Blog.
Investing in the investments discussed in the Blog may be risky and speculative. The companies may have limited operating histories, little available public information, and the stocks they issue may be volatile and illiquid. Trading in such securities can result in immediate and substantial losses of the capital invested. You should use invest risk capital, and not capital required for other purposes, such as retirement savings, student loans, mortgages or education.