Mauricio Leyva, appointed in March to the newly-created role of President, International and Business Development at Keurig Dr. Pepper (KDP) made a big buy of KDP on Monday. In a Form 4 filed yesterday, Leyva disclosed the purchase of 123,400 KDP at $28.47. The $3.58M buy was the Keurig Dr Pepper insider Leyva's first since joining the company.
The filing by Keurig Dr Pepper insider Leyva came one day before Jeffries upgraded KDP to a buy and placed the stock on its "franchise picks" list after a "detailed look at the current valuation.
"We analyzed long term consumer behavior shifts from Covid-19 and resulting lasting 'mega-trends' in home and personal care & Bevs," said Jefferies analyst Kevin Grundy in a report to clients. "Core home and personal care companies, as well as KDP in bevs, are key beneficiaries from 'mega-trends,' while Bev Cos. w/high on-premise exposure face structural headwinds (timing/extent of channel recovery)." Gundy raised KDP's price target to $36 from $28. KDP closed on Thursday at $28.34.
On June 1 Evercore ISI lifted the beverage stock to an Outperform from an In Line rating.
Evercore underscored the strength of KDP's results during the pandemic, the strong management team, commodity tailwinds, and said it sees a long lasting work-from-home benefit for the Keurig beverage system.
Keurig Dr Pepper Inc., formerly Dr Pepper Snapple Group, Inc., offers a diverse portfolio of flavored carbonated soft drinks and non-carbonated beverages, including ready-to-drink teas, juices, juice drinks, water and mixers.
JAB Holdings will convert 10.1% of its privately held KDP shares into freely-trading stock.
In yet another KDP news item hitting on Thursday, the company's largest shareholder JAB Holdings B.V. announced its majority-owned subsidiary Maple Holdings will convert some shares held by minority partners into shares of KDP. The shares will become freely tradeable after a lock-up period. To affect the transaction, Maple intends to distribute approximately 143 million shares of KDP stock that Maple currently holds, representing approximately 10.1% of the outstanding common stock of KDP.
The minority partners have been invested in KDP since the JAB-led 2015 acquisition of Keurig Green Mountain. They will continue to retain stakes in Maple following the distribution.
Following the distribution and lock-up period, JAB and Maple will collectively own 52.6% of KDP. Mondelēz International, Inc. will continue to own 13.1%. The public float will increase to 34.3%, including shares held directly by the minority partners.
German holding company JAB orchestrated the merger of Keurig Green Mountain and Dr Pepper Snapple in 2015.
German conglomerate JAB Holding Company bought single serve coffee maker Keurig Green Mountain in 2015. Then in 2018, JAB orchestrated a merger between Keurig Green Mountain and the Dr Pepper Snapple Group, then the #3 nonalcoholic beverage company in the world.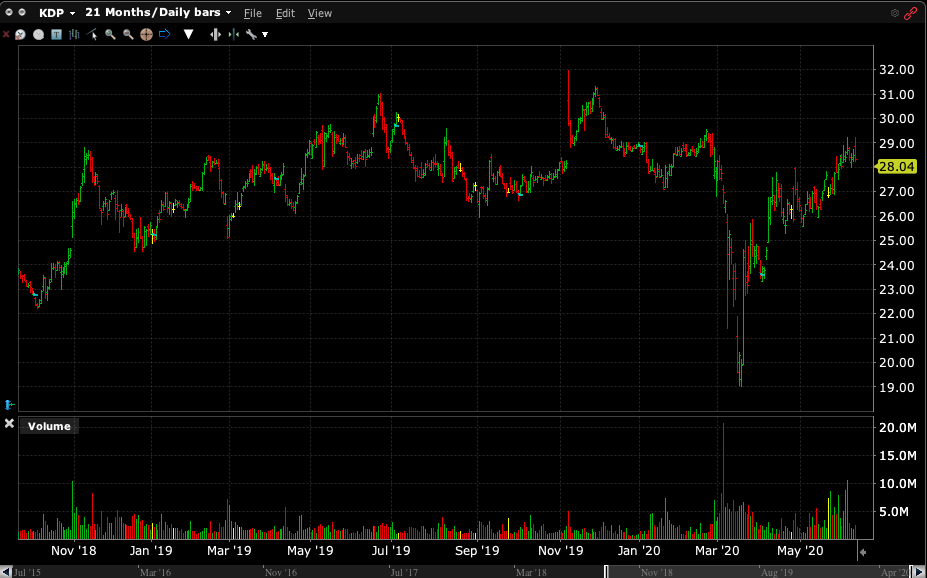 KDP shares were hit hard as the Coronavirus pandemic unfolded in March, falling over 35% from Feb. 21 to March 18. Since bottoming, the stock touched 29.24 on Thursday, nearly retracing the entire drop. After today's news, KDP closed at $28.34, near its lows, as the S&P 500 dropped 5.3%.
In a transcript released today of a presentation at the Deutsche Bank Global Consumer Conference, KDP Chairman and CEO Robert J. Gamgort sounded optimistic. Here's what he had to say about the pandemic's impact on Keurig Dr Pepper's business:
Like many places, we saw initial pantry load in March. It was followed by destocking in April. We're now settling in at a consumption trend that is well elevated. And I'm talking about total liquid refreshment beverages running about plus 8% in the latest 4 weeks, covering all of May. So that's an elevated growth that seems to be continuing.
When you peel that back, you see very different trends by segment and by channel. Carbonated soft drink, juices, juice drinks, mixers, for example, are all doing really well. You see weakness in areas like premium water, energy and sports drink, which tend to be more convenience store centric. Well, that's what's happening on the channel side. Growth in large outlets are doing well, e-commerce is exploding. But as I said before, convenience stores and anything that's away from home or on-premise has been really far down.
It seems that while in quarantine, consumers have been drinking a lot of single-serve coffee.
ON THE COFFEE SIDE OF THE BUSINESS, WE SAW A VERY BIG GROWTH INCREASE SINCE THE VERY BEGINNING. IT'S DRIVEN BY 2 THINGS: NEW PEOPLE COMING INTO THE KEURIG SYSTEM. I THINK THE WORK-FROM-HOME MINDSET CAUSED PEOPLE TO OUTFIT THEIR HOMES, AND WE DID WELL IN THAT. AND THEN ALSO, WE SAW IMMEDIATE CONSUMPTION PER MACHINE INCREASING. AND SO IN THE LATEST 4 WEEKS, FOR EXAMPLE, IN MAY, WE'RE UP — THE CATEGORY'S UP ABOUT 16%.
Keurig Dr Pepper insider Mauricio Leyva appears to be betting $3.5 million that KDP's business will continue to outperform going forward.
You can follow 13Fs, insider buying and other SEC filings at WhaleWisdom.com.
Contact Mark about investing based on SEC filings and smart money disclosures.
Disclaimer:
This investment blog (the "Blog") is created and authored by Mark W. Gaffney (the "Content Creator") and is published and provided for informational and entertainment purposes only (collectively, the "Blog Service"). The information in the Blog constitutes the Content Creator's own opinions. None of the information contained in the Blog constitutes a recommendation that any particular security, portfolio of securities, transaction, or investment strategy is suitable for any specific person. You understand that the Content Creator is not advising, and will not advise you personally concerning the nature, potential, value or suitability of any particular security, portfolio of securities, transaction, investment strategy or other matter. To the extent any of the information contained in the Blog may be deemed to be investment advice, such information is impersonal and not tailored to the investment needs of any specific person.
From time to time, the Content Creator or its affiliates may hold positions or other interests in securities mentioned in the Blog and may trade for their own account(s) based on the information presented. The Content Creator may also take positions inconsistent with the views expressed in its messages on the Blog.
The Content Creator may hold licenses with FINRA, the SEC or states securities authorities and these licenses may or may not be disclosed by the Content Creator in the Blog.
Investing in the investments discussed in the Blog may be risky and speculative. The companies may have limited operating histories, little available public information, and the stocks they issue may be volatile and illiquid. Trading in such securities can result in immediate and substantial losses of the capital invested. You should use invest risk capital, and not capital required for other purposes, such as retirement savings, student loans, mortgages or education.