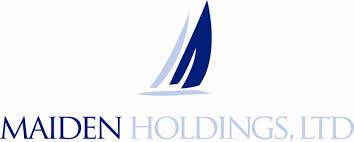 Last week, three insiders from Maiden Holdings, Ltd. (MHLD) filed Form 4s disclosing the purchase of 380,000 shares at an average price of $0.78 per share. An interesting cluster of buying. But here's what's astonishing — just seven months earlier the stock traded at $8.75.
In a remarkable case of market cap evaporation, reinsurer Maiden Holdings stock lost $1.38 billion of value over just seven months. The company's market cap has imploded to $60 million. Very ugly. But could the insider buying indicate value in the obliterated shares?
| | | | | | | | | | |
| --- | --- | --- | --- | --- | --- | --- | --- | --- | --- |
| Filing Date | Insider | Title | Transaction | Trade Date | Shares | Avg. Price | Total | New Holdings | Chg in holdings |
| 29-Mar-2019 | Neuberger Yehuda | Director | Market Buy | 29-Mar-2019 | 111,917 | 0.81 | $ 90,652.80 | 271000 | 70.35% |
| 29-Mar-2019 | Neuberger Yehuda | Director | Market Buy | 28-Mar-2019 | 46,367 | 0.8 | $ 37,169.90 | 159083 | 41.14% |
| 29-Mar-2019 | Neuberger Yehuda | Director | Market Buy | 27-Mar-2019 | 41,716 | 0.78 | $ 32,544.50 | 112716 | 58.75% |
| 26-Mar-2019 | Nigro Steven Harold | Director | Market Buy | 25-Mar-2019 | 10,000 | 0.75 | $ 7,500.00 | 29000 | 52.63% |
| 26-Mar-2019 | Neff Raymond Michael | Director | Market Buy | 25-Mar-2019 | 170,000 | 0.75 | $ 127,500.00 | 372500 | 83.95% |
Maiden is a Bermuda-based holding company that provides reinsurance services. Through reinsurance, insurance company A "reinsures" policies of insurance company B, allowing insurer B to lessen its risk in the event of adverse policy losses. Insurer B pays premiums to the reinsurance company A and, if a loss is triggered under the reinsurance policy, insurance company B can transfer the agreed upon amount of loss to the reinsurer.
Maiden Holdings' Reinsurance policies with AmTrust blew up
Maiden Holdings reinsured a large amount of business with AmTrust Financial Services, a New York City-based multinational property and casualty insurance company. Notably, the billionaire Karfunkel family controls both companies. When AmTrust policies reinsured by Maiden experienced big claims, Maiden was on the hook for unexpectedly huge losses.
The first sign of trouble occurred on August 9, 2018 when Maiden announced an unexpected Q2 operating loss of 13 cents. "We continue to evaluate the impact of the operational changes taking place in the underlying claims for the AmTrust segment and believe we are taking a prudent course as more is learned and observed regarding these continuing changes," the company's CEO said at the time. MHLD stock fell from $7.36 to $4.32.
Then on Sept. 4, Maiden filed an 8-K announcing the departure of the company's CFO, Karen Schmitt. The stock took another hit.
On Nov. 9, 2018, MHLD dropped a bombshell in its 3rd quarter earnings report. Rather than reporting the $0.18 profit that analysts were expecting, the company announced a mammoth $2.83 per share loss. The stock fell 31% more, down to $2.40. Book value plunged from from $7.71 to $3.71.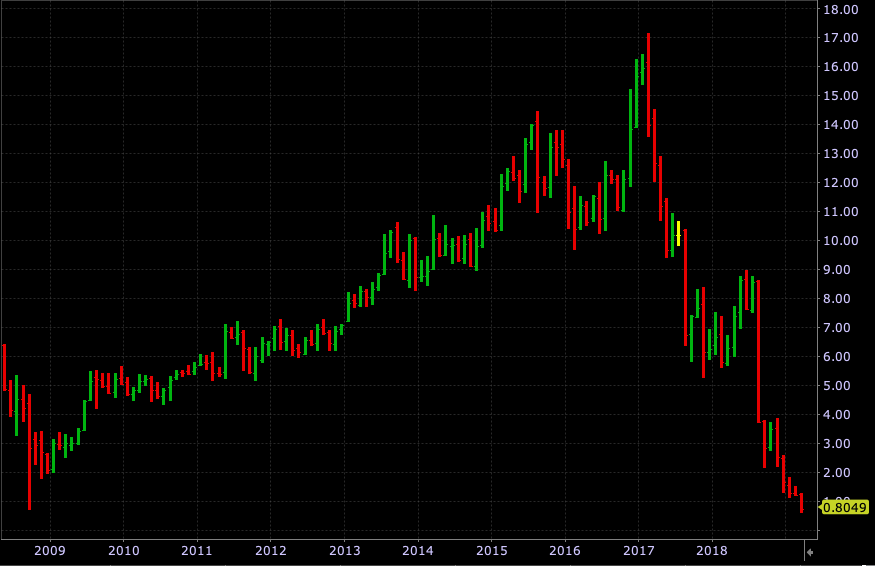 MHLD book value per share crashes to $1.08
After announcing its 10K report would be delayed, MHLD stock dropped further, breaking below $1 on March 4. The company finally released its 2018 year-end report on March 15. It reads like a 169 page horror novel — albeit one with an extremely complicated plot. The bottom line: Book value had fallen to $1.08 per diluted share, down from $9.18 a year earlier.
Of note, the stock did not implode further with the report — it held $0.60 — possibly a sign that there was no more blood to be drained from MHLD's carcass. In any case, it appeared Maiden Holdings was essentially in "runoff" — it had quit assuming new reinsurance risks and would concentrate instead on minimizing its payouts on its existing reinsurance liabilities.
Hedge Fund announces a 9.49% stake in Maiden Holdings
But then an interesting development. On March 22, New York-based 683 Capital Management LLC filed a 13D disclosing beneficial ownership of 7.88 million Maiden Holdings shares — a 9.49% stake. The hedge fund acquired 7.15 million common shares from Jan. 25 through March 15 at an average price of $1.18. The fund also owns preferred shares. In the 13D, 683 Capital used the typical boilerplate language: "We believe the shares were undervalued and represented an attractive investment opportunity." But the fund also indicated it might pursue the appointment of additional members to MHLD's board. This is not a big investment for the $1.15 billion fund, but it must see an opportunity.
Next came the series of insider purchases. Granted, averaging down makes sense — the insiders increased their holdings significantly with relatively small dollar expenditures. But this only works out if the stock goes back up…
It should be noted that the Maiden Holdings insiders who bought stock are all long-time members of the company's board, so they should be intimately familiar with the situation. Director Yehuda Neuberger's first open market purchase of MHLD was in 2008 at $2.95.
This is a very complicated, messy situation. Obviously the trend is negative. But smart money is nibbling. And it seems plausible that Maiden Holdings new management team, incentivized with granted shares, could rebuild the company. The company may also have assets/opportunities not understood or correctly valued by the market. At $0.80 Maiden Holdings stock looks like an interesting speculation.
Disclaimer: Do not construe anything written in this post or this blog in its entirety as a recommendation, research, or an offer to buy or sell any securities. Everything in this blog is meant for educational and informational purposes only. Do your own research before investing and don't risk more than you can afford to lose. This article expresses my own opinions, and I am not receiving compensation for it (other than from WhaleWisdom). I do not have a business relationship with any company whose stock is mentioned in this article. I or my associates may hold positions in the stocks discussed.