Nearly a year ago Hurricane Maria devasted Liberty Latin America's Puerto Rican telecom business. Now insiders are buying LILA stock
Just over a year ago Hurricane Maria devastated the northern Caribbean, causing catastrophic damage and loss of life across the region and particularly in Puerto Rico.
For Liberty Latin America (Nasdaq:LILA), a leading provider of cable, internet and telephone services in Puerto Rico and nearby islands, it's taken a long time to restore service, and the company's operations and stock price have suffered.
However, extensive buying by LILA insiders in recent days may indicate that lost revenues and costs associated with rebuilding after the hurricanes are a thing of the past, and the stock is a buy.
Liberty Latin America offers telecommunications services to subscribers in Chile, Puerto Rico, the Caribbean and other parts of Latin America. Revenue was about $3.6 billion in revenue in 2017. LILA traded as a tracking stock under the Liberty Media umbrella from 2015 through 2017. At the beginning of 2018, the company was spun-off from Liberty Media (Nasdaq: LBTYA), just as the financial impacts from Hurricanes Irma and Maria in 2017 were being felt.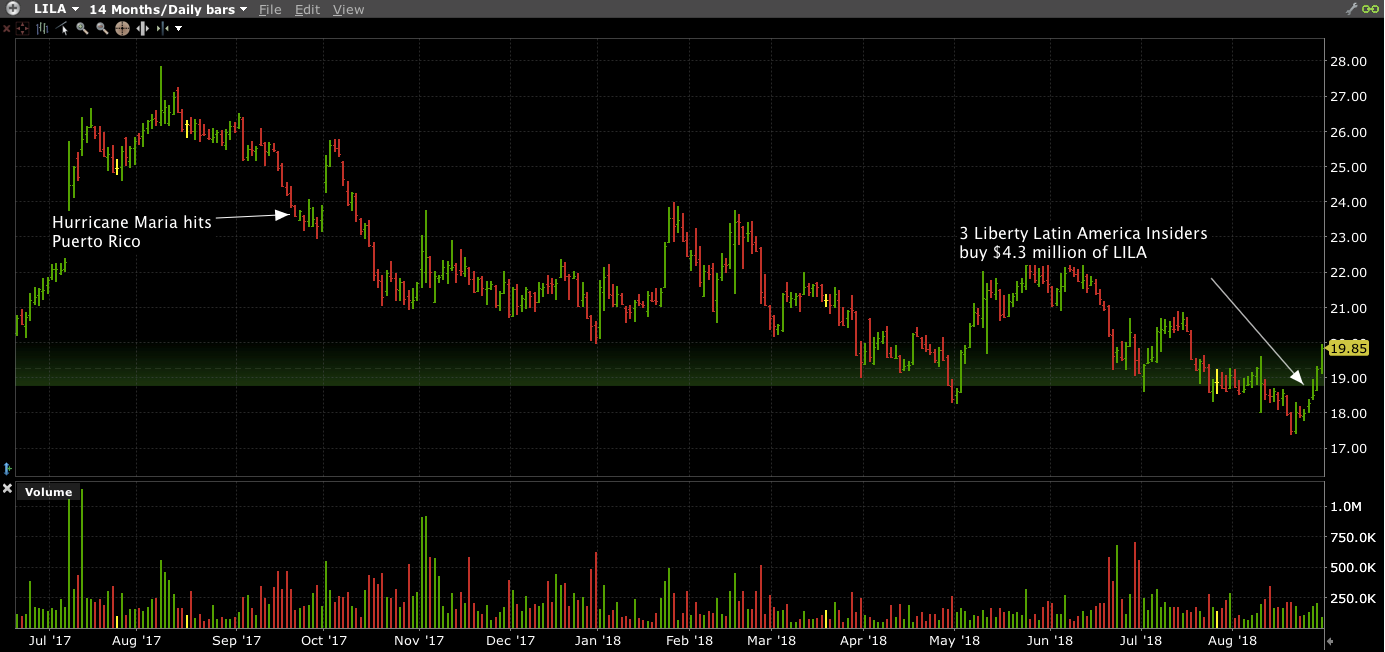 Source: Interactive Brokers
In the 4th quarter of 2017, LILA's Puerto Rico revenue plunged 84%, as the communication infrastructure in that country was decimated. Operating cash flow fell from $58.9 million in the 3rd quarter of 2017 to a loss of $12.1 million in the first quarter of 2018. The rebuilding has been slow, and  LILA stock has lagged. However, in LILA's 2nd quarter investor call, the company indicated that restoration processes are in their final stage.
Soon after this statement on August 24, Nair Balan bought 110,000 of LILA at an average cost of $18.14, spending nearly $2 million dollars. Balan was appointed President and CEO of Liberty Latin America in conjunction with the spin-off, after spending many years as the division's Chief Technology Officer. This purchase was by far Balan's largest among the few insider purchases over his career.
Joining Balan buying LILA shares was SVP and CFO Christopher Noyes, who bought 20,000 shares on August 22 for $359,000. Noyes has worked for Liberty Media since 2004, but this is his first insider purchase over that time.
Director Eric Zinterhofer, the founding partner of private equity firm Searchlight Partners, bought 104,303 shares of LILA, about $1.92 million, at an average price of about $18.43 on August 24 and 27. Searchlight was part-owner of the Puerto Rico telecom properties acquired by Liberty Media in 2015. Zinterhofer held no LILA shares personally prior to these purchases.
| Filing Date | Insider | Title | Transaction | Trade Date | Shares | Avg. Price |
| --- | --- | --- | --- | --- | --- | --- |
| 28-Aug-2018 | Zinterhofer Eric | Director | Purchase | 27-Aug-2018 | 75,000 | 18.46 |
| 27-Aug-2018 | Nair Balan | President and CEO, Director | Purchase | 24-Aug-2018 | 38,072 | 18.28 |
| 28-Aug-2018 | Zinterhofer Eric | Director | Purchase | 24-Aug-2018 | 29,303 | 18.34 |
| 27-Aug-2018 | Nair Balan | President and CEO, Director | Purchase | 23-Aug-2018 | 71,928 | 18.07 |
| 24-Aug-2018 | Noyes Christopher J | SVP, CHIEF FINANCIAL OFFICER | Purchase | 22-Aug-2018 | 20,000 | 17.93 |
Source: WhaleWisdom.com
Liberty Latin America is one of many holdings controlled by Cable TV mogul and multi-billionaire John Malone. According to Bloomberg, Malone owns a 4.3% stake and a 24.2% voting interest in LILA. The "King of Cable" built his fortune in the 70's, 80's and 90's by building Telecommunications Inc. into the largest Cable TV operator in the U.S. Malone sold TCI to Time Warner in 1999.
After selling TCI, Malone used Liberty Holdings (LBTYA) as a vehicle for investing in a wide range of global media properties, establishing an impressive track record of building value. In addition, Malone has been a very prescient buyer of his umbrella public companies when he feels they are cheap.
So far, it's been John Malone's associates aggressively buying LILA shares; however, it should be noted that Malone purchased $20 million of Liberty Global Latin at prices ranging from $21 to $25 in 2017. Buyers of LILA under $20 would own Liberty Latin America below where the King of Cable saw value not long ago.