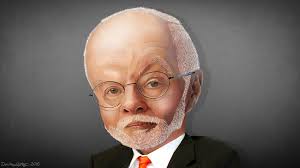 Paul Singer's Elliott Management is the largest and arguably the most successful activist hedge fund. So when Singer first buys a stake in a stock, that company's management shudders, and the share price jumps. Singer's 13D filing usually means higher prices in the target stock in the weeks and months to come.
But what happens when Singer's Elliott Management files a 13D disclosing it reduced position?
Elliott has been selling CommVault Systems
That's what happened on Friday, Feb. 22. After the market closed, Elliott Associates (a subsidiary of Elliott Management) filed a 13D/A reporting it had reduced its stake in CommVault (CVLT) by over 37%, down to a 5.5% position.
Here's the Item 4 language from the Feb. 22 13D/A:
Item 4 of the Schedule 13D is hereby amended and supplemented by the addition of the following:

The Reporting Persons are pleased with the operational, financial, governance and strategic progress achieved at the Issuer over the last year. This includes the Issuer's hiring of a new Chief Executive Officer, enhancements to its Board of Directors and significant product, operational and margin improvement initiatives. With the Issuer's share price appreciating meaningfully from the Reporting Persons' cost basis, the Reporting Persons have reduced their position in the Issuer but remain one of the Issuer's largest shareholders.
Elliott Associates initially filed a 13D on CVLT on April 2, 2018, disclosing it acquired a 10.3% position.
Singer has reduced Elliott's CVLT position from 10.3% to 5.5%

The hedge fund announced on Jan. 18 that it sold 259,000 shares at $62.53. After the selling disclosed Friday, Elliott Management held 5.5% of CVLT. If the fund continues selling, and its ownership drops below 5%, it must file another 13D/A update.
CommValut Systems is a data protection and information management software company headquartered in Tinton Falls, New Jersey. Commenting on CVLT's Q3 earnings released on Jan. 31, N. Robert Hammer, Commvault's Chairman, President and CEO stated: "… we were able to deliver strong sequential software and products revenue growth of 22%. Our revenue performance, coupled with our continued successful efforts to right-size the business, allowed us to continue to deliver significant year-over-year earnings growth, as evidenced by the 51% year to date growth in non-GAAP operating income. We believe Commvault is well positioned for both our fiscal Q4 and fiscal 2020. During the quarter we also repurchased approximately $54 million of our common stock."
After Elliott Management files a 13D disclosing selling, expect lower prices
My rough analysis of the 12 Elliott 13Ds since 2017 disclosed market sales of 5%+ positions showed the following: 30-day average return after the selling 13D was -5.68%. 60-day average return after the sales event was -8.70%. Again, this is an approximation. You can do your own analysis here for Elliott Associates and Elliott Management.
It's not surprising that when a top activist like Singer makes his first sales in a major holding, that stock underperforms going forward. The stake reduction may signal the manager no longer views the stock as a value. Couple that with the fact that CVLT is bumping up against overhead resistance, and I'd wager CVLT's 24% rally since Christmas might be running out of steam.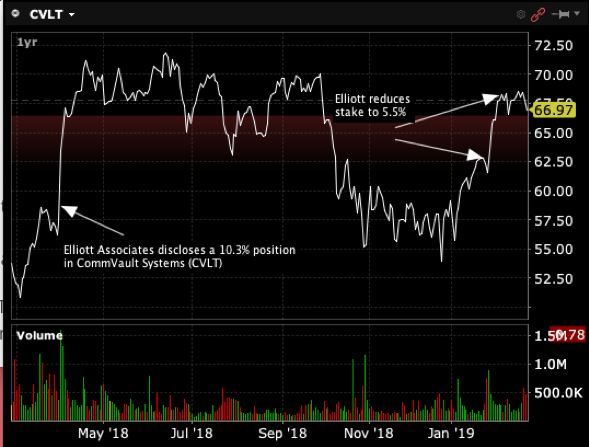 Disclaimer: Do not construe anything written in this post or this blog in its entirety as a recommendation, research, or an offer to buy or sell any securities. Everything in this post is meant for educational and informational purposes only. I or my affiliates may hold positions in securities mentioned in the article.