Between August of 2015 and April of 2018 director Brian Dexheimer sold $1.18 million of his company's stock on the open market. But on Feb. 12 the  Plantronics Inc. (PLT) insider bought it all back.
On Feb. 5 the Santa Cruz-based headset maker reported earnings per share of $1.36, beating estimates by 68%. Revenue grew 122% year over year to $510.67 million.
When the trading window opened up after the company's earnings beat, the long-time PLAT director and former Seagate Technology exec wasted no time buying 25,000 shares of PLAT at an average price of $46.21, increasing his holdings by 86%. Apparently Dexheimer has strong conviction that Plantronics stock is headed higher.
PLT went downhill after Polycom acquisition
Back on March 27, 2018 the company announced it would acquire video conference equipment maker Polycom from private equity firm Siris Capital for $2 billion, comprised of about $948 million in cash, PLT shares worth $358 million and $690 million in debt.
The market seemed to love the transaction. The combined company would have expertise in Bluetooth sensors, audio and video and advanced technologies such as noise fence and automatic camera switching. PLT rose from about $60 to $82 over the next four months.
Then it was all downhill. Post-merger results were disappointing. Plantronics stock slumped over 60% in the last 5 months of 2018, hitting a low of $30.90 on Dec. 24.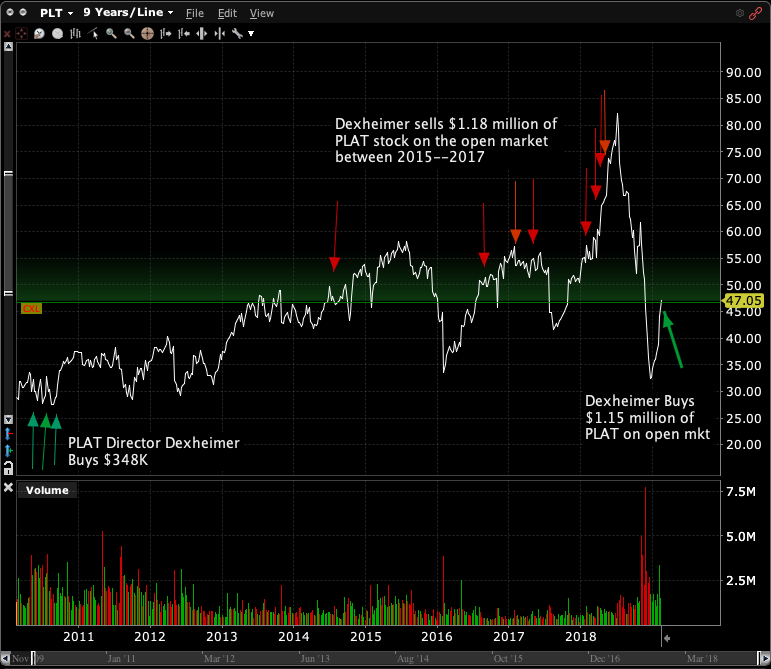 Insider Dexheimer sold PLT on the open market as it ramped higher, liquidating 4000 shares via planned sales between Feb. and April. He also exercised options for 11,531 shares – acquiring the stock at $40.15 when PLT was trading at $66.
Plantronics insider buys after Q3 earnings earnings beat
In a press release after the Q3 results, Joe Burton, PLT President and CEO said: "We continue to make progress on our ongoing product roadmap, integration plans, and financial goals, meeting or exceeding our guidance targets, with operating income and EBITDA more than doubling as result of the acquisition." "We remain on track to deliver on our cost synergy targets and are pleased by the $45M of run-rate annualized cost synergies achieved to date as we continue to execute on our integration plans," said Pam Strayer, Executive VP and CFO. "Revenue growth in desktop phones, audio conferencing, and headsets, coupled with expense reductions drove strong profitability for the third quarter."
Post-earnings announcement drift (PEAD) is a widely researched market anomaly. Companies that report higher than expected earnings typically experience an upward drift in their stock prices in subsequent days and weeks; while those that report negative surprises see a downward drift. A recent academic study suggests that when corporate insiders buy into a stock decline after negative earnings, the negative stock price drift is lessened.
However, according to the study, insider buying that occurs after a positive earnings surprise increases upward stock price drift. Bottom line: When insiders buy into post-earnings stock price strength, upward price momentum tends to continue.
Disclaimer: Do not construe anything written in this post or this blog in its entirety as a recommendation, research, or an offer to buy or sell any securities. Everything in this post is meant for educational and educational purposes only. I or my affiliates may hold positions in securities mentioned in the article.