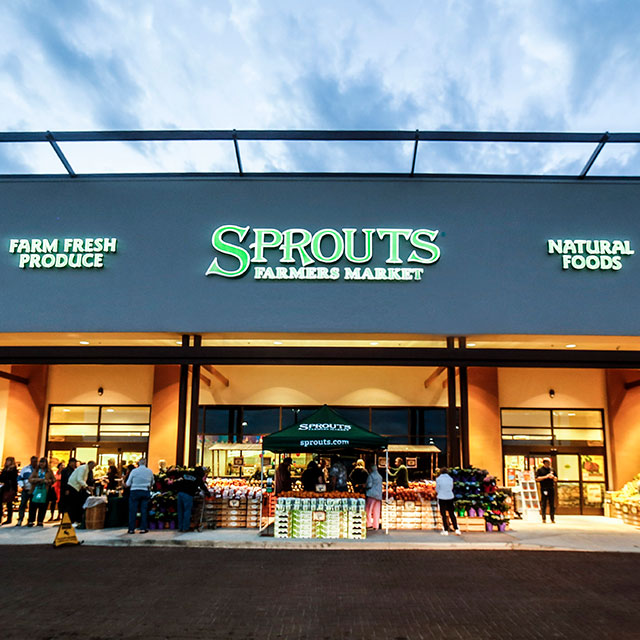 Amin Maredia, formerly the CEO of Sprouts Farmers Market (SFM), was a valuable member of the natural grocer's management team over the last few years. How valuable? Well, his services are apparently worth $600 million. Because that's how much market value SFM stock lost on Friday after Maredia suddenly resigned.
Sprouts shares closed down $4.01 at $23.02 after the company announced Friday morning that Maredia, Sprout's CEO since 2015, would be leaving at year end to "pursue other interests."
While the market was giving SFM a 15% haircut, three Sprouts corporate insiders, including the former co-founder and current CFO, stepped in and bought $2.37 million of stock at an average price of $22.86. It appears the insiders disagree with SFM's new valuation, and view the stock as a bargain.
Among the buyers was current CFO Bradley Lukow, who bought 10,000 shares at $23.09. Lukow will become Sprout's interim co-CEO on Jan. 1, while the board searches for Maredia's replacement. Shon A. Boney, co-founder of Sprouts and board member since 2002, bought 88,500 shares at $22.83, spending over $2 million. Boney increased his holdings by 1570%, from 5,638 to 94,138.
| | | | | | | | | | | |
| --- | --- | --- | --- | --- | --- | --- | --- | --- | --- | --- |
| Filing Date | Insider | Title | Transaction | Trade Date | Shares | Avg. Price | Total | Holdings Start | Holdings End | Holdings % Change |
| 30-Nov-2018 | Lukow Bradley | Interim Co-CEO and CFO | Purchase | 30-Nov-2018 | 10,000 | 23.09 | $ 230,864 | 129,598 | 139,598 | 7.72% |
| 30-Nov-2018 | McGlinchey David | Chief Merchandising Officer | Purchase | 30-Nov-2018 | 5,000 | 23.10 | $ 115,500 | 7,034 | 12,034 | 71.08% |
| 30-Nov-2018 | Boney Shon A. | Director | Purchase | 30-Nov-2018 | 88,500 | 22.83 | $2,020,150 | 5,638 | 94,138 | 1569.71% |
Source: WhaleWisdom.com
The press release issued by Sprouts didn't offer detail on why Maredia is leaving. It seems unlikely that Maredia's departure was performance related — the company has been growing rapidly despite lots of competition, including Amazon's (AMZN) recently acquired Whole Foods Market. Sprouts posted solid third-quarter results. For the period ended Sept. 30, revenue rose 10.2% to $1.33 billion, and same-store sales grew 1.5% year over year. Two-year comparable-store sales were up 6.1%. Reported earnings per share of 29 cents beat Wall Street's consensus forecast of 26 cents.
Sprouts is planning to continue expansion in 2019. Last month, the grocer said it intends to open seven new stores in the first quarter of 2019, and a total of 30 new locations for the full year.
We might speculate that Maredia had a disagreement with Sprout's board over the company's direction. SFM was the subject of takeover speculation last year when Albertson's reportedly made an offer. However, according to the New York Post, SFM's valuation was too high at the time. With the big price drop, that situation may have changed…
An analyst who participated in a call with Sprouts officials regarding the leadership change told Winsight Grocery Business that "the company gave the impression Maredia's departure was a 'lifestyle choice,' emphasizing that the company did not use those words specifically."
But according to Jim Cramer, "CEOs and CFOs just don't quit for personal reasons, especially if they want to keep their bonuses…" Speaking on Mad Money back in June of 2018, Cramer asserted that "these are fabulous jobs…competition for these positions is so fierce that when you finally land one, you don't up and leave, not for no real reason…When C-suite executives leave for undisclosed personal reasons, it's almost always because there's something wrong at the company. Hence, my rule: When high-level people quit a company, something's wrong," Cramer said. "When you're looking at individual companies, remember that unexplained high-level executive resignations equal sell."
Obviously in the case of Sprouts Farmer's Market, the market has adopted Cramer's "shoot first, ask questions later" approach to CEO resignations.
The question then is this: Does Sprouts CEO's sudden resignation imply there's "something rotten in Denmark," and the company's price has further to fall, or did the market just overreact big-time, putting Sprouts shares on sale by 15%? Who do you listen to, Jim Cramer who advises "sell, sell, sell" when a CEO suddenly quits, or Sprouts insiders who invested $2.37 million in their own shares, suggesting investors should "buy, buy, buy"?
Sprouts Farmers Market Daily Chart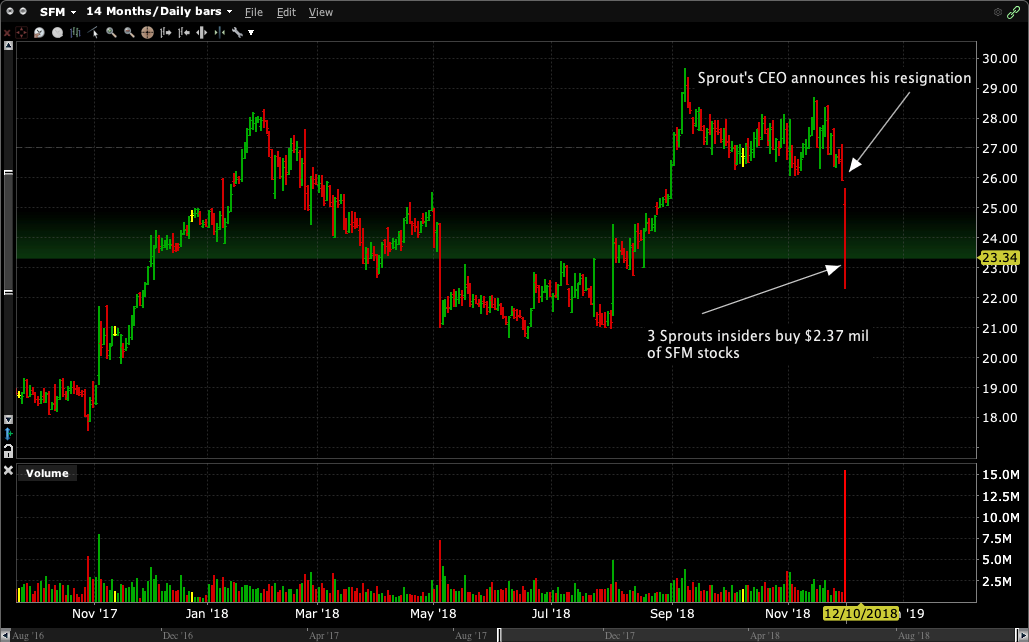 Disclaimer: Do not construe anything written in this post or this blog in its entirety as a recommendation, research, or an offer to buy or sell any securities. Everything in this post is meant for educational and entertainment purposes only. I or my affiliates may hold positions in securities mentioned in the article.