Engine Capital filed a 13D targeting PDL BioPharm (PDLI) on Wednesday morning, disclosing a 5.28% stake in the Nevada-based healthcare stock. Engine also disclosed it sent a letter to PDLI's board saying the fund "invested in PDLI because of the significant intrinsic value attributable to the Company's existing assets…Engine believes that the Company is deeply undervalued by the public markets and there are opportunities readily available to PDLI's Board of Directors to significantly increase shareholder value."
PDLI stock closed at $2.88, up 16.39% on the news.
The letter, dated Oct. 23 and signed by founder and managing member Arnaud Ajdler of Engine Capital L.P., went on to say:
"PDLI's tangible book value is approximately $5.35 per share, while the Company's stock is currently trading at $2.37 per share. Simply realizing the tangible book value for shareholders would imply an upside of 126.6% and create more than $340 million of shareholder value. The value is there, it just needs to be unlocked. After speaking with many of our fellow shareholders, it is clear that there is a widespread belief amongst the shareholder base that the Board must stop squandering shareholder capital and immediately commence a process to maximize the value of the Company. Doing so unmistakably presents the best risk-adjusted path forward for shareholders."
PDLI has lost 80% of market cap since 2014, but Engine Capital filed a 13D targeting the stock, seeing significant value in the shares
According to PDLI's website, the company "seeks to provide a significant return for its shareholders by acquiring commercial stage pharmaceutical assets with multiple year revenue growth potential as well as late clinical stage pharmaceutical products."
PDL BioPharma once owned a patent portfolio of big-selling drugs, but most of those patents have expired, contributing to a 80% loss of market cap since 2014. However, Engine Capital believes significant value remains in the company's "royalty portfolio and wholly-owned subsidiaries Noden and LENSAR."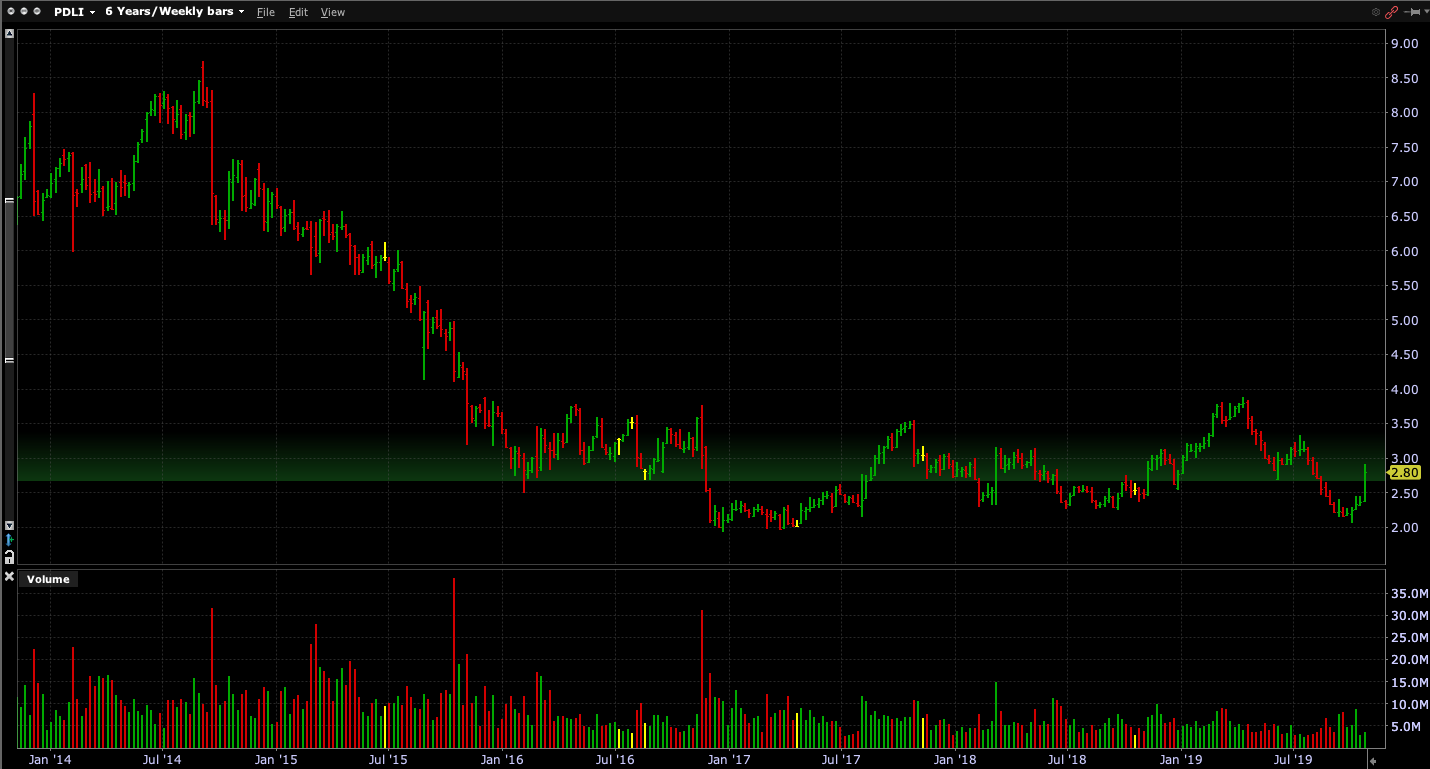 According to Engine Capital, PDLI's
"abysmal performance is directly attributable to a history of poor capital allocation decisions, including ill-conceived acquisitions and speculative investments that have failed to create value. The Company has seemingly admitted to its inability to deploy capital effectively as demonstrated by its numerous shifts in capital allocation strategies over the years. PDL BioPharma has transitioned from a debt and royalty asset acquisition strategy, to a pharma acquisition strategy and now to building a portfolio of actively managed investments."
Engine Capital was founded in 2013 by Arnaud Ajdler.
Arnaud Ajdler founded and has been managing partner for Engine Capital L.P. since 2013.  Prior to that, he was a senior managing director and a partner at Crescendo Partners, an activist fund. He is also an adjunct professor at the Columbia Business School where he teaches a course in Value Investing.
In the letter sent to PDL BioPharma, Ajdler said:
"Engine is a value-oriented investment firm…that has negotiated board representation or settlements at 17 public companies and added 27 highly qualified new board members to these companies."
How have Engine Capital's activist campaigns fared in the past? According to WhaleWisdom.com, Arnaud Ajdler has filed six initial 13Ds prior to the PDLI 13D. Here's how followers of Engine Capital's campaigns would have fared if they bought after the initial 13D and sold when a 13D/A disclosed selling that dropped Engine's stake below 5%.
Engine Capital activist campaigns since the firm's 2013 inception
| | | | | | | |
| --- | --- | --- | --- | --- | --- | --- |
| Filing | Stock | Event Date | Date File | Percent Owned | Exit Date | Annualized Profit |
| SC 13D | PDLI | 10/21/19 | 10/23/19 | 5.30% | Ongoing | |
| SC 13D | HBIO | 7/8/19 | 7/18/19 | 8.50% | Ongoing | 57.17% |
| SC 13D | PFSW | 8/20/18 | 8/29/18 | 5.60% | 3/19/19 | -42.37% |
| SC 13D | HIL | 11/1/17 | 11/6/17 | 7.40% | 3/9/18 | -19.71% |
| SC 13D | PFSW | 8/7/17 | 8/17/17 | 5.00% | 6/27/18 | 38.26% |
| SC 13D | SPA | 3/10/16 | 3/10/16 | 3.70% | 5/4/16 | 53.87% |
| SC 13D | SRT | 4/21/14 | 4/29/14 | 6.00% | 3/28/17 | 9.50% |
Notably, Engine Capital's most recent activist filing targeting Harvard Bioscience Inc. (HBIO) has been successful so far. Ajdler filed a 13D on July 8 of this year when HBIO was at $1.78. The stock closed on Oct. 23 at $2.78.
Disclaimer:
Do not construe anything written in this post or this blog in its entirety as a recommendation, research, or an offer to buy or sell any securities. Everything in this blog is meant for educational and informational purposes only. Do your own research before investing and don't risk more than you can afford to lose. This article expresses my own opinions, and I am not receiving compensation for it (other than from WhaleWisdom). If you buy a book after clicking on one of the above links, I may received an affiliate fee. I do not have a business relationship with any company whose stock is mentioned in this article. I or my associates may hold positions in the stocks discussed.