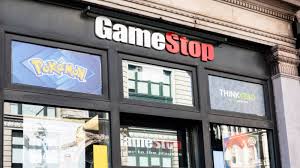 RC Ventures reported a 12.9% GameStop (GME) stake on Monday. Ryan Cohen, co-founder of e-commerce firm Chewy (CHWY), disclosed in SEC filings that his firm bought 9 million additional shares of the gaming company. RC Ventures had previously disclosed a 9.98% position on Sept. 21.
Ryan Cohen's fund had this to say in yesterday's 13D/A filing.
The Reporting Persons have engaged, and intend to continue to engage, in discussions with the Issuer's Board of Directors (the "Board") regarding means to drive stockholder value, including through changes to the composition of the Board and other corporate governance enhancements. While the Reporting Persons desire to come to an amicable resolution with the Issuer, the Reporting Persons will not hesitate to take any actions that they believe are necessary to protect the best interests of all stockholders.
GME was up 27.50% mid-day Tuesday the day after RC Ventures reported a 12.9% GameStop stake. A large short interest in the stock may be adding fuel to the stock's rally.
GME stock showed short interest of 67.98 million shares as of November 30. That's about 128% of the stocks freely trading shares or "float." With average daily volume of 9.2 million, the short position implies 7.39 days to cover. GME may be experiencing a "short squeeze," whereby short sellers scramble to buy/cover short positions as brokers issue margin calls while the stock surges.
Is GameStop the next Blockbuster Video?
GameStop's core business is selling new and used software and hardware to gamers. But the video game industry is rapidly changing — gamers now prefer to download games directly to their consoles. The comparison to Blockbuster is frequent — GameStop is a company with a retail model that's doomed for extinction.
But Ryan Cohen, who built the online retailer Chewy and sold to PetSmart in 2017 for $3.35 billion, thinks the video-game retailer can reinvent itself. He believes GameStop should shift focus away from brick-and-mortal stores and build an e-commerce platform. Cohen has said GameStop can use its well established brand and large customer base to drive that transition.
In a 13D previously filed on Nov. 17, RC Ventures included a letter to the Board of Directors of GameStop saying:
…GameStop's leadership should immediately conduct a strategic review of the business and share a credible plan for seizing the tremendous opportunities in the rapidly-growing gaming sector. GameStop needs to evolve into a technology company that delights gamers and delivers exceptional digital experiences – not remain a video game retailer that overprioritizes its brick-and-mortar footprint and stumbles around the online ecosystem… Our investment thesis was predicated upon a few core conclusions, including:
The gaming industry is experiencing explosive growth, with the global gaming market expected to be $174.9 billion this year and reach $217.9 billion by 2023.1

GameStop has valuable assets, including a strong brand with a large customer base and 55 million PowerUp members.

Despite GameStop losing substantial market share to forward-looking competitors, the Company can still emerge as the market leader and ultimate destination for gamers if the Board can set a credible strategy for capturing growth opportunities.
RC Ventures' GameStop buying history.
| | | | | | | |
| --- | --- | --- | --- | --- | --- | --- |
| Reported via | Event Date | Name | Ticker | Shares * | Change | Estimated Event Date Price |
| SC 13D | 8/18/20 | Gamestop Corp., Class A | GME | 5,800,000 | New | 4.81 |
| SC 13D/A | 8/28/20 | Gamestop Corp., Class A | GME | 6,215,326 | 415,326 | 5.39 |
| SC 13D/A | 9/21/20 | Gamestop Corp., Class A | GME | 6,500,000 | 284,674 | 8.75 |
| SC 13D/A | 11/16/20 | Gamestop Corp., Class A | GME | 6,500,000 | 0 | 12.06 |
| 3 | 12/17/20 | Gamestop Corp., Class A | GME | 7,774,600 | 1,274,600 | 0 |
| SC 13D/A | 12/17/20 | Gamestop Corp., Class A | GME | 9,001,000 | 1,226,400 | 14.83 |
| 4 | 12/17/20 | Gamestop Corp., Class A | GME | 9,001,000 | 0 | 0 |
Michael Burry's Scion Asset Management filed a 13D on GME last year, and remains a stakeholder.
In August of last year, Michael Burry, head of Scion asset management, filed a 13D on GME, calling for a large buyback of shares. Burry continued to hold a 2.61% GME position as of Q3's close.
Disclaimer:
This investment blog (the "Blog") is created and authored by Mark W. Gaffney (the "Content Creator"). The Blog is provided for informational and entertainment purposes only (collectively, the "Blog Service"). The information in the Blog constitutes the Content Creator's own opinions. None of the information contained in the Blog constitutes a recommendation that any particular security, portfolio of securities, transaction, or investment strategy is suitable for any specific person. You understand that the Content Creator is not advising, and will not advise you personally concerning the nature, potential, value or suitability of any particular security, portfolio of securities, transaction, investment strategy or other matter. To the extent any of the information contained in the Blog may be deemed to be investment advice, such information is impersonal and not tailored to the investment needs of any specific person.
From time to time, the Content Creator or its affiliates may hold positions or other interests in securities mentioned in the Blog. The Content Creator or affiliates may trade for their own account(s) based on the information presented, and may also take positions inconsistent with the views expressed in its messages on the Blog.
The Content Creator may hold licenses with FINRA, the SEC or states securities authorities. These licenses may not be disclosed by the content creator in the Blog.
Investing in the investments discussed in the Blog may be risky and speculative. The companies may have limited operating histories, little available public information. The stocks discussed may be volatile and illiquid. Trading in such securities can result in immediate and substantial losses of the capital invested. You should only invest risk capital not required for other purposes, such as retirement savings, student loans, mortgages or education.