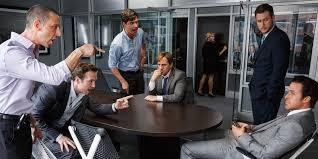 Michael Burry as activist investor? It doesn't seem likely that the famously media-shy hedge fund manager would take a page from Carl Icahn's playbook, but that's just what appears to be happening.
Burry told Barron's in an article published Wednesday that Scion Asset Management owns 3 million shares, or 3.3% of GameStop Corp. (GME) and has sent a letter to the board of directors of the company:
"urging the Board to direct the full execution of its March 4th, 2019 $300 million share repurchase authorization. GameStop's market capitalization hovering around $310 million compares to $237.6 million remaining on the buyback authorization. Scion estimates GameStop has cash on hand in excess of $480 million, meaning the repurchase could be completed with less than half of the cash on hand…the very high volume in GameStop stock magnifying the practical opportunity at present. Scion believes the opportunity for a game-changing buyback cannot be missed and recommends the Board act to ensure the completion of the authorized buyback in a timely manner."
Based on GME's close of $3.87, Scion's 3.3 million share position would make GameStop Burry's largest portfolio holding.
GameStop shares spiked nearly 20% higher on Thursday after the Barron's report, trading as high as $4.25, before closing at $3.87. GameStop is down nearly 70% this year, losing nearly $900 million in market cap.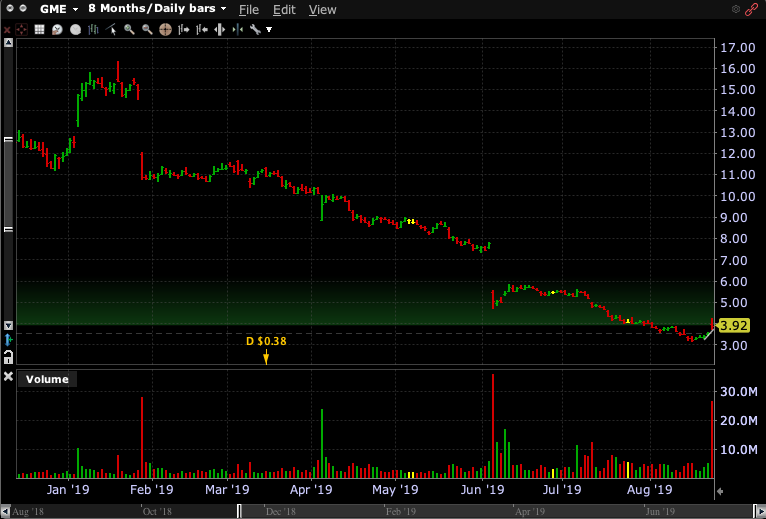 The Big Short's Michael Burry is notoriously shy, and has said he has Asperger's Syndrome.
Michael Burry, profiled in the book and movie "The Big Short," gained fame for betting that the sub-prime market would collapse in 2008. He reaped huge profits for Scion Capital and himself when that market imploded. However, he closed Scion Capital shortly after cashing in the "big short." Self-diagnosed as autistic (Asperger's Syndrome), Burry reportedly closed Scion after having difficulty dealing with his investors. But he reopened the fund in 2015, changing the name to Scion Asset Management.
Scion previously closed-out a stake in GameStop during Q2 2019. Burry has now repurchased GME at lower prices.
This is not Scion's first go round with GameStop. In the hedge fund's Q4 2018 report — it's first in two years — Burry disclosed a 536,862 position in GME. That represented 6.54% of the fund's portfolio, Scion's 9th largest position. GME closed 2018 at $12.20.
Q1 2019's 13F report revealed that Burry had increased his GME position by 21% to 650,000.
But then, just last August 14, Scion's Q2 13F showed Burry had liquidated GME, selling all 650,000 shares in the quarter ending June 30.
| | | | | | | | |
| --- | --- | --- | --- | --- | --- | --- | --- |
| Reported via | Event Date | Name | Ticker | Shares * | Change | % of Portfolio | Estimated Event Date Price |
| 13F | 12/31/18 | Gamestop Corp., Class A | GME | 536,862 | New | 6.54 | 12.62 |
| 13F | 3/31/19 | Gamestop Corp., Class A | GME | 650,000 | 113,138 | 6.73 | 10.16 |
| 13F | 6/30/19 | Gamestop Corp., Class A | GME | 0 | -650,000 | | |
It should be noted that a 3% stake does not require Scion to file with the SEC. Only after a fund controls 5% of a stock must the position be publicly disclosed. A passive 5%+ investment requires a 13G filing. An activist — someone looking to catalyze changes with a company — must file a 13D.
Michael Burry as activist investor: GME could "pull off perhaps the most consequential and shareholder-friendly buyback in stock market history with elegance and stealth."
In his letter to GameStop management, Burry states that GME could "pull off perhaps the most consequential and shareholder-friendly buyback in stock market history with elegance and stealth."
"Given the market capitalization of GameStop at $290 million at the close on August 15th, completing the authorization would retire over 80% of GameStop's outstanding shares. Depending on the timing and quality of execution, such a repurchase would increase earnings per share dramatically – far more than any other possible action on a per share basis.

The numbers are striking and demand action. We estimate that GameStop now has in excess of $480 million of cash, more than enough to complete the share repurchase authorization and still invest in the business and pay down debt."
Burry believes that, given GME's high liquidity, the company could easily pull off the "game-changing" buyback.
He also points out that short interest in GameStop stock was 57,226,706 shares as of July 31 — about 63% of the 90.26 million outstanding GameStop shares at last report.
This is a bold public move for Michael Burry. One wonders if he really wants to be an activist investor–the guy who stands in a hostile boardroom and demands things. However, in The Big Short book Michael Lewis quotes Burry after he studied Warren Buffett: "The lesson of Buffett is, to succeed in a spectacular fashion you have to be spectacularly unusual." Michael Burry as activist investor is certainly that.
Disclaimer:
Do not construe anything written in this post or this blog in its entirety as a recommendation, research, or an offer to buy or sell any securities. Everything in this blog is meant for educational and informational purposes only. Do your own research before investing and don't risk more than you can afford to lose. This article expresses my own opinions, and I am not receiving compensation for it (other than from WhaleWisdom). If you buy a book after clicking on one of the above links, I may received an affiliate fee. I do not have a business relationship with any company whose stock is mentioned in this article. I or my associates may hold positions in the stocks discussed.