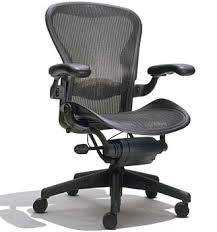 Michael Volkema has been Chairman of the Board at Herman Miller (MLHR) since 2000. As a Herman Miller Inc. insider, he has filed many reports to the SEC over the years. He's been granted shares, he's exercised options, sold options and sold stock. What he's never done over the last 2 decades is purchase his company's stock on the open market. That was until yesterday.
In a Form 4 filed today, Volkema disclosed the purchase of 25,000 shares of MLHR yesterday at $21.94.
Why did the Herman Miller Inc. Chairman chose now to buy stock? We can only speculate, but certainly the 45% haircut given to MLHR this year has something to do with it. As I write, MLHR is trading 40% below it's 200 day moving average. That's qualifies as oversold.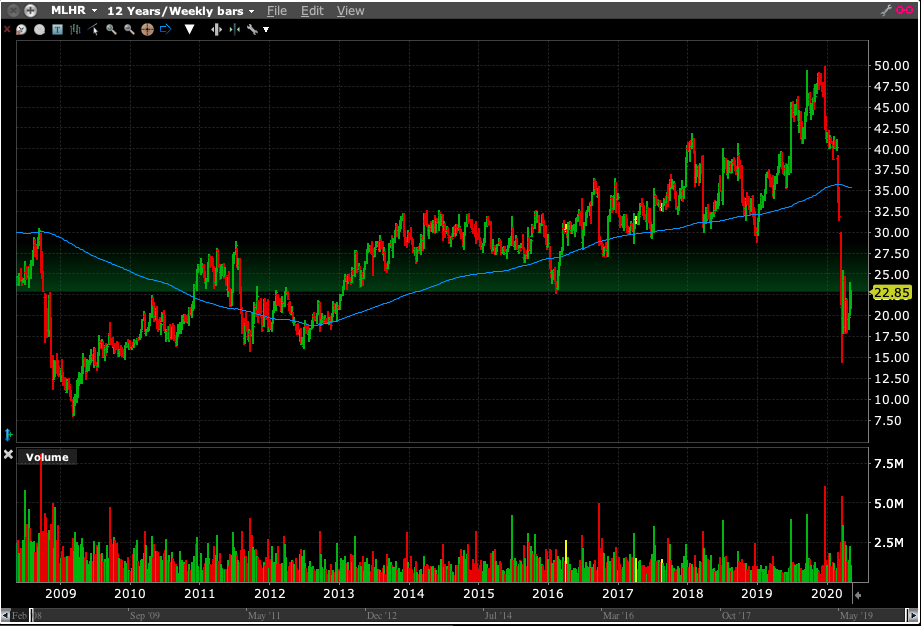 Herman Miller manufacturers high quality ergonomic office chairs and other luxury furniture. The company's stylish, heavy duty Aeron Chairs have achieved iconic status in the business world.
But with the onset of the coronavirus lockdown, most office workers are secluded at home. The 45% drop in MLHR suggests investors believe Herman Miller's sales will take a big hit during the lockdown and ongoing recession.
But, before the pandemic hit, business was good.
For the 3rd quarter ending Feb. 29, 2020, Herman Miller, Inc. revenues increased 6% to $2.01B. Net income before extraordinary items increased 45% to $164.5M. Of course, those results reflect pre-lockdown operations.
The 45% drop in MLHR suggests investors believe Herman Miller's sales will take a big hit during the lockdown.
In the Q3 conference call on March 19, CFO Jeff Stultz noted that:
"Our financial performance also continued to generate robust operating cash flows, and we maintain a strong balance sheet that provides us with ample liquidity and flexibility to both navigate the uncertain near-term climate and fuel investment opportunities in support of our growth strategy." 
The manufacturer has $275 million of long-term debt, compared to $837 million in stockholder equity.
This Seeking Alpha article asserts that:
MLHR's present value of all future income has probably not declined by the 50% or so implied by the market. A 50% decline in value implies drastic and permanent changes in consumer behavior and company profitability, and this fear seems overblown. I think it is likely that as the economy starts to pick up, the sentiment around MLHR will change and the price should return back to $42/ share or so.
With his $500K open market purchase, Herman Miller, Inc. insider Michael Volkema appears to agree that the selling in his company's stock is overdone.
You can follow insider buying and other SEC filings at the SEC's Edgar website or at sites like WhaleWisdom.com.
Disclaimer:
This investment blog (the "Blog") is created and authored by Mark W. Gaffney (the "Content Creator") and is published and provided for informational and entertainment purposes only (collectively, the "Blog Service"). The information in the Blog constitutes the Content Creator's own opinions. None of the information contained in the Blog constitutes a recommendation that any particular security, portfolio of securities, transaction, or investment strategy is suitable for any specific person. You understand that the Content Creator is not advising, and will not advise you personally concerning the nature, potential, value or suitability of any particular security, portfolio of securities, transaction, investment strategy or other matter. To the extent any of the information contained in the Blog may be deemed to be investment advice, such information is impersonal and not tailored to the investment needs of any specific person.
From time to time, the Content Creator or its affiliates may hold positions or other interests in securities mentioned in the Blog and may trade for their own account(s) based on the information presented. The Content Creator may also take positions inconsistent with the views expressed in its messages on the Blog.
The Content Creator may hold licenses with FINRA, the SEC or states securities authorities and these licenses may or may not be disclosed by the Content Creator in the Blog.
Investing in the investments discussed in the Blog may be risky and speculative. The companies may have limited operating histories, little available public information, and the stocks they issue may be volatile and illiquid. Trading in such securities can result in immediate and substantial losses of the capital invested. You should use invest risk capital, and not capital required for other purposes, such as retirement savings, student loans, mortgages or education.