On March 4, Marathon Partners called ELF Beauty "undervalued" in a 13D filing with the SEC. The New York City-based hedge fund disclosed a 5.2% stake, and said in the filing it has "engaged, and plans to continue to engage, with the Issuer's management and Board of Directors regarding opportunities to significantly enhance shareholder value."
Oakland, CA-based e.l.f. Beauty Inc (ELF) sells cosmetics and skin care products at relatively low price points online and via retail stores.
After touching an all-time-high of $20 on Feb. 14, ELF shares plummeted to a low of $7.58 on March 19 during the coronavirus sell-off. The stock has since rallied to $12.55, still 37% off its highs.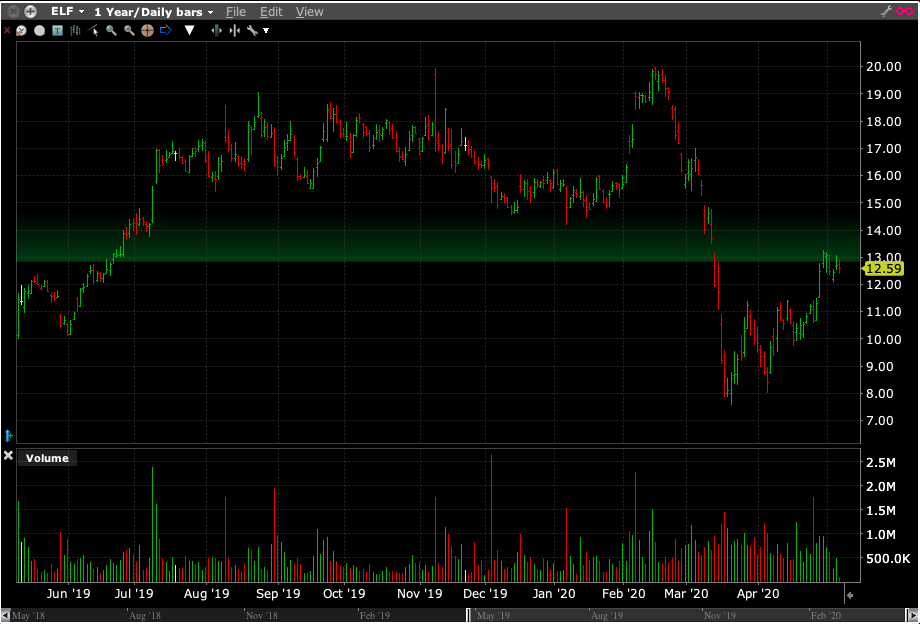 ELF recently reaffirmed fiscal 2020 guidance.
On March 30, ELF reaffirmed its fiscal 2020 guidance, previously issued on February 5, noting "the strong execution of its five strategic imperatives." The company anticipates net sales of $274-277M, up 7 to 8 percent year over year, excluding the contribution of e.l.f. retail stores. Adjusted EPS is projected to be between $0.55 – $0.59 for fiscal 2020.
The company also addressed how operations have been impacted by the pandemic and resulting lockdowns.
COVID-19 Business Update
While the Company is reaffirming net sales guidance for fiscal 2020, it's seen a significant decline in retail sales over the last two weeks due to the impact of COVID-19 on consumer behavior. e.l.f. anticipates its sales and Nielsen tracked channel results to be negatively impacted until consumers return to normal shopping patterns.
The Company is focused on e.l.f.'s relative performance to the category and the opportunity to build market share.
The Company has a strong liquidity position. As of today, the Company has approximately $45 million in cash on hand and access to a $50 million dollar revolving credit facility. The Company is seeking to reduce working capital, better match marketing expense to demand, and explore other areas to reduce operational costs.
Longer-term, the Company remains confident in its core value proposition of delivering prestige quality cosmetics and skin care at extraordinary prices.
JPMorgan expects ELF to benefit from consumers downtrading to the company's less expensive cosmetics during the recession.
On April 14, JPMorgan analyst Andrea Teixeira named ELF one of the firms's top picks in the U.S. household products and person care sector. "We expect ELF to gain share not only from its mass peers like COTY's Covergirl brand or L'Oreal's Maybelline brand but also benefit from consumers downtrading from prestige cosmetics amid the recession. Current valuation offers an attractive entry point, in our view."
Marathon Partners called ELF Beauty "undervalued" in its May 4 13D activist filing, apparently agreeing with JPMorgan's assessment. The $284M fund is owned and managed by Mario Cibelli. He founded the Marathon Partners in 2001.
The 13D reflected a 582,000 ELF share purchase between March 19 and April 24, which raised the fund's stake to 5.2%. ELF is Marathon's 2nd largest long holding, representing about 18% of the fund's 13F portfolio. As of Q4 2019's close, Marathon held 3.9 million shares of ELF, or about a 7.82% stake. But on Feb. 6-13, the fund sold 1.89 million shares, dropping Marathon's stake below 5%. But after the big drop in ELF's price, Marathon once again became a buyer.
Marathon Partners Portfolio as of Q4's close, with ELF position reflecting recent 13D filing.
| | | | | | | |
| --- | --- | --- | --- | --- | --- | --- |
| Stock | Symbol | Shares Held | Market Value | % of Portfolio | Ranking | Change in shares |
| Grubhub inc | GRUB | 902,500 | 43,898,000 | 23.2556% | 1 | 507,500 |
| E.l.f. beauty inc | ELF | 2,595,200 | 33,919,264 | 17.9692% | 2 | 582,500 |
| Hd supply holdings inc | HDS | 785,000 | 31,573,000 | 16.7262% | 3 | -350,000 |
| Facebook inc | FB | 112,500 | 23,091,000 | 12.2328% | 4 | 0 |
| Paypal holdings inc | PYPL | 168,000 | 18,173,000 | 9.6274% | 5 | -27,000 |
| Us foods holding corp | USFD | 395,000 | 16,547,000 | 8.766% | 6 | -250,000 |
| World wrestling entertainment inc | WWE | 135,000 | 8,757,000 | 4.6391% | 7 | 60,000 |
| J. alexanders holdings inc | JAX | 540,000 | 5,162,000 | 2.7346% | 8 | -65,000 |
| Alphabet inc. class a | GOOGL | 2,300 | 3,081,000 | 1.6322% | 9 | 0 |
| Alphabet inc. class c | GOOG | 2,300 | 3,075,000 | 1.629% | 10 | 0 |
| Uber technologies inc | UBER | 50,000 | 1,487,000 | 0.7878% | 11 | 50,000 |
You can follow insider buying and other SEC filings at the SEC's Edgar website or at sites like WhaleWisdom.com.
Disclaimer:
This investment blog (the "Blog") is created and authored by Mark W. Gaffney (the "Content Creator") and is published and provided for informational and entertainment purposes only (collectively, the "Blog Service"). The information in the Blog constitutes the Content Creator's own opinions. None of the information contained in the Blog constitutes a recommendation that any particular security, portfolio of securities, transaction, or investment strategy is suitable for any specific person. You understand that the Content Creator is not advising, and will not advise you personally concerning the nature, potential, value or suitability of any particular security, portfolio of securities, transaction, investment strategy or other matter. To the extent any of the information contained in the Blog may be deemed to be investment advice, such information is impersonal and not tailored to the investment needs of any specific person.
From time to time, the Content Creator or its affiliates may hold positions or other interests in securities mentioned in the Blog and may trade for their own account(s) based on the information presented. The Content Creator may also take positions inconsistent with the views expressed in its messages on the Blog.
The Content Creator may hold licenses with FINRA, the SEC or states securities authorities and these licenses may or may not be disclosed by the Content Creator in the Blog.
Investing in the investments discussed in the Blog may be risky and speculative. The companies may have limited operating histories, little available public information, and the stocks they issue may be volatile and illiquid. Trading in such securities can result in immediate and substantial losses of the capital invested. You should use invest risk capital, and not capital required for other purposes, such as retirement savings, student loans, mortgages or education.