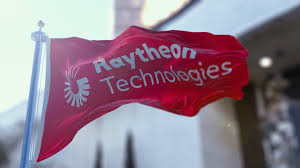 It's typically bullish when a corporate insider buys shares of his or her company. Insiders have knowledge about their companies that outsiders don't. But when multiple corporate insiders purchase their own stock at the same time, it's typically an even stronger buy signal. Such "cluster buying" implies agreement among the company's insiders that the stock is attractively valued. So the unusual insider cluster buying at Raytheon Technologies (RTX) is worth noting.
In a Form 4 filed this morning just before the market opened, five Raytheon Insiders disclosed buying $4.59M of RTX stock on the open market. Most notably, President and CEO Gregory Hayes bought 55,000 shares at $54.82 on Oct. 28. Hayes' $3M purchase is his first since being appointed as CEO in 2014. And in fact, it is the only open market purchase by Hayes in his nearly 21 years working at United Technologies/Raytheon. The purchases raised Hayes' holdings from 215,560 shares to 270,560, an increase of 26%.
Also joining in the buying was Executive Chairman Thomas Kennedy who took down 19,059 shares yesterday at $52.47. It was the first open market purchase of Raytheon/United Technologies stock in Kennedy's filing history which dates back to 2010. Director Dinesh Paliwal bought 9,532 shares yesterday at $52.41, increasing his stake in RTX by 89%.
Insider cluster buying at Raytheon Technologies.
| | | | | | | | | |
| --- | --- | --- | --- | --- | --- | --- | --- | --- |
| Filing Date | Insider | Title | Transaction | Trade Date | Shares | Avg. Price | Total | % Change |
| 30-Oct-2020 | Paliwal Dinesh C | Director | Open Mkt Buy | 29-Oct-2020 | 9,532 | 52.41 | $ 499,546 | 89% |
| 30-Oct-2020 | Kennedy Thomas A | Executive Chairman, Director | Open Mkt Buy | 29-Oct-2020 | 19,059 | 52.47 | $ 1,000,020 | 6% |
| 30-Oct-2020 | Jimenez Frank R | EVP and General Counsel | Open Mkt Buy | 29-Oct-2020 | 1,000 | 52.57 | $ 52,570 | 2% |
| 30-Oct-2020 | Hayes Gregory | President and CEO, Director | Open Mkt Buy | 28-Oct-2020 | 55,000 | 54.82 | $ 3,015,000 | 26% |
| 30-Oct-2020 | Winnefeld James A Jr | Director | Open Mkt Buy | 28-Oct-2020 | 500 | 55.2 | $ 27,600 | 7% |
The insider cluster buying at Raytheon Technologies comes after the company's Oct. 28 disclosure of a demand from the U.S. Department of Justice for records dating back more than a decade from the company's missile business.
According to Bloomberg, the criminal subpoena was dated Oct. 8 and Raytheon is cooperating. Federal prosecutors are seeking documents and information in a probe of accounting and other reporting matters within Raytheon's Missiles & Defense business since 2009, according to a RTX filing.
In the same filing, Raytheon also disclosed it had received a second subpoena from the SEC related to a separate, previously disclosed probe. RTX declined 7.4% to $52.34 on Wednesday amid a broad market decline. It was RTX' largest drop since June.
RTX closed at $54.34 today after the Form 4 disclosures, bucking the stock market's downtrend.
Citigroup analyst: Raytheon management-signed documents estimate the financial impact of the SEC's actions to be "immaterial."
Citigroup analyst Jonathan Raviv was quoted by Bloomberg as saying: "The market is in 'shoot first, ask questions later' mode. As a result, we're not surprised to see the stock reaction since the potential outcomes range from very bad to zero outcome at all. But keep in mind that management-signed documents estimate it's immaterial."
In response to the SEC request, the company issued the following statement. "Raytheon Company maintains a rigorous anti-corruption compliance program, is cooperating fully with the SEC's inquiry, and is examining whether there has been any conduct that is in violation of Raytheon Company policy."
RTX shares had declined 7% on Oct. 27 after posting 3rd quarter results that disappointed investors. Revenue was higher by $3.4 billion to $14.7 billion, but net income skidded by 77% to $264 million.
Covid-related weakness in the aviation sector has weighed heavily on Raytheon. The company's Collins Aerospace and Pratt & Whitney divisions saw segment sales drop 34% year over year, with Collins seeing profits drop more than 90%, and Pratt & Whitney reversing a year-earlier profit with a substantial loss. Higher volumes of sales on military aircraft were more than offset by declines in the commercial arena.
The insider cluster buying at Raytheon Technologies suggests recent bad news and stock weakness may present a buying opportunity.
Disclaimer:
This investment blog (the "Blog") is created and authored by Mark W. Gaffney (the "Content Creator"). The Blog is provided for informational and entertainment purposes only (collectively, the "Blog Service"). The information in the Blog constitutes the Content Creator's own opinions. None of the information contained in the Blog constitutes a recommendation that any particular security, portfolio of securities, transaction, or investment strategy is suitable for any specific person. You understand that the Content Creator is not advising, and will not advise you personally concerning the nature, potential, value or suitability of any particular security, portfolio of securities, transaction, investment strategy or other matter. To the extent any of the information contained in the Blog may be deemed to be investment advice, such information is impersonal and not tailored to the investment needs of any specific person.
From time to time, the Content Creator or its affiliates may hold positions or other interests in securities mentioned in the Blog. The Content Creator or affiliates may trade for their own account(s) based on the information presented, and may also take positions inconsistent with the views expressed in its messages on the Blog.
The Content Creator may hold licenses with FINRA, the SEC or states securities authorities. These licenses may or may not be disclosed by the Content Creator in the Blog.
Investing in the investments discussed in the Blog may be risky and speculative. The companies may have limited operating histories, little available public information. The stocks discussed may be volatile and illiquid. Trading in such securities can result in immediate and substantial losses of the capital invested. You should only invest risk capital not required for other purposes, such as retirement savings, student loans, mortgages or education.