Myriad Genetics co-founder Walter Gilbert PhD bought $150K of MYGN on Dec. 13 @ $25.60. Gilbert, who won the Nobel Prize for Chemistry in 1980, has a history of Form 4 filings at Myriad dating back to 2006. However, this is the insider's first open market purchase of MYGN shares.
Gilbert received a Ph.D. in physics from the University of Cambridge in 1957. He later became a professor of biochemistry at Harvard. His work determining the sequence of nucleotide links in the molecules of nucleic acids won him the Nobel Prize in 1980.
Myriad Genetics co-founder Walter Gilbert Ph.D. also co-founded Biogen in 1979 and received the Nobel Prize for chemistry in 1980.
In 1979 Gilbert co-founded Biogen (BIIB), a commercial genetic-engineering research corporation. Gilbert resigned from Biogen in 1985 and became a chief proponent of the Human Genome Project, a government-funded effort to compile a complete map of the gene sequences in human DNA. He became emeritus at Harvard in 1987. He co-founded Myriad Genetics in 1992.
Myriad uses molecular diagnostic testing to develop tests designed to assess an individual's risk for developing diseases. The company's tests also help ensure optimal dosing and treatment.
It's been an incredibly volatile year for MYGN.
It's been an incredibly volatile year for MYGN. The stock soared over 58% on August 1, after the company disclosed that UnitedHealthcare will begin covering a $2,000 genetic test for the treatment of depression and anxiety.
But on Aug. 14 MYGN slumped 43% after the company reported lower-than-expected fourth-quarter earnings. It also disclosed that the FDA had requested changes to one of its tests. After bottoming at $23.08 on August 27, MYGN rallied to close at $35.10 on Nov. 4.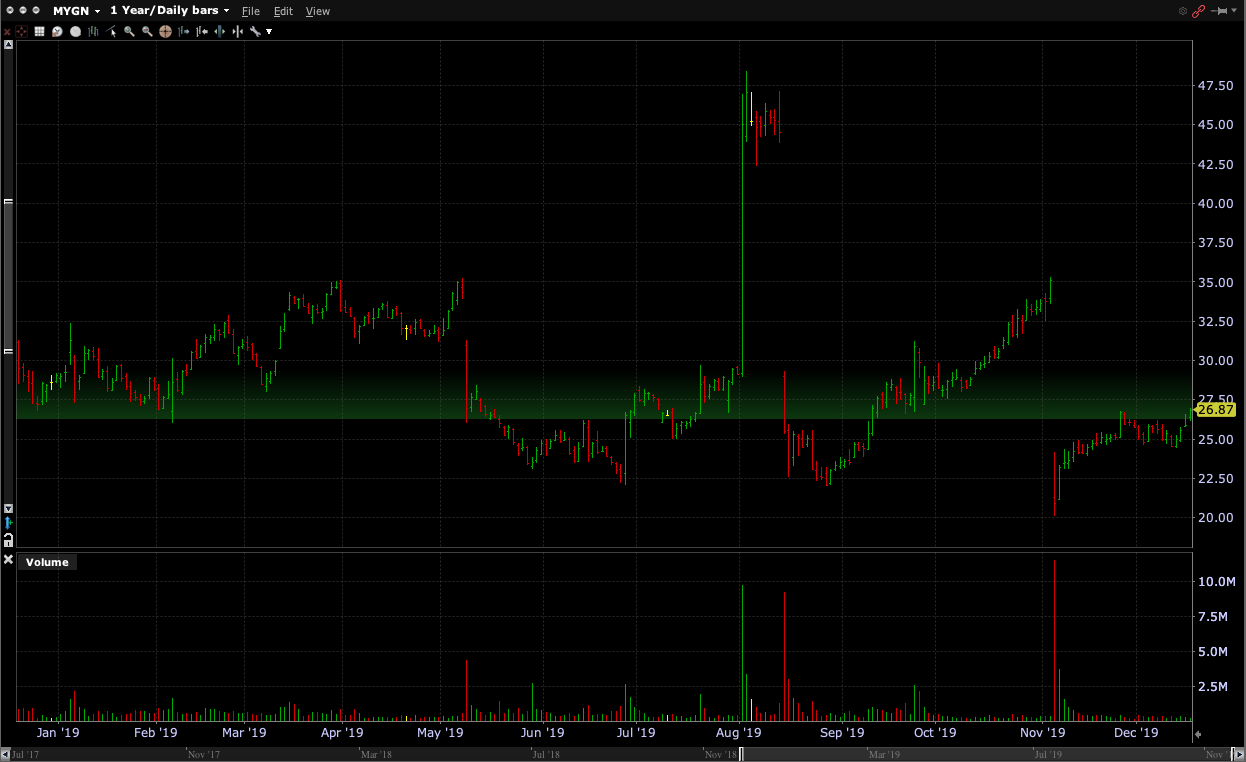 Then came Q1 2020 results released after market hours on Nov. 4, and another big gap down. Myriad posted non-GAAP (adjusted) earnings of $0.08 per share. That was down 81% from earnings of $0.43 per share in the prior-year period. The Q1 results came in well below the average analysts' adjusted earnings estimate of $0.32 per share.
On Nov.5 MYGN traded as low as $20.10, down over 42%. Myriad Genetics co-founder Walter Gilbert bought 5,860 of MYGN at $25.60 on Dec. 13.
On Dec. 17, Myriad Genetics announced positive results of a new validation study of the company's polygenic risk score for breast cancer. "The key finding is that the PRS significantly improves the precision and accuracy of breast cancer risk estimates for women of European ancestry who have pathogenic variants in high- and moderate-penetrance breast cancer genes," the company said in a statement.
Contact Mark about investing based on SEC filings and smart money disclosures.
Disclaimer:
This investment blog (the "Blog") is created and authored by Mark W. Gaffney (the "Content Creator") and is published and provided for informational and entertainment purposes only (collectively, the "Blog Service"). The information in the Blog constitutes the Content Creator's own opinions. None of the information contained in the Blog constitutes a recommendation that any particular security, portfolio of securities, transaction, or investment strategy is suitable for any specific person. You understand that the Content Creator is not advising, and will not advise you personally concerning the nature, potential, value or suitability of any particular security, portfolio of securities, transaction, investment strategy or other matter. To the extent any of the information contained in the Blog may be deemed to be investment advice, such information is impersonal and not tailored to the investment needs of any specific person.
From time to time, the Content Creator or its affiliates may hold positions or other interests in securities mentioned in the Blog and may trade for their own account(s) based on the information presented. The Content Creator may also take positions inconsistent with the views expressed in its messages on the Blog.
The Content Creator may hold licenses with FINRA, the SEC or states securities authorities and these licenses may or may not be disclosed by the Content Creator in the Blog.
Investing in the investments discussed in the Blog may be risky and speculative. The companies may have limited operating histories, little available public information, and the stocks they issue may be volatile and illiquid. Trading in such securities can result in immediate and substantial losses of the capital invested. You should use invest risk capital, and not capital required for other purposes, such as retirement savings, student loans, mortgages or education.