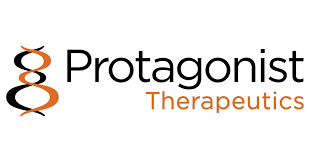 Protagonist Therapeutics insiders bought on Tuesday as their company's stock plummeted after preliminary data appeared to cast doubt on Protagonist's (PGTX) key drug.
On Monday, the company presented an initial look at preliminary results from the TRANSCEND Ph2 open-label study of PTG-300 (hepcidin mimetic) focusing on patients with transfusion-dependent (TD) beta-thalassemia (beta-thal). The results showed a dose-related reduction in baseline serum iron and transferrin saturation (TSAT), consistent with Ph1 data in healthy volunteers.
PTG-300 is an injectable drug under development to treat chronic anemia in patients with β-Thalassemia. The U.S. Food and Drug Administration (FDA) and EU authorities have granted PTG-300 Orphan Drug and Rare Disease, and FDA has granted Fast Track designation for treatment of patients with β‑Thalassemia.
Investors apparently interpreted the preliminary results as evidence of a problem with PTG-300, and dumped PTGX stock. PGTX closed Tuesday at $4.69, down from Monday's $8.86 price.
Four Protagonist Therapeutics insiders bought as PTGX went into free fall.
However, four Protagonist Therapeutics Insiders took advantage of the rout, buying $375K of stock at an average price of $5.41. The Protagonist insiders disclosed their purchases after regular market hours on Tuesday.
| | | | | | | | | |
| --- | --- | --- | --- | --- | --- | --- | --- | --- |
| Filing Date | Insider | Title | Transaction | Trade Date | Shares | Avg. Price | Total | Increase |
| 03-Dec-2019 | Giraudo Bryan | Director | Open Mkt Buy | 03-Dec-2019 | 8,000 | 5.7 | $ 45,620 | 80% |
| 03-Dec-2019 | Gupta Suneel | EVP Clinical Operations | Open Mkt Buy | 03-Dec-2019 | 30,000 | 5.13 | $ 153,900 | 154% |
| 03-Dec-2019 | Patel Dinesh V Ph D | President and CEO, Director | Open Mkt Buy | 03-Dec-2019 | 30,000 | 5.62 | $ 168,500 | 8% |
| 03-Dec-2019 | Kalkofen Donald A. | Chief Financial Officer | Open Mkt Buy | 03-Dec-2019 | 1,175 | 5.1 | $ 5,987 | New |
Notably, since 2017, Protagonist CEO Dinesh Patel had sold PTGX stock on four occasions. His 30,000 share purchase yesterday was his first open market purchase since joining the company in 2008. Director Bryan Giraudo and EVP Suneel Gupta increased their holdings by 80% and 154% respectively.
PTGX shares popped in the aftermarket after the Protagonist Therapeutics insider buying was disclosed. While investors latched on to the story that PTGX was in trouble, the insiders, who know the company better than anyone, obviously saw the big price drop as an opportunity.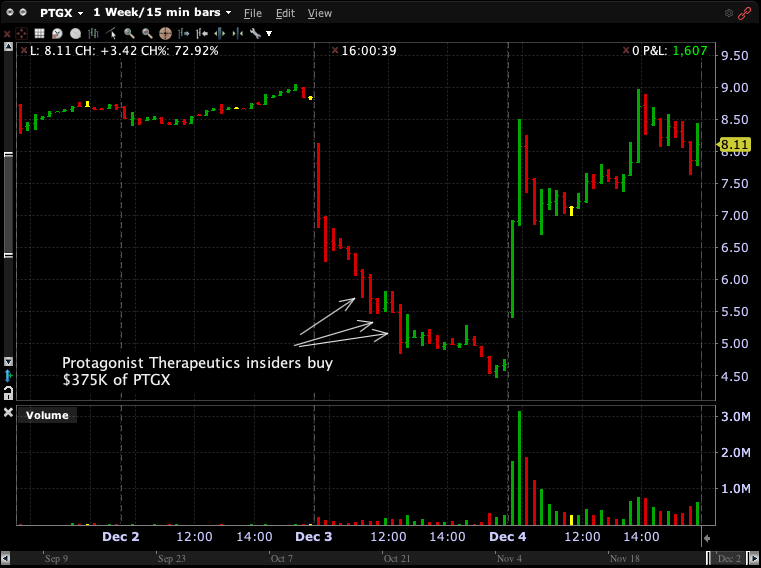 Nomura/Instinet reiterated PTGX buy rating, target $29
The buying opportunity narrative was reinforced Wednesday morning when Nomura/Instinet analyst Christopher Marai reiterated a buy rating and $29.00 price target on Protagonist, stating that the PTG-300 data was misinterpreted.
According to the analyst:
"The primary endpoint for the TD beta-thal subgroup is a reduction in transfusion burden, whereas the primary endpoint in the non-transfusion dependent (NTD) beta-thal subgroup is improvement in hemoglobin. We view efficacy in TD beta-thal patients as a "higher bar" than NTD beta-thal due to the degree of disease severity and iron burden from transfusion. We also expect that PTG-300 benefit will deepen over time as iron stores are mobilized – this may facilitate Hb improvement with less frequent dosing. Overall, the data suggests that PTG-300 is effective at reducing serum iron levels even in patients with significantly elevated iron levels at baseline, and the PK/PD curves were similar to normal healthy volunteers."
How could investors get it so wrong? As I've discussed previously, more than any other sector, it requires extensive technical knowledge to understand and value medtech investments. To truly understand this stuff, you may need a PhD. (Which of course PTRX CEO Dinesh Patel has.) Without extensive expertise, biotech investors often have little more than market prices to inform their decisions. Taking cues from the emotional "Mr. Market" is never a good idea. A much better strategy is to analyze the actions of corporate insiders and give significant weight to their actions before making decisions on complex investments.
Contact Mark about investing based on SEC filings and smart money disclosures.
Disclaimer:
This investment blog (the "Blog") is created and authored by Mark W. Gaffney (the "Content Creator") and is published and provided for informational and entertainment purposes only (collectively, the "Blog Service"). The information in the Blog constitutes the Content Creator's own opinions. None of the information contained in the Blog constitutes a recommendation that any particular security, portfolio of securities, transaction, or investment strategy is suitable for any specific person. You understand that the Content Creator is not advising, and will not advise you personally concerning the nature, potential, value or suitability of any particular security, portfolio of securities, transaction, investment strategy or other matter. To the extent any of the information contained in the Blog may be deemed to be investment advice, such information is impersonal and not tailored to the investment needs of any specific person.
From time to time, the Content Creator or its affiliates may hold positions or other interests in securities mentioned in the Blog and may trade for their own account(s) based on the information presented. The Content Creator may also take positions inconsistent with the views expressed in its messages on the Blog.
The Content Creator may hold licenses with FINRA, the SEC or states securities authorities and these licenses may or may not be disclosed by the Content Creator in the Blog.
Investing in the investments discussed in the Blog may be risky and speculative. The companies may have limited operating histories, little available public information, and the stocks they issue may be volatile and illiquid. Trading in such securities can result in immediate and substantial losses of the capital invested. You should use invest risk capital, and not capital required for other purposes, such as retirement savings, student loans, mortgages or education.