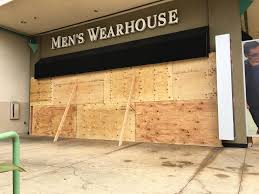 On August 30, Scion Capital filed a 13D on Tailored Brands(TLRD) disclosing a 5.18% position in the troubled formal apparel retailer that owns Men's Warehouse and Jos. A. Bank. Michael Burry's hedge fund also disclosed three separate letters sent to management in recent weeks. In the letter dated August 30, Burry reiterated that TLRD should cut its dividend and buy back shares. Burry also noted a recent news story
"that Tailored has been approached several times by Sycamore Partners about an acquisition, and that Tailored had "engaged bankers at Bank of America/Merrill Lynch to evaluate the offer and other options." The same article reported "the latest offer valued the company at around $10 per share." We do not know if any of this is true. However, we believe you must know that $10 per share is not fair value and will not be acceptable to shareholders."
Tailored Brands stock closed at $5.42 on Friday. Markets were closed Monday for the Labor Day Holiday. In April we highlighted Scion Asset Managements's position in TLRD and noted insider buying by the company's corporate insiders.
Scion filed a 13D on Tailored Brands, Michael Burry's second activist move in less than two weeks.
Scion's 13D filed on Tailored Brands marks the second activist move by Burry in less than two weeks. On August 21, Burry told Barron's that he'd sent a letter to GameStop Corp. (GME) recommending an aggressive buyback of the faltering video game maker's shares.
Michael Burry gained fame as the focus of the book and movie "The Big Short." Burry successfully bet on the collapse of subprime mortgages in 2008. He made hundreds of millions for himself and investors in his hedge fund. The renowned value investor has been media shy in the past, so his move into corporate activism comes as something of a surprise.
After Scion filed a 13D on TLRD, disclosing a 750,000 purchase, Tailored appears to be Scion's largest holding. That's based on the fund's Q2 13F filing reporting long holdings. Based on Burry's Barron's interview, the fund's GME position would appear to rank #2 in Scion's portfolio.
Scion Asset Management's trading in Tailored Brands shares:

Burry's initial letter to Tailored's management, dated August 2 and disclosed with the Aug. 30 13D filing, states:
"We suggest that when your bank debt is trading below 88 cents, 40% of your stock is shorted and your stock is at 26 year lows, there is more to market sentiment than an expansion of casual Friday- and revamped sales strategies are only going to be part of the solution. The history and legacy of prior poor capital allocation decisions weigh most heavily. With this in mind, particular attention today should be paid to the dividend. Given the debt levels and negatively trending same store sales, the dividend should not be sacrosanct…
…The basic premise is that retiring 60% of your shares at recent prices would increase the earnings per share up to near where the common shares currently trade. This is an uncommon opportunity in the stock market."
Michael Burry: "retiring 60% of your shares…would increase the earning per share up to near where the common shares currently trade."
In Scion's 2nd letter to Tailored's management, dated August 19 and also published concurrent with the recent 13D, Burry states:
"We reiterate that share buybacks are the most efficient manner in which to reward long-term shareholders when the share price is heavily discounted. The stock currently trades at an earnings yield greater than 20% and at a free cash flow yield much greater than that. A $50 million share buyback at the current 1994 vintage stock prices could retire about 20% of the outstanding shares."
Tailored Brands has been paying an $0.18 dividend since February of 2016, when Men's Warehouse adopted a holding company structure and changed its name to Tailored Brands.
Men's Wearhouse bought Jos. A. Bank in March of 2014 in a deal valued at $1.8 billion. According to Burry, that purchase is the main source of Tailored's current financial woes: "The decision to acquire that retailer, along with the ousting of founder George Zimmer, predated a period of historic losses and significant shareholder pain."
On Sept. 3, Tailored Brands announced a multi-year licensing agreement with the National Football League. The company said sports fans will be able to customize their suits and sport coats with linings from many of their favorite NFL teams by visiting any Men's Wearhouse or Jos. A. Bank store throughout the U.S.
Disclaimer:
Do not construe anything written in this post or this blog in its entirety as a recommendation, research, or an offer to buy or sell any securities. Everything in this blog is meant for educational and informational purposes only. Do your own research before investing and don't risk more than you can afford to lose. This article expresses my own opinions, and I am not receiving compensation for it (other than from WhaleWisdom). If you buy a book after clicking on one of the above links, I may received an affiliate fee. I do not have a business relationship with any company whose stock is mentioned in this article. I or my associates may hold positions in the stocks discussed.