Solid Biosciences' private placement featured investments by an all star list of top biotech institutional investors.
Cambridge-based Solid Biosciences (SLDB) trades at 1/3 of its January 2018 IPO value. But based on the A-list biotech investors buying shares in the company's July 26 $60 million private placement, the biotech company's stock may have found a floor.
Perceptive Advisors, Boxer Capital, EcoR1 Capital, Bain Capital Life Sciences, and RA Capital Management were among the institutions buying shares in the offering. Corporate insiders, including the co-founders, also bought shares at $4.65 in the private placement.
In addition to the 10,607,525 shares of stock, the company also sold 2,295,699 pre-funded warrants at a price of $4.64 per warrant. Each of the warrants is exercisable for one share of common stock at an exercise price of $0.01.
Solid Biosciences is developing treatments for Duchenne muscular dystrophy, a genetic disease with 100% mortality
Solid Biosciences is a clinical-stage company focused on developing treatments for Duchenne muscular dystrophy (DMD), a devastating genetic disease. The Company expects to use net proceeds from the private placement to fund research and development expenses.
In May, Solid Biosciences' gene therapy SGT-001 was administered to a second cohort of patients in its ongoing phase 1/2 clinical trial. However, a serious adverse event related to the treatment was observed in the first patient dosed. While that issue was resolved, Wall Street has focused on competition from other companies developing similar gene therapies.
SLDB went public in January of 2018 at $16. In Sept. the stock hit a high of $54.54 — a market cap of $1.77 billion. Monday's close of $5.45 values the company at $195 million.
After the release of SLDB's 8-K revealing investors in the private placement, SLDB rallied as much as 44% on July 26. The stock closed at $5.82, up $1.48 on the day.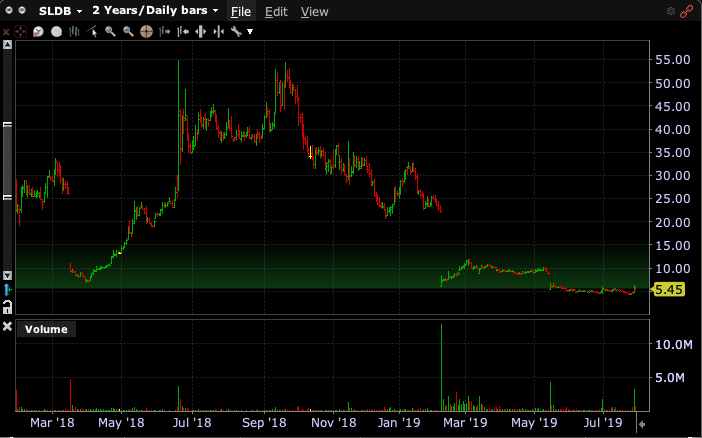 Perceptive Advisors increased in position in Solid Bio by 72%, and now has a 19% stake in SLDB
According to a Form 4 filed yesterday by Perceptive Advisors, the hedge fund acquired 2.8 million shares of SLDB at $4.65. The purchase increased the hedge fund's position by 72% to 6.75 million shares. Perceptive now owns 19% of SLDB, making it the company's largest shareholder. Joseph Edeman's Perceptive Advisor's has averaged a 23.33% average annual return since 2009, based on 13F positions.
RA Capital, run by Peter Kolchinsky, is the top performing biotech hedge fund over the last 10 years with an average annual return of over 37%. RA bought 1.88 million shares of SLDB, increasing its position by 70%
to 4.57 million shares.
A seller as recently as March of 2019, Boxer Capital is listed in the recent 8-K as an investor in Solid Biosciences' private placement. Based in San Diego, Boxer specializes in the biotechnology sector. The fund has returned 36.80% annually, based on 13F filings, since it's 2016 inception. The company was founded by the life sciences team at Tavistock Group in 2005.
Boston-based Bain Capital Life Sciences and EcoR1 Capital also participated in the private placement. Among insiders participating in the placement: SLDB co-founder and director Arnold Matthew Bennett invested $3.1 million. Co-founder and CEO Ilan Ganot and Chief Scientific Morris Ashley also bought shares.
Duchenne afflicts one in every 3,500-5,000 boys born in the world. There is no cure.
According to Solid Biosciences website, Duchenne muscular dystrophy (Duchenne) is the most common fatal genetic disorder diagnosed in childhood. It is an X-linked disease caused by mutations in the dystrophin gene, which leads to the absence of the dystrophin protein. The disease occurs in approximately one in every 3,500-5,000 boys born and has no ethnic, geographic, racial or religious boundaries.
Diagnosis usually comes between the ages of three and five due to pronounced muscle weakness. Patients are unable to live normal lives because of progressive and irreversible muscle loss. They typically lose the ability to walk by their early teens and succumb to respiratory or heart failure in their 30s. Duchenne is 100 percent fatal.
Here's how Solid Biosciences describes its "guiding principles":
Solid is a life science company singularly focused on developing meaningful therapies for Duchenne muscular dystrophy (Duchenne). We aim to be the center of excellence across the entire disease spectrum, bringing together those with expertise in science, technology, disease management and care. Disease-focused and founded by those directly impacted by Duchenne, our mandate is simple yet comprehensive – attack all facets of the disease and improve the daily lives of patients living with this devastating disease.
Solid's net loss for the first quarter of 2019 was $29.6 million, compared to $15.9 million for the first quarter of 2018. The company had $94.7 million in cash and cash equivalents of March 31, 2019, compared to $122.5 million as of December 31, 2018. The recent private placement will add $60 million to working capital.
Disclaimer:
Do not construe anything written in this post or this blog in its entirety as a recommendation, research, or an offer to buy or sell any securities. Everything in this blog is meant for educational and informational purposes only. Do your own research before investing and don't risk more than you can afford to lose. This article expresses my own opinions, and I am not receiving compensation for it (other than from WhaleWisdom). I do not have a business relationship with any company whose stock is mentioned in this article. I or my associates may hold positions in the stocks discussed.