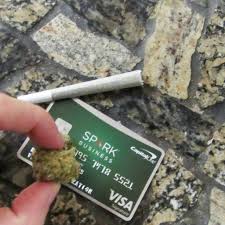 U.S. Hedge Funds are buying cannabis stocks. Despite regulatory issues and limited investment choices, the "smart money" is increasingly eager to gain exposure to the booming marijuana sector.
But you won't see Warren Buffett and Charlie Munger jumping on the pot stock bandwagon. The investing icons told Fox News in early May that it would be a bad idea for Coca-Cola (KO) — Berkshire Hathaway is Coke's largest shareholder — to get into the marijuana business. Buffett reportedly said: "It would be a mistake for Coca-Cola to get into the marijuana-cannabis business. They have a wholesome image and that would be detrimental to it."
Last year Coca-Cola was rumored to be in discussion with marijuana growers Aphria Inc (APHA) and Aurora Cannabis (ACB). In November, Beverage giant Constellation Brands paid $4.2 billion for a 38% stake in Canopy Growth (CGC). Big tobacco company Altria recently bought 45% of Cronos Group (CRON) for $1.8 billion.
Despite Warren Buffett's reservations, other hedge funds are buying cannabis stocks, seeking big returns as the sector continues to boom. Many elite U.S. hedge funds have established toeholds in the legal marijuana space, and a few hedge funds have made pot stocks a significant part of their portfolios.
This despite the fact that cannabis remains illegal at the federal level in the U.S. Because companies with cultivation or processing operations cannot list in the U.S., most cannabis companies are listed on Canadian exchanges, with only a handful actively trading on major U.S. exchanges. Nonetheless, it's apparent that many U.S. hedge fund managers are eager for exposure to a $17 billion market that's expected by to grow at a 27% compound annual rate over the next five years.
Investors navigating the complexities of the emerging cannabis market may want to follow hedge fund "smart money" for ideas.
Given the complexities of the emerging cannabis investment sector, following the moves of "smart money" in the space makes sense. Here's a short list of major hedge funds with positions in marijuana stocks:
JW Asset Management. A New-York-based hedge fund with $1.2 billion under management, JW Asset Management's founder and CIO is Jason G. Wild — a licensed pharmacist. Wild started the firm in 1998, focusing on stocks in the specialty pharmaceutical sector. It now has $1.2 billion of AUM. Last year, Canopy Growth, Canopy Rivers, and JW Asset Management made a $52 million investment in TerrAscend. Wild subsequently became Chairman of Toronto-based TerrAscend (TRSSF).
Essex Investment Management. Founded by Joseph Claudius McNay in 1976, Essex has $622 million under management. It's top portfolio holding as of Q1 2019 was a $15.5 million position in Innovative Industrial Properties (IIPR), a company engaged in the ownership and leasing of marijuana production-based real estate. Cronos Group (CRON) and Aurora Cannabis (ACB) are the firm's #4 and #5 holdings.
Innovative Industrial properties has soared 71% since Q1 end.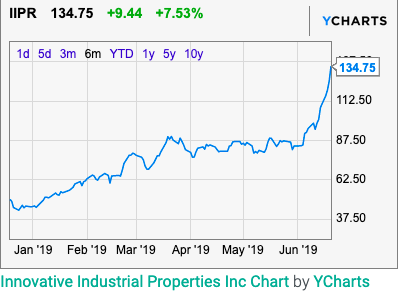 Perceptive Advisors holds 11.13% of cannabis extraction innovator Neptune Wellness
Joseph Edelman's Perceptive Advisors is one of the premier biotech-focused hedge funds. So its notable when his hedge fund holds a sizable position in a cannabis-related company. Neptune Wellness Solutions (NEPT) specializes in the extraction, purification and formulation of cannabis products. Perceptive Advisors is the company's #1 shareholder, with an 8.9 million position that is 11.13% of NEPT's outstanding shares.
Hedge fund giant AQR Capital Management added 2 million shares of Aurora Cannabis in Q1, making its 7.1 million share position in the Edmonton-based Cannabis producer the 3rd largest of any shareholder. However, ACB is only .03% of AQR's $94 billion long portfolio.
Peconic Partners is an investment adviser and hedge fund with $368 million AUM. The New York-based firm was founded by William F. Harnisch in 2004. The fund bought 825,000 shares of Aurora Cannabis Inc. (ACB) in Q1. That stock listed on the NYSE in Oct. of 2018.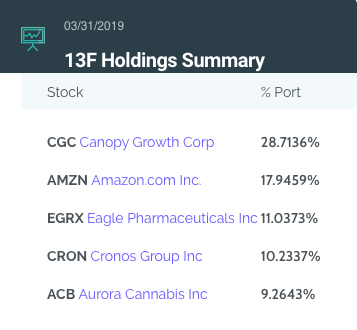 Stellar performer Zevenbergen Capital is Tilray's largest shareholder
$2.2 billion Zevenbergen Capital, based out of Seattle, bought 97,000 shares of Tilray in Q1, averaging down a previous purchase. The $48 million position now represents about 0.78% of the fund's 13F portfolio, making it TLRY's largest stockholder as of Q1 end. Founded by Nancy Zevenbergen in 1987, the fund's track record is impressive: Since 2004 Zevenbergen Capital's long holdings have averaged a 14.7% annual return. Year-to-date the fund's 13F portfolio is up 46.8%.

Cohen Capital Management, based out of Corte Madera, CA took a 245,500 new position in Harvest Health & Recreation Inc.(HRVSF) in Q1. The medical cannabis company also trades on the Canadian Securities Exchange. Cohen Capital and Essex Investment both established toehold positions in Harvest Health in Q1. Cohen Capital was founded by Jay Adam Cohen in 1995 and has $565 million in AUM.
Hedge Fund Kayne Anderson added to its large Scott's Miracle Grow position in Q1
Kayne Anderson Rudnick Investment Management is another of the elite hedge funds buying cannabis stocks. Founded by Richard Kayne in 1984, the L.A.-based firm holds 4.61% of Scott's Miracle Grow (SMG), making it that company's 5th largest holder. Kayne Anderson added 400,000 shares in Q1. A smart move as SMG is up 26% since March 31.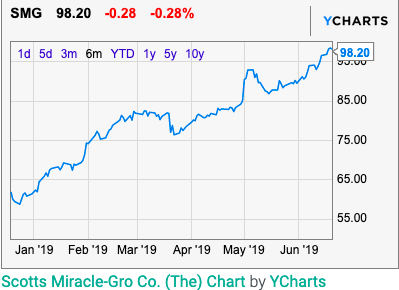 Scott's has a long history of providing lawn and garden products to homeowners. However, with the purchase of Hawthorne Gardening in 2015, Scott's doubled-down on its investment in the marijuana market. The Hawthorne division of Scott's caters to hydroponic growers, the lions share of whom are cannabis greenhouse growers.
$17.8 billion Kayne Anderson has a WhaleScore rank of 96 out of 100, making in one of the top performing funds in recent years. Kayne manages about $30 billion of assets.
D. E. Shaw & Company was one of many hedge funds establishing positions in HEXO Corp (HEXO) recently, buying 1.6 million shares. Canadian cannabis producer HEXO issued 7.7 million shares on Jan. 24 in a secondary offering. D.E. Shaw is renowned for short-term quant trading, though it employs varied strategies. In 2018, Institutional Investor reported that among hedge funds, D. E. Shaw & Co. had delivered the fifth-highest returns in the world since its inception.
Disclaimer:
Do not construe anything written in this post or this blog in its entirety as a recommendation, research, or an offer to buy or sell any securities. Everything in this blog is meant for educational and informational purposes only. Do your own research before investing and don't risk more than you can afford to lose. This article expresses my own opinions, and I am not receiving compensation for it (other than from WhaleWisdom). I do not have a business relationship with any company whose stock is mentioned in this article. I or my associates may hold positions in the stocks discussed.