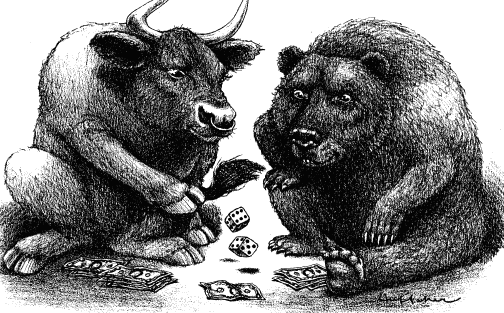 Two Waitr Holdings (WTRH) insiders combined for a $1.07 million buy of the food delivery company's shares on Monday.
The Waitr insiders' purchases came after a March 20, 2019 report by short research firm "The Friendly Bear" ravaged WTRH stock. The report was entitled: "Beware Waitr Holdings: A Public Market Dine & Dash." Since its publication, WTRH is down 45%. Here's the initial tweet:

Waitr Holdings Inc. provides online food ordering and delivery services in the Southeastern United States. Its Waitr Platform and Bite Squad Platform allows diners to order food and beverages from restaurant partners for pick-up and delivery through a network of drivers. At the end of Q1, the company had over 2.2 million active diners and served over 57,000 orders per day in over 250 cities.
Waitr CEO Christopher Meaux launched the company in 2013 in his hometown of Lake Charles, Louisiana. Unlike larger urban-based food delivery services like Grubhub and DoorDash, Waitr is focused on smaller cities.
In the short report, Friendly Bear's nameless analyst — the firm's research is published anonymously — goes on to say:
How in the world can anyone feel comfortable owning this stock given that in November 2018 the company provided both FY18 and FY19 guidance and then proceeded last week to a) massively miss their FY18 earnings guidance and b) refuse to provide updated FY19 earnings guidance!?
Well, as it turns out, several significant investors appear to be comfortable owning, and adding to, their Waitr Holdings. We'll start with recent developments:
Waitr CEO bought $1 mil in secondary offering
In Form 4s filed after regular market hours on May 21, two Waitr insiders disclosed purchases: CEO, Chairman and Director Christopher Meaux reported buying 135,135 WTRH at $7.40. Meaux acquired the shares as part of a follow-on offering of 6,757,000 shares of Waitr common stock. Meaux increased his WTRH position from 4.81 to 4.95 million shares.
The offering was priced on Monday at $7.40 — however WTRH closed the day on Nasdaq at $6.85. Director Steven Scheinthal bought 10,000 shares at $6.80 into the price weakness, increasing his position by 7%.
Hedge Funds also have been buyers. Last March 18 (before the short report), Park West Management LLC filed an initial 13G on WTRH, disclosing a 5.2% position. The Larkspur, CA-based hedge fund, founded by Peter S. Park in 2002, has $3.5 billion under management. The filing showed the event date as March 8. So, Park West bought 3.6 million shares of Waitr at prices between $10 and $12.
Hedge Fund Park West owns 5.6% of Waitr at much higher prices
Park West averaged down as WTRH declined, filing a 13G/A disclosing an additional 300,000 share purchase. The event date was May 1, implying Park West averaged down at prices above $9.52. We can make an educated guess that Park West's cost basis in WTRH is roughly $11. That means the hedge fund is down maybe $15 million on the position.
But Park West wasn't the only "smart money" buyer of WTRH during the first quarter. Institutional investors increased holdings of Waitr Holdings by 7.88 million shares during Q1.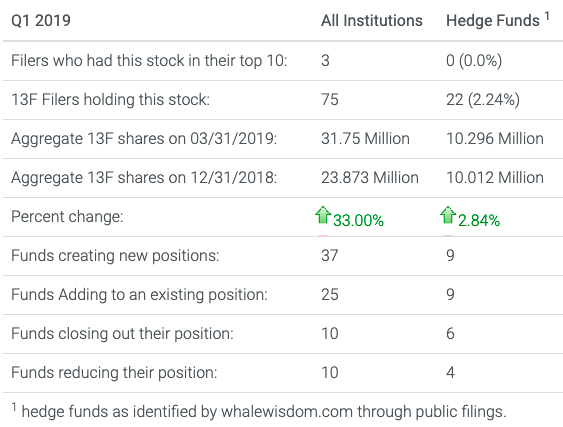 Multi-billionaire Tilman Feritta's SPAC bought Waitr for $308 mil in May of 2018
Multi-billionaire Tilman Fertitta bought Waitr Inc. for $308 million in May of 2018, using a Special Purpose Acquisition Company (SPAC) — Landcadia Holdings. A SPAC is a publicly traded "blank check company" established to pursue an acquisition. Landcadia began trading as Waitr Holdings on Nov. 16 of last year at around $12.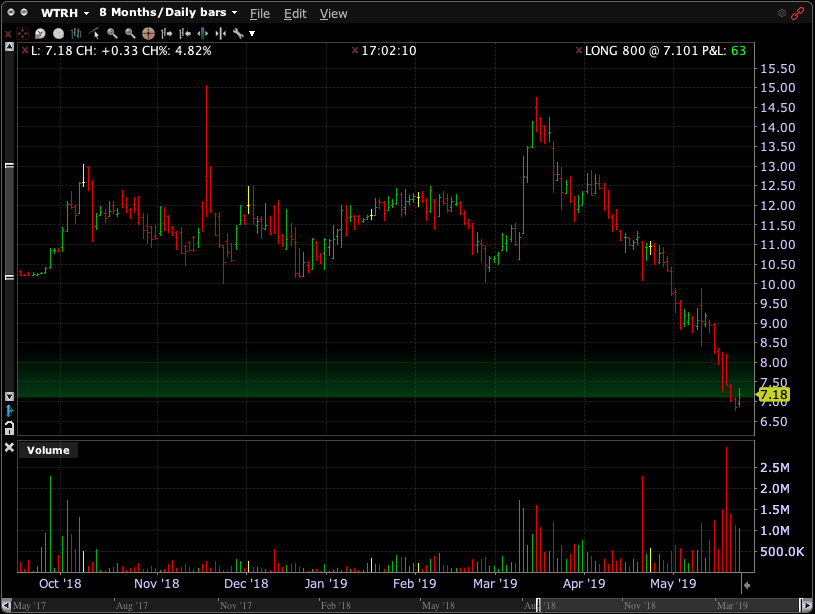 Fertitta owns casino operator Golden Nugget Inc. and steakhouse chain Landry's Inc. He also paid $2.2 billion in 2017 for the Houston Rockets, the highest price ever paid for a NBA team.
According to Bloomberg, Fertitta started Landcadia with Jefferies Group Chief Executive Richard Handler so the best friends could go into business together. Fertitta is Landcadia's CEO while Handler serves as president. As of March 31, Jeffries owned 4,648,501 shares, or 6.7% of WTRH.
Analyst: The Friendly Bear article was "laughable" and "a bombastic, non-factual report."
On Mar. 14, 2019 — before the Friendly Bear short report — Jefferies analyst Brent Thill started Waitr Holdings with a buy rating and an $18 price target. He cited the "unique opportunity" in the online food delivery business. He said Waitr has a "first mover advantage" in a "massive" market opportunity and could be a strategic M&A option for a larger company.
After the Friendly Bear report, Benchmark senior analyst Daniel Kurnos told Bloomberg the Friendly Bear article on Seeking Alpha was "laughable" and "a bombastic, non-factual report."
"Waitr is dominating where markets overlap because they don't target low-end restaurants like GrubHub and DoorDash," he said. "They do dine in, mom-and-pop and less chains." Partnering with local sports teams and businesses, Waitr has a competitive advantage because of its "hyper-local advertising strategy."
On May 9, Waitr Holdings reported Q1 EPS of ($0.38). Revenue for the quarter came in at $48 million versus the consensus estimate of $45.43 million. Management said it expects to exceed its revenue guidance of $250 million for 2019.
WTRH short interest has been climbing.
As the shares have swooned, short interest in WTRH has increased. As of April 30, short interest was 5,938,116 shares. That's a sizable chunk of the float. According to my back-of-the-napkin analysis, Fertitta, Jeffries, Park West and the Waitr insiders control about 29 million of the 70 million shares outstanding. So the 5.9 million short position represents about 15% of the float. Another way to view the short position: WTRH average daily volume is about 700,000 shares — it would take about 8.4 days to cover the shorts.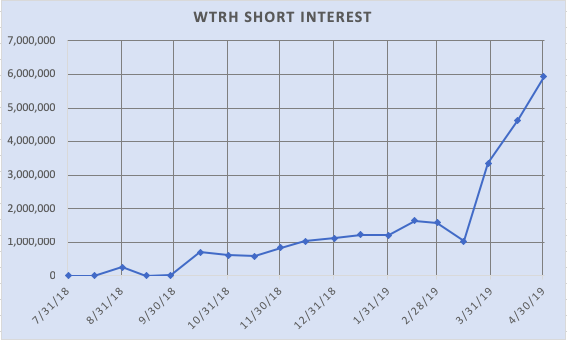 So is Waitr indeed a "blowup in the making" as The Friendly Bear asserts? Or is it a "unique opportunity" in the online food delivery business as the analysts say and the Waitr insiders and hedge fund supporters are betting on? Who's right?
Disclaimer:
Do not construe anything written in this post or this blog in its entirety as a recommendation, research, or an offer to buy or sell any securities. Everything in this blog is meant for educational and informational purposes only. Do your own research before investing and don't risk more than you can afford to lose. This article expresses my own opinions, and I am not receiving compensation for it (other than from WhaleWisdom). I do not have a business relationship with any company whose stock is mentioned in this article. I or my associates may hold positions in the stocks discussed.